The Challenge
Lack of a focused optimization strategy and some technical errors on the DCLI site were preventing key phrases from ranking. Furthermore, there was neither tracking of KPIs nor goals within Google Analytics.
The Solution
Obility worked with DCLI to fix all of the technical SEO issues on the site and developed a comprehensive content strategy to optimize core keywords. The primary focus of the optimization was creating a new glossary for industry-related terms, which included DCLI's most important keyword phrases. These pages targeted broader, top of the funnel phrases that had significantly more search volume. In addition, Obility did on-page content optimization for existing pages on services and industry-related topics and conversion tracking was implemented to match with goals.
How we did it
We started with a keyword analysis to identify which keywords had high search volume and were relevant to DCLI's audience and targeted the top of the funnel. At the completion of the analysis, we created a content roadmap. In this roadmap we outlined optimizations for existing pages and strategic content plans for new pages.
As the content was being optimized our team ran an extensive technical audit to identify potential errors. The audit led to updates including fixing 404 error pages, optimizing the page meta data, and updating duplicate content.
Lastly, we implemented Google Tag Manager and made form conversion tracking easier to use. This resulted in better tracking of KPIs.
The Results
Obility's strategy of creating top of the funnel content for targeted keyword phrases with the highest search volume paid dividends. SEO by its nature is slower to see results, with an average increase YoY of traffic for our clients at about 15%.
On DCLI's site, the results surpassed the average: 33% in year one organic growth, 15% in year two, and 47% in the final year of the engagement. The biggest driver of the improvement was ranking on the first page for all 60 of DCLI's core keywords.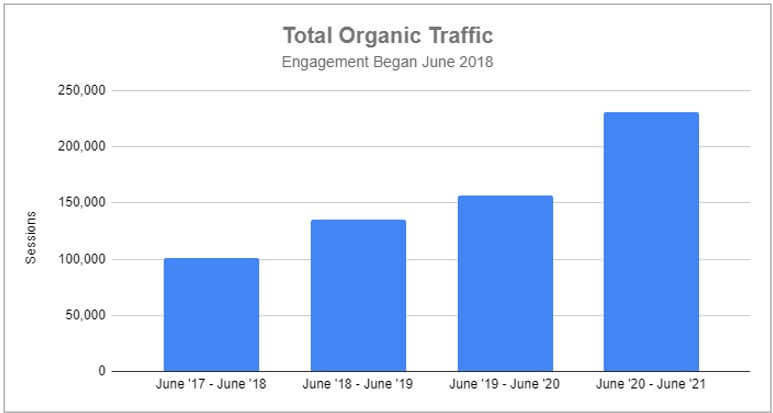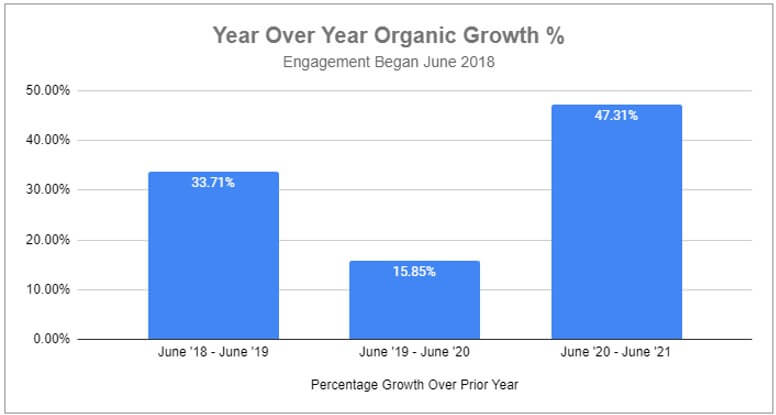 About DCLI

DCLI is the largest provider of marine and domestic container chassis to the U.S. intermodal industry. Since 2009, when the company pioneered the exit of ocean carriers from the chassis business, it has generated consistent growth through expansion, acquisition, and innovation. Today, DCLI serves motor carriers, ocean carriers, beneficial cargo owners, and domestic shippers. With over 550 locations on or near key port facilities, depots, and intermodal hubs throughout the U.S., the company now owns, leases, and manages over 151,000 marine chassis and 92,000 domestic chassis. DCLI is majority-owned by Apollo, a leading global alternative investment manager with assets under management of approximately $455 billion as of December 2020.
About Obility
We have one purpose: help B2B companies generate demand and increase revenue through online marketing. Located in Portland, Oregon and founded in early 2011, we're a fast-growing agency with a global client base ranging from early stage start-ups to multinational enterprises. Our focus is on B2B companies and we're proud that our growth has been due primarily to client referrals.