Facebook can be one of the trickiest of all for B2B Marketers to set up correctly. Unfortunately, there are many nuances and levers to pull in order for your ads and assets to run effectively on this platform.
We're Here to Help
Since we work solely in the B2B space, we decided to share our knowledge and learnings in the form of some simple do's and don'ts.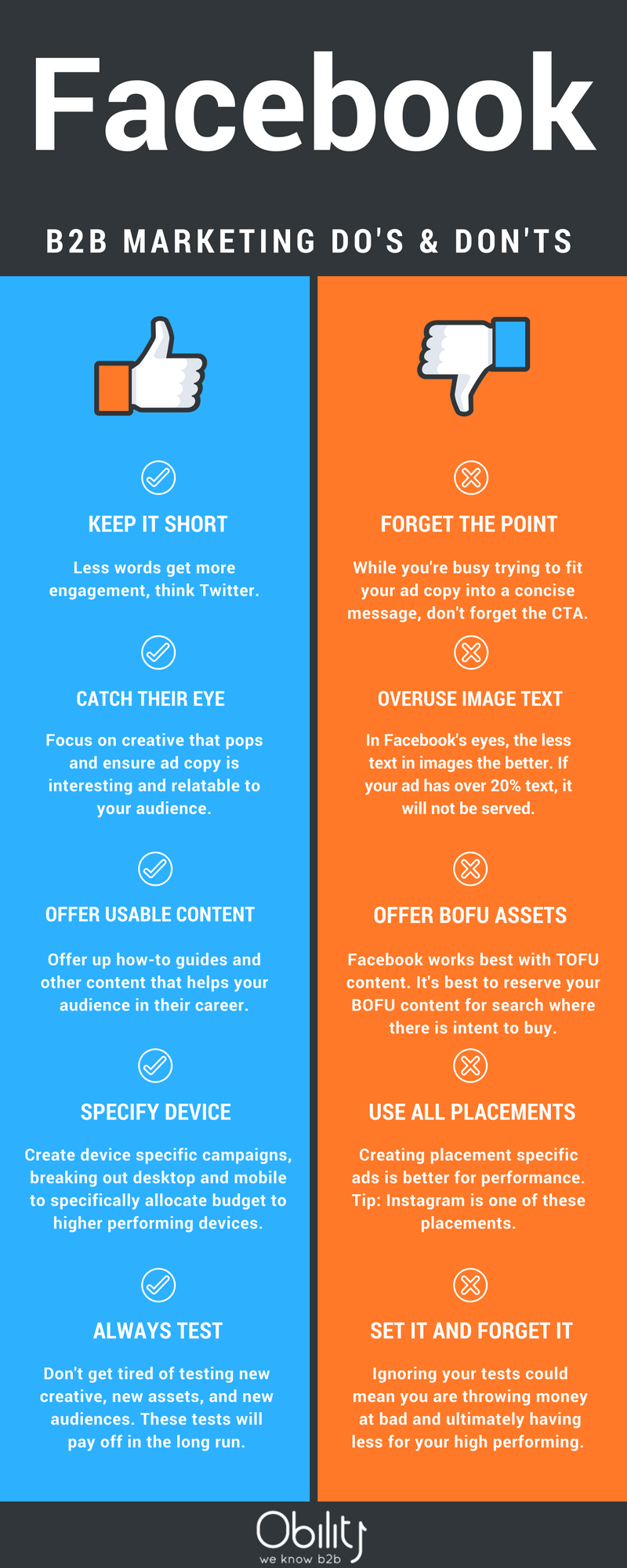 Takeaways for Facebook Ads
The key takeaways from the above infographic are simple:
Keep your ad copy short, concise, and to the point.
Focus on creating eye-catching creative that doesn't detract from the ad but instead works in tandem. Keep text to a minimum.
Serve top of funnel content. Social platforms are not intent based platforms. Meaning, they are not looking for you or a solution, therefore you need to offer them something useful or they won't click.
Edit your placements. All placements are not made equal on Facebook and certain offers will work better with certain placements. Make sure you edit your placements so you don't accidentally send your ads out across Instagram and Messenger without your knowledge.
Keep testing. Like all the time. Never stop. Enough said.
Final Thoughts
Of course, these are just baseline recommendations of how to get your campaigns up and running smoothly. Your tactics should always depend on your strategy and end goal in mind. However, it is always better to be more detailed and in the weeds than just batch and blasting campaigns one after the next.
Most of these learnings you can also apply to LinkedIn and any other social platforms you may be running.
PS: For more info on social, check out my in-depth blogs on Targeting Competitors on Social and LinkedIn Lead Gen form Best Practices.