The Challenge
The total number Free trials and the cost to acquire them are the measurement of success for Moz's Paid Campaigns. We factored in the vesting rate but it is a tertiary success metric. The goal of our campaigns is to get as many free trials as possible at a low cost.
Communication and project management was a primary challenge for our teams. At the beginning of the engagement communication between was not clear or concise. The Moz Team often questioned our priorities as the Obility Team worked to undetermined their needs.
The other challenge was tracking. We ran into issues tracking through each lifecycle stage of Moz's clients; free trial to loyal customers. Without being able to properly track, it would be difficult to optimize successfully and ensure improvements.
The Solution
To improve communication and alignment between our teams, we began working together on Slack, created shared task tracking docs, and have a campaign launch process with offer mapping that allows us to make quick decisions with little back and forth.
Having clear communication between our teams, allows us to speak to strategy and move forward with more efficiency.
In terms of tracking, we feel confident in the Paid Search & Paid Social metrics with the reports that are available to us. After many meetings with the Moz Team, we've been able to work together on establishing clearly defined success metrics.
How we did it:
Paid Search Tactics
Created a well defined campaign structure that allowed us to focus on the granular within specific areas of the account (branded vs non-branded, semantically around certain types of keywords, etc) while also looking at the intent of the searcher
Testing in a lot of different areas, from ad copy to landing pages to bid strategies
Structured display campaigns to bid more or less aggressively on audiences depending on how close the user got to a conversion
Implementing bid automation, allowing Google to find those who were more likely to convert which mainly allowed for spend to be reduced while overall conversions increased
Paid Social Tactics
Expanded regions beyond North America to include the United Kingdom, Australia, and New Zealand
Tested segmented retargeting between "advanced" and "beginner" users based on pages visited on-site
Tested landing pages that included more information, social proof, and key benefits to the Free Trial vs. the original landing page which was primarily a video and form.
The Results
Overall Performance

In one year, Free Trials downloads increased 93% while the Cost per Lead improved 10% Both YoY metrics were all-time highs, (the most number of Free Trials in one month and the lowest cost per lead.

Paid Search Performance
Increased Free Trials 89% YoY all while CPL improved 22%

Paid Display Performance
Increased Free Trials 84% YoY all while CPL improved 51%

Paid Social Performance
Increased Free Trials 296% YoY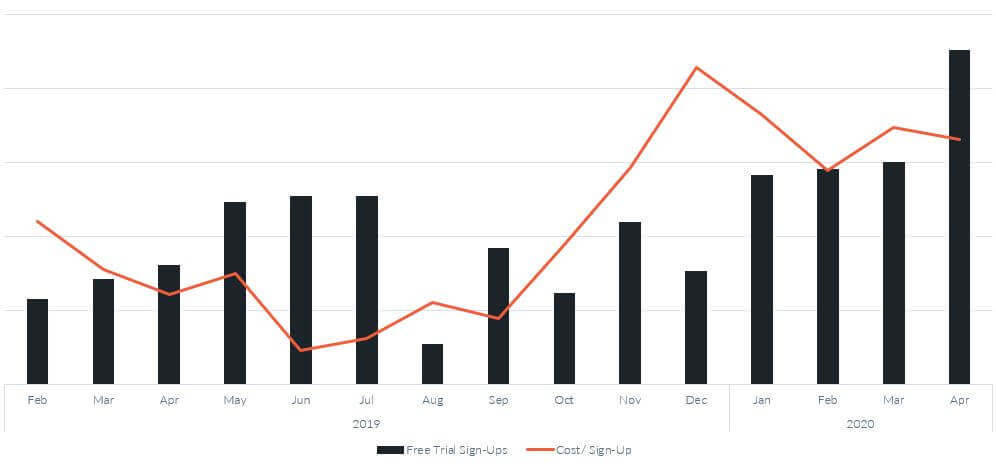 About Moz

Moz believes there is a better way to do marketing. A more valuable, less invasive way where customers are earned rather than bought. They're obsessively passionate about it, and their mission is to help people achieve it. They focus on search engine optimization (SEO). It's one of the least understood and least transparent aspects of great marketing, and they see that as an opportunity: They're excited to simplify SEO for everyone through their software, education, and community. Visit their site.
About Obility
We have one purpose: help B2B companies generate demand and increase revenue through online marketing. Located in Portland, Oregon and founded in early 2011, we're a fast-growing agency with a global client base ranging from early stage start-ups to multinational enterprises. Our focus is on B2B companies and we're proud that our growth has been due primarily to client referrals.