Brand keywords are often associated with paid search efforts, but many SEO specialists and marketing teams can overlook the benefits of an organic brand keyword strategy. While paid efforts tend to drive more branded traffic, having a strong organic brand presence will be important on quarter's where money is tight.
If you are noticing a drop in your brand traffic, there may be some search engine optimization opportunities for your team to take advantage of.
How To Find Organic Brand Rankings
In order to understand what organic brand traffic is looking like, you will have to look in Google Search Console.
If you look under your companies "search results" section, you will see data on "queries" Use the date range function in order to analyze one date range compared to the next. A "clicks difference" section will populate and signify whether a click has seen a decrease over time or increase. Look at keywords that have your brand in it. By clicking on the query, you will be able to see what pages they are mapped to. This should be the start of your process in order to understand which pages and branded keywords you should be targeting.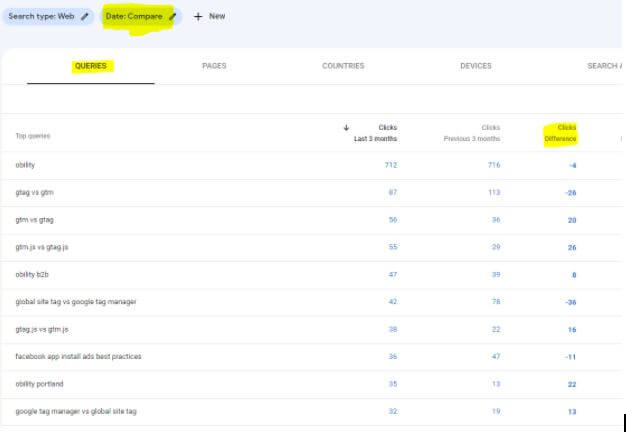 Reasons for Loss of Organic Brand Rankings
Before we delve into ways to recuperate loss of brand traffic, it may be helpful to understand reasons for the decline in traffic. Here are some reasons why branded traffic may be fluctuating.
Job Postings– Did you just have a quarter where there were a lot of new hires and now the positions are filled? People often forget that career pages can drive a lot of brand traffic. If you were hiring at a rapid rate one month and filled the next, this could make branded traffic appear down.
Press Releases– Was there a big announcement just made about your company that was out of the ordinary? Perhaps your business went public, launched a new product or acquired another company. This could inflate traffic one month over the other. So rather than the anomaly being a loss of brand traffic, it was actually a month of unusually high brand traffic due to the announcement.
Seasonality– Do not panic if you see a drop in month over month, zoom out and take a look at year over year. Do you notice any patterns? Your site could have seasonality to it, especially if your product has solutions in industries that see upticks and downturns throughout the year such as education or tax work etc.
Decrease in Paid Search and Social- You never know how many first touches are from paid social and paid search to make users come back to a site organically. If you have recently stopped or slowed down paid search or social, it may inadvertently affect organic search results as the paid strategies were what drove initial awareness.
Less Email and Social Promotion– On the same note, if you have slowed down your email or organic social campaigns, this could also affect organic traffic as there is less brand awareness all around.
How to Improve Organic Brand Traffic
Improving brand traffic involves many small changes that can make a big impact. If you have noticed a drop in your brand traffic lately, use these tips to try and improve rankings.
FAQ schema is a specialized markup you can add to a web pages code that contains a list of questions and answers. Google then reads this markup and uses it to generate a rich snippet. FAQ schema can also improve CTR by 50%/ See if your homepage or main product page would be a good contender for FAQ schema. You can answer questions like "What is business name" or "What is business product" within the schema in order to improve your rankings. FAQ schema is also very successful with non brand keywords as well. 
Optimize Product Pages and Blogs with Brand Term
Always be sure to mention your business name in the conclusion of blogs to help with keyword rankings. You should also always mention your business in meta titles, especially in product and solution pages. Take a look at an example below.
Create New or Optimized Branded Content
Just like how you would create new content for non-brand keywords, new content can be created for brand keywords as well. Consumers that have questions about your brand are usually already customer's, or interested in becoming a customer very soon. In either situation, they should get the answers they are looking for from you rather than a competitor. Types of branded content you can make include:
Pricing Page
About Us
What is Business Product
Ensure All Social and Paid Search is Optimized with Branding
SEO is powerful, but it is even more effective with support from social and paid search, especially when it comes to branded related terms. Look at paid search ads to see which branded ones have the highest CTR- is there a pattern? What page is it driving to?  You can use your paid strategies to inform your organic and vice versa.
There may be an opportunity to improve your PR presence during this down time. Look for unlinked brand mentions with tools like AHRefs. PR teams could also look for any broken links that may be linked out to from other sites as an easy quick win to restoring valuable backlinks. PR teams can also link out to ask if they can write a guest blog or to release a statement on a new product.
As always, the most important way to drive brand awareness is to create knowledgeable and informed content while following SEO best practices. If your business could use guidance on search engine optimization, check out Obility's capabilities.