The Challenge
Improve search engine visibility (SEO) for Aerospike's new website. Aerospike had the challenge of launching a new website with new content as well as changing their domain name (from www.citrusleaf.com to www.aerospike.com) and brand, making it important to ensure that the new site would still be visible to people searching for the old brand.
 
After working with Aerospike to understand their business and prospects, Obility developed a comprehensive SEO strategy and site transition plan that included keyword research, on-site SEO recommendations as well as an off-site SEO link development strategy.
Domain Transition Plan
Because Aerospike was not just designing a new site, but also completely switching domains, it was imperative that Obility outline an SEO domain transition plan to maintain the SEO traction of the old domain and ensure that it was applied to the new domain.
To start with, Obility worked with Aerospike to map page-by-page 301 redirects from the old site to the new one. Using a website bot/crawler, Obility was able to identify all pages on the old domain that needed to be redirected. This not only ensured that link equity and ranking potential obtained by the old site would get transferred to the new one, but also ensured a positive user experience for people who had previously bookmarked old pages.
Next Obility set up the both the old domain and the new domain in Google Webmaster Tools, as this is the primary way to communicate to Google that a domain change has taken place, thus ensuring minimal rankings losses during transition. Moreover, Google Webmaster Tools is an excellent source of diagnostic information for the health of the domain transition. Obility also created an XML Sitemap for both websites to ensure that the search engines were being notified of all URLs on each domain.
Lastly, Obility create a step-by-step plan for launch day, including details about the timing of sitemap submission through Google Webmaster Tools as well as creating a schedule for regular ad-hoc SEO audits of the new site to catch errors quickly.
Keyword Research
To start, Obility needed to understand exactly how prospects search for Aerospike's solutions, as this is the foundation of a solid SEO strategy. So Obility began with keyword research. In order to build a relevant and comprehensive list of target keywords, Obility used Aerospike feedback, search engine data, a review of competitors' keyword targets, industry analyst reports and industry forums. The result was over 500 keywords that prospects use to find the solutions that Aerospike offers.
The next step was to filter through the keyword list further, only including the absolute best keyword opportunities for inclusion in the new website. To do this, Obility first split the keywords into major themes and then organized the keywords according to what stage they represented in the B2B buying cycle. Organizing keywords by buying cycle stage ensured that the new site would be visible to prospects both at the "discovery" stage and "solution search" stage. Finally, Obility used metrics like keyword search volume, ranking difficulty and relevance to narrow down the list further.
Left were 72 of the best, highest potential ROI keyword targets, from which Obility then built the on-site SEO and off-site SEO strategy.
On-Site SEO Strategy
Now that keyword targets were identified, Obility switched gears to both technical and content recommendations for the new website. Since Aerospike was in the process of building the new site, Obility was given direct access to the staging server and new site back-end to help implement recommendations.
Obility began by taking inventory of the new site's hierarchy, mapping the keyword research to existing pages. Through this process, Obility uncovered multiple niches that were not represented on the new website. In order to ensure the visibility of the new site for these niches, Obility recommended the creation of 22 new pages. Moreover, Obility wrote all site META tags, updated image ALT tags site-wide and assisted page-by-page with content recommendations to improve targeting.
Shifting focus, Obility then worked on technical recommendations by helping build Aerospike's robots.txt file, XML sitemap as well as implementing an SEO plugin into the site's back-end that allowed for custom META tags as well as page-by-page implementation of canonical and META robots tags. To ensure that the new site maintained existing SEO traction, Obility also mapped the necessary 301 redirects from the old www.citrusleaf.com domain to the new www.aerospike.com one, which were then put in place by Aerospike's development team.
Off-Site SEO Strategy
Because acquiring inbound links naturally is an important part of improving search engine visibility over time, Obility developed a plan and tactics to implement post launch. In this plan were specific link targets to pursue after site launch, including guest blogging opportunities, press release optimization recommendations, media sites and multiple links targeted by competitors that Aerospike should also pursue.
Moreover, to ensure compliance with search engine guidelines as well as to ensure a high return on Aerospike's investment, Obility provided examples of content marketing ideas for use in acquiring inbound links naturally. Included in Obility's recommendations were infographic ideas, an idea for a college scholarship program as well as sponsored post opportunities. These are high return off-site activities because they also have brand and marketing benefits outside of SEO.
Managing the Site Launch
Finally! It was time for site launch, and as the site was changed overnight, Aerospike and Obility worked closely together on implementing all elements of Obility's On-Site SEO strategy. In the week following, Aerospike and Obility caught multiple duplicate content issues on the new site to rectify, as well as over 10 early 404 error pages. Moreover, there were issues with the robots.txt file not being read properly by the search engines, and Obility worked with Aerospike's development team to fix the file, ensuring that the right content was being indexed on the new domain.
Post-Launch Management
In the month following site launch, Obility continued updates to site META tags as well as regularly conducted site crawls to proactively address new SEO roadblocks. Obility also began implementation of the Off-Site SEO strategy by working directly with Aerospike's PR company to optimize initial press releases. This ensured that all the great press that Aerospike was receiving would help as much as possible with ranking for target keywords. Obility and Aerospike worked together to get www.aerospike.com included in Wikipedia, and Obility began outreach to guest post and targeted directory opportunities according to the off-site SEO strategy.
The Results

Over 150% increase in the value of non-branded search engine traffic generated after only 2 months, on pace to reach 2x the monthly cost of SEO services and growing
171% increase in monthly non-branded search engine traffic (SEO traffic)
Top of first page rankings for multiple target keywords, including first position for "realtime nosql database" and in the second position for "cross datacenter replication."
New website successfully ranking in the first position for past brand name, ensuring best possible user experience.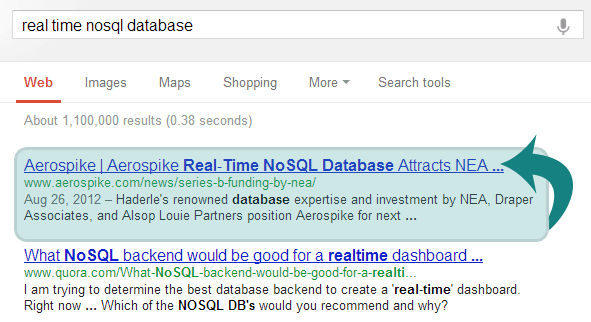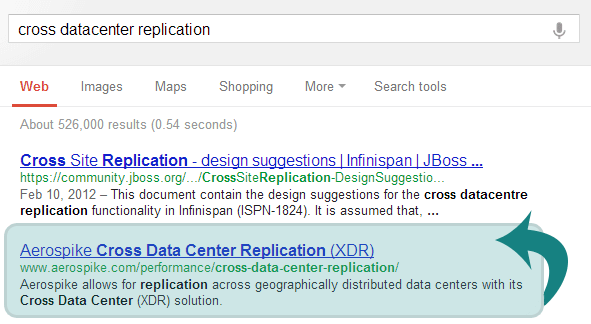 About Aerospike
Aerospike was founded by database and networking industry veterans who were frustrated with everything else that was available. Their goal was ambitious: to build the first data storage and management system with the ability to handle real-time big data at both blazing speed and infinite scale.
The result of their efforts was Aerospike, a fast Key Value Store and the only real-time NoSQL (schema-free) database that combines best practices in traditional database technologies and distributed systems to predictably process high velocity transactions for mission critical, revenue-generating apps.