The Challenge
Budget was slated to increase significantly in 2020 so campaigns needed to be adjusted without impacting the quality of leads. It was imperative that paid social campaigns not only drive more lead volume in line with budget increases but improve efficiency of lead capture (reducing CPL).
The Solution
The first step was optimizing our targeting criteria across campaigns to meet the expectations outlined in ICP materials for each software solution. Upon completion, we identified budget targets for two lead generation categories to maximize lead volume without compromising overall lead quality. Finally, we analyzed pipeline data and optimized the social advertising budget toward the offers and audiences that efficiently captured lead volume and yielded higher-intent (more sales-ready) leads.
How we did it
We were able narrow our targeting criteria by doing some heavy demographics sculpting in Spring 2020 across all campaigns. We continuously tested a mix of audiences using different targeting methods (job titles, interests, member skills) throughout the remainder of the year.
Next, we optimized budgets between high-level content campaigns (eBooks, whitepapers, research reports) and lower-funnel campaigns (demos, free trials) to build pipeline at various levels of intent.
Lastly, by passing a particular ID via hidden form fields, we identified which audience-offer combinations were responsible for driving the most qualified leads. We used this data to scale budgets in the most effective areas on LinkedIn and Facebook for lead capture without neglecting lead quality. Additionally, we set new CPL and budget expectations for high-value campaigns. This analysis was conducted quarterly to maximize spend or, alternatively, phase out specific audiences and offers.
The Results
Leveraging a mix of prospecting, ABM, and retargeting audiences across NAMER, EMEA, and APAC, extensive testing of audiences and campaign optimizations resulted in the following YoY improvements:
LinkedIn May YoY comparisons:
Facebook May YoY comparisons: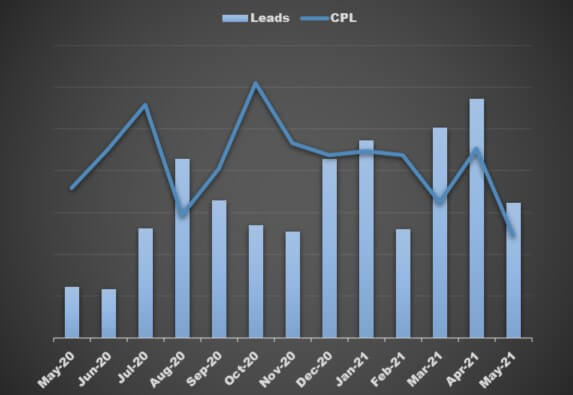 About Autodesk Construction Cloud

No aspect of construction happens in isolation. To avoid the risk of data siloing and miscommunication, project teams must collaborate with common access to critical project documentation and data.
The Autodesk Construction Cloud portfolio is designed with a deep understanding of the unique needs of each critical workflow. Priority one is offering software that reduces time, increases clarity, and is a pleasure to use.
The result is a set of carefully crafted tools that elegantly solve key challenges on their own and can transform business when combined.
Visit Autodesk Construction Cloud.
About Obility
We have one purpose: help B2B companies generate demand and increase revenue through online marketing. Located in Portland, Oregon and founded in early 2011, we're a fast-growing agency with a global client base ranging from early stage start-ups to multinational enterprises. Our focus is on B2B companies and we're proud that our growth has been due primarily to client referrals.