The Challenge
Launch a successful paid search program without existing content. Gainsight was essentially starting from scratch in terms of content and landing pages.
The Solution
Obility provided a Landing Page & Offer Strategy outlining landing pages and content (white papers, webinars, demos, etc.) that aligned with keywords targeted in paid search. Obility worked with Gainsight to identify content needs for prospects at the top of the purchase funnel and throughout the sales cycle. In order to ensure the success of Gainsight's paid search program, every effort was made on both sides to maintain keyword-ad-offer relevancy throughout each step of the process.
Education
During Gainsight's paid search launch, Obility sought to provide as much actionable information about paid search best practices as possible right at the start. Because many of Obility's recommendations require considerable work and effort, Obility looked to explain why these best practices tend to be successful and demonstrate how more landing page/content relevancy drives successful paid search campaigns.
Landing pages and the offers they promote should be considered as two halves of the same entity. A landing page should be all about the offer, and the offer should provide a clear benefit to the user. Whether a white paper, a case study, a webinar, or what-have-you, a successful offer should help the user solve a problem or achieve a goal. Some of the critical best practices for building landing pages and content Obility detailed to Gainsight:
It's all about the offer – A good paid search landing page will be almost entirely about the offer. B2B searchers are clicking through to investigate a potential benefit to their company. They're looking to solve a problem not learn about Gainsight as a company. The landing page and offer should focus on providing a benefit to the searcher
Make keywords prominent – A properly-built ad group will have a very narrow, specific keyword focus, and the core keyword should appear in the headline or sub-header. This provides immediate reassurance to visitors they're where they want to be
Compelling Offers – Gainsight is asking for a visitor to hand over her contact information. The content offered needs to be useful and interesting enough to justify an exchange of information
Test – Frequently testing landing page content and offers will help Gainsight determine what pieces of content connect best with their target audience
Building the Pages
Obility worked with Gainsight and BlueBird Strategies during the actual development process of the landing pages. The process was iterative: Gainsight and BlueBird would build a draft template in the Marketo landing page tool and send it to Obility. Obility would review the template and offer suggestions to help the page adhere more closely to best practices.
Marketo Integration
Another important element of Gainsight's landing page development was ensuring that the paid search campaigns properly passed lead tracking data into Marketo. Obility has extensive experience in helping clients track paid search efforts in marketing automation platforms. Obility and BlueBird worked closely with Gainsight to ensure that tracking was fully functional prior to going live with the landing pages.
Testing
Once two solid landing page templates were ready, Obility then tested them in high-traffic campaigns to determine which template was more successful. The winning template was then used to build out pages for multiple campaigns, with the focus migrating from landing page testing to testing on-page elements, etc. Throughout the paid search program rollout, Obility worked with Gainsight to continually create relevant offers and landing pages. Gainsight now has 41 dedicated landing pages, all precisely targeted to specific ad groups' core keywords and focusing strongly on a relevant, useful offer.
The Results
Leads Generated & Conversion Rate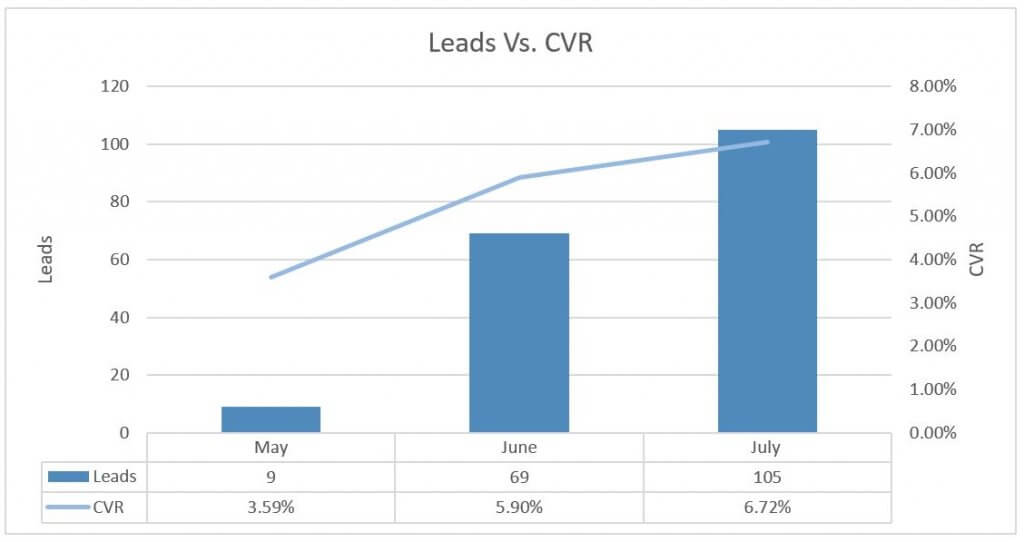 ---
Cost Per Lead & Leads Generated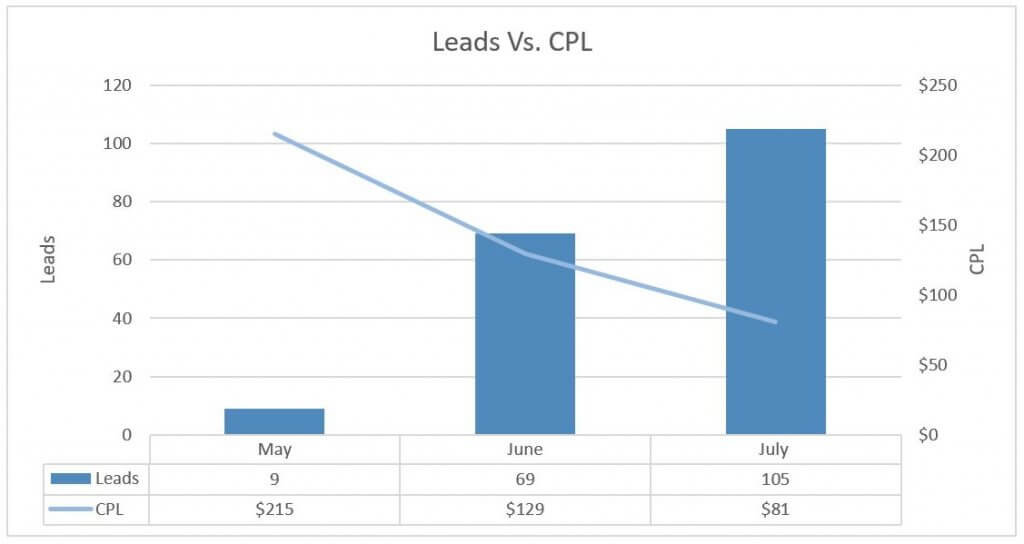 ---
Increased leads by over 1,000% in three months
By creating targeted landing pages, insuring the message match between the searcher's query & landing page content, Gainsight achieved an 87% increase in monthly conversion rate (CVR)
By offering relevant content to the user's search query allowed for a 62% decrease in cost per lead (CPL)
---
About Gainsight
Gainsight is a complete customer success platform that helps its customers reduce churn, identify up-sell opportunities, and increase customer adoption.