Marketo Measure: What is it?
Marketo Measure is an attribution software that tracks various marketing touchpoints. It then aggregates this information in touchpoint reports to provide a record log of the actions that users are taking throughout the customer journey. It accomplishes
this level of tracking by deploying javascript on each page of your site and completing integrations with third-party applications, including Customer Relationship Management platforms (CRMs) like Salesforce, ad platforms, and analytics platforms.
What is a touchpoint?
A touchpoint refers to any interaction a prospect has with your marketing efforts–this could be a site visit, site form fill, sales interaction, or even a meeting at a tradeshow event (yes–there are offline sources you can include too!). Throughout any number of interactions a user may have with your efforts, there are four milestone touchpoints that Marketo Measure emphasizes: the First Touch (FT), Lead Creation touch (LC), Opportunity Creation touch (OC), and Closed Won touch (CW).
Can't MAPs/CRMs also track similar activities?
Yes–but these platforms often fall short in preserving this information. As an example, marketing teams may leverage URL parameter values across digital efforts, like in ad URLs.
If a user interacts with a particular ad prior to filling out a site form, it's common for the form to collect these parameter values and associate them to the user's lead record. MAPs are configured to store URL parameters from only a single form submission on the lead/contact object.
This is problematic if the same user fills out multiple forms on the site over time because MAPs will overwrite URL parameter information with the latest touch, wiping out any values captured from a previous submission. As a result, teams lose the URL parameter information from early touchpoints and are unable to identify which digital efforts were responsible for first creating the new leads.
Beyond the issue of value preservation, MAPs/CRMs generally make it difficult to extract the timestamps of when these activities, like form submissions, are occurring. This information is buried in activity logs and not accessible as a dimension for reporting. Without an attribution tool, or costly development time and resources, teams are left with analyzing information from a single interaction (usually the most recent interaction) and are limited in their ability to understand the number of interactions that users are taking along the customer journey.
Attribution tools, like Marketo Measure, provide value by storing all information from each touchpoint and making each interaction's timestamp accessible for reporting. This allows teams to compare how different channels are responsible for cultivating meaningful interactions with prospects, and determine how valuable these interactions are.
Where does attribution come in?
Knowing that there is no "typical" customer journey, Marketo Measure offers single touch models (awarding 100% of the credit to one milestone touchpoint) and multi-touch models (attribution credit is shared across the milestone touchpoints). No matter which model is selected, Marketo Measure will determine how to assign credit across those four milestone touchpoints.
For Obility clients, we often see a mixture of models used because the nature of buying cycles, processes, and a number of stakeholders involved are typically more complex for B2B software. Obility recommended that evaluating Leads with the Lead Creation Model, and assessing the Opportunity metrics against a Custom Model (sharing credit across the milestone touchpoints with specific percentages) made the most sense for Apprentice– this allowed the teams to understand 1) how many new leads are directly created from PPC efforts, and 2) how valuable ($) the touchpoint interactions with PPC efforts are to Apprentice's business.
For the latter, this could be analyzed because, for milestone touchpoints that occur for users associated with an Opportunity, the Custom Model assigns a specific percentage of Revenue (from the Opportunity record) to that interaction.
How we did it
Integrations and settings
To unlock the full tracking potential of Marketo Measure, it's crucial to complete various aspects of the setup. At the top of the list, there are MAP and CRM integrations, which need to be completed by an Admin of those systems, as well as ad platform integrations.
Each ad platform requires specific permissions to create the connection with Marketo Measure, and additional steps to enable auto-tagging for each platform. Similar to Google Ads' auto-tagging, Marketo Measure will append a specific parameter to all ad URLs for tracking.
These integration steps are available for Google Ads, Microsoft Ads, LinkedIn Ads, and Facebook ads–but be advised that some ad formats are not supported with Marketo Measure tracking. Don't forget to agree to the consent statements to properly enable auto-tagging!
Channel mapping
Another crucial step of Marketo Measure setup is determining how to structure and define your organization's marketing channels (and subchannels), including both online and offline channels. Marketo Measure offers guidance on how to approach these channels, and how UTM values fit into the structure. For Apprentice and Obility teams, we aligned on which UTM values to leverage in our ads for each platform, and this was accounted for in the custom channel mapping.
Part of this process is determining how the prioritization of UTM values found will "bucket" touchpoint activity into channels, so it's important to have a MOPs stakeholder, or the admin of MAP/CRM systems, deeply involved in this setup.
Reports
Ultimately, our teams leveraged two Marketo Measure reports out of Salesforce.
The first report type was a Bizible Persons with Bizible Touchpoints report, which allowed us to understand 1) overall touchpoint volume from our paid channels and 2) if a lead was directly created from one of these touchpoints. The second report type was a Bizible Attribution Touchpoint with Opportunity report, which provided touchpoint records for users associated with an Opportunity. Included in each of these reports were "Count" columns.
According to our attribution model selected, Marketo Measure assigns a percentage of credit to the individual touchpoint record. If, for example, a LinkedIn ads effort interacted with a person who was associated with an Opportunity, then Marketo Measure's Count – Custom Model field may award that interaction as having 7% of the overall "credit" for that Opportunity (with 93% of the attribution credit going to other interactions). In this example, if the Opportunity was assigned an amount of $100,000 overall, then this specific LinkedIn Ads interaction would take credit for $7,000 of that Opportunity value. Taking it one step further, we integrated these reports directly with the ads platform data. To continue the example above, we could then compare the $7,000 attributed amount against how much was actually spent on the LinkedIn ads and begin to make informed decisions on which efforts contributed to the most valuable interactions, or touchpoints, with users.
Seamless integration
Obility's Data Team configured the two Marketo Measure reports from Salesforce to refresh directly into Apprentice's Database. Touchpoint data is now seamlessly integrated with data from ad platforms like Google, Microsoft, LinkedIn, and Facebook.
Obility built Apprentice an automated dashboard with Looker Studio that refreshes daily so they can analyze PPC metrics spanning the full funnel of the user journey–from spend, impressions, clicks, and conversions tracked in their ads platforms to Lead Creation Leads (LC Leads), Custom Model Opportunities (CM Opps), and Custom Model Revenue (CM Revenue) as recorded by Marketo Measure in Salesforce. Comparing these metrics against the spend of the ad platforms, metrics like Cost-per-Opp (CPO) and Return on Ad Spend (ROAS) are reviewable by ad group, ad campaign, or channel.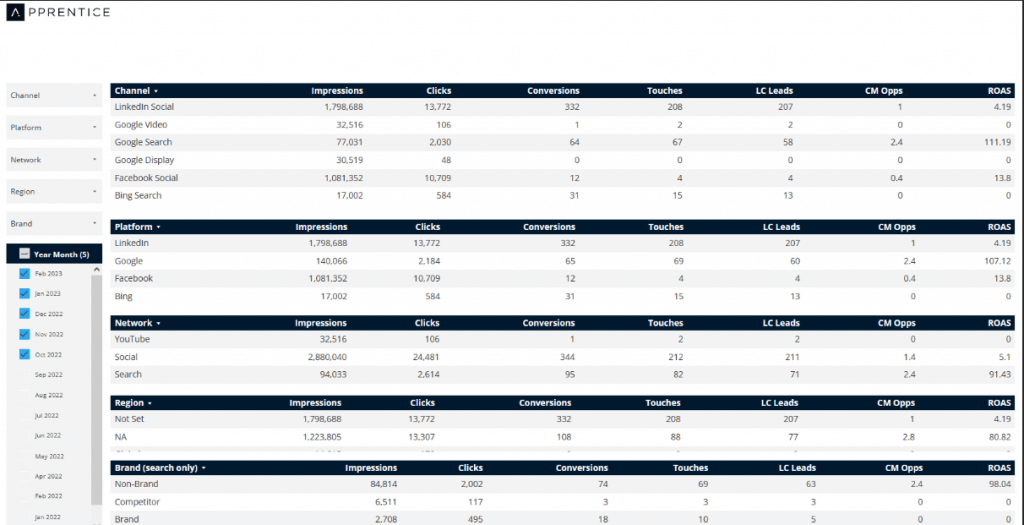 About Apprentice
Apprentice helps life science manufacturers get treatments to patients faster. How? By providing one platform to turn molecules into medicine. Our Tempo Manufacturing Cloud lets you scale up and out with unprecedented speed and accuracy. From preclinical benchtop to large-scale commercial manufacturing, Tempo keeps your global teams connected, empowered, and in sync. Learn how leading companies like Catalent, Synthego, and Bristol Myers Squibb are using Tempo to scale from drug discovery to patient delivery faster at www.apprentice.io.
About Obility
Obility is a B2B digital marketing company with a core in revenue operations. We help B2B companies improve lead quality and increase pipeline through paid search, paid social, and SEO campaigns. Based in Portland, Oregon, we're a fast-growing agency with a global client base ranging from early stage start-ups to multinational enterprises.