The Challenge
At the beginning of the engagement, Obility's global management consulting and training client shared two main goals they wanted to achieve with the support of Obility:
Build brand awareness in the finance and tech industries via brokers and affiliate marketers 

Increase the number of conversions
When Obility and its client started working together, the client didn't have a strong social media presence and had no ads running on LinkedIn. The client also had limited content on their website for Obility to build brand awareness with and test different options. 
The Solution 
In order to achieve their client's goal of 15 conversions by the end of the month, Obility started to explore and combined new strategies to reach out to new users who were not yet familiar with the client's brand.
Using and Updating Retargeting Lists
For bottom-of-the-funnel campaigns with conversion objectives, Obility was able to use the retargeting list provided by its client to retarget users already familiar with their brand and create look-alike (LAL) audiences to reach new prospects who are similar. In addition, both platforms retargeted traffic generated by each other based on landing page engagement and video views. 
After working with these retargeting lists for several weeks, Obility refined the list and removed prospects that didn't interact with the client's ads, thus saving money on cold leads. 
Finally, Obility focused its efforts on warmer audiences that were most likely to convert, regardless of audience size.
Testing Out Different Copy, Languages, and Creatives
Since the client had a limited number of assets, Obility used every asset available in their campaigns and tested out different ad copy, creatives, and languages to understand what resonated the most with their audiences.
Obility leveraged its internal graphic design teams to create new visuals for their ads and focused on testing multiple ad copy variations: shorter vs longer ad copy, emojis vs no emojis, different ad copy size and color, and localized languages in non-English speaking countries to improve the conversion rates in EMEA. 
Ads in local languages also helped clean up the retargeting lists: before localization, there were a chance leads didn't convert because of the language barrier, but after implementing localized ads with translated ad copy, the Obility team knew they could safely remove them from the retargeting list.
Leveraging Zero Click and Ungated Content
In order to build brand awareness and educate audiences that are not yet familiar with the client brand, Obility leveraged zero click and ungated content. All top-of-the-funnel content was ungated and the ads created by Obility displayed clear information about the client that would usually only be available behind a form. 
The main objectives of this unusual strategy were to minimize the barrier of entry for new users, educate a new audience and have users convert on bottom-of-the-funnel assets.
Diversifying Platforms 
The last prong of this strategy was to diversify platforms. While the monthly paid social budget initially allocated the majority of spend to LinkedIn, Obility advised the client team to shift more budget to Facebook, as conversion volume continued to increase on that platform. Obility is moving towards exploring advertising on Reddit—a relatively inexpensive, and great platform to build brand affinity and get the client brand in front of a new audience.
The Results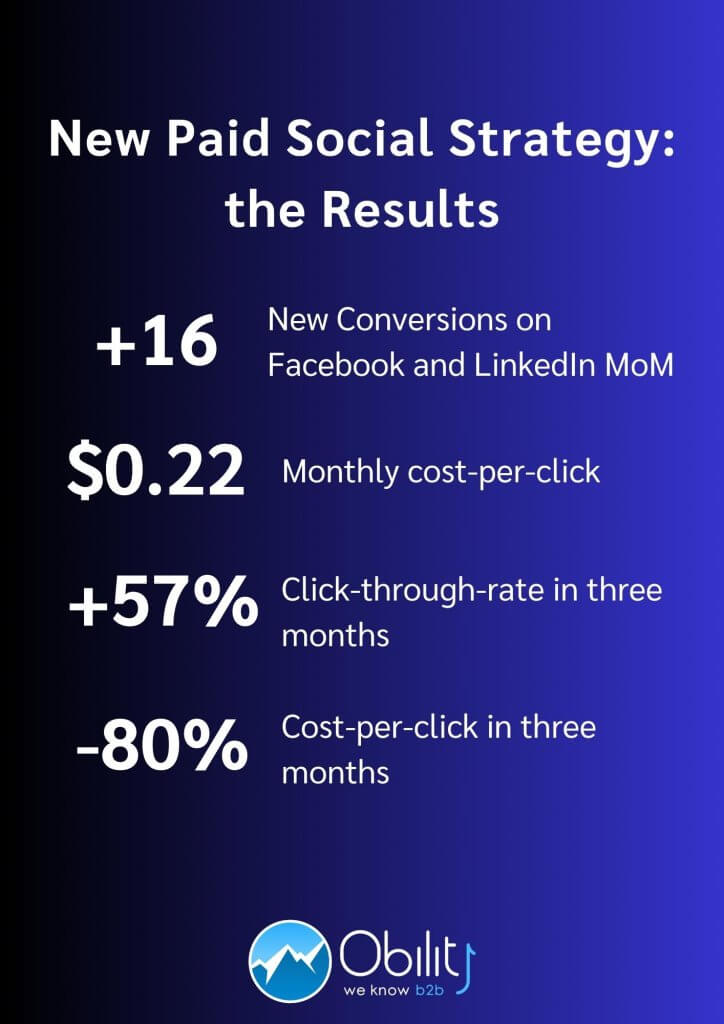 From the start of the launch in late December, the client experienced a 150% increase in CTR by the end of February. Then after just one month of testing out distinctive strategies, Obility was able to help drive a total of 16 conversions from 0, effectively beating the 15 conversions goal that was set at the beginning of the engagement.
The click-through rate, number of clicks, and cost-per-click have all shown improvement MoM and since the beginning of the engagement three months prior.