The Challenge
Interfolio wanted to be able to effectively measure the success of SEO efforts and have a better understanding of the ROI provided by prioritizing SEO as part of their ongoing marketing strategy.
At the beginning of the engagement, Interfolio and Obility didn't have a proper breakdown of non-paid channels and needed to identify which channels and landing pages were contributing to lead volume to inform where to focus optimization efforts.
On a paid platform, such as Google or LinkedIn, it's much easier to put attribution tracking in place by passing specific values via URL parameters and capturing these values with hidden form fields. However, we needed to understand the business impact of digital channels that do not leverage URL parameters, such as organic search, direct, or referral traffic, and specifically be able to deliver recommendations to improve organic interactions.
The Solution
With lead creation attribution as our north-star goal for the integration, Obility's Data Team leveraged a variety of tools, scripts, and data sources to ensure we would be able to report on the success of our SEO efforts past the initial conversion point of a lead.
Marketo Form Listener tags, a custom persistent tracking script, and collaboration with Interfolio's marketing operations team ultimately led to the ability to attribute leads, opps, pipe, and revenue to the organic search engine and specific landing pages responsible for record creation.
The Revenue Attribution Process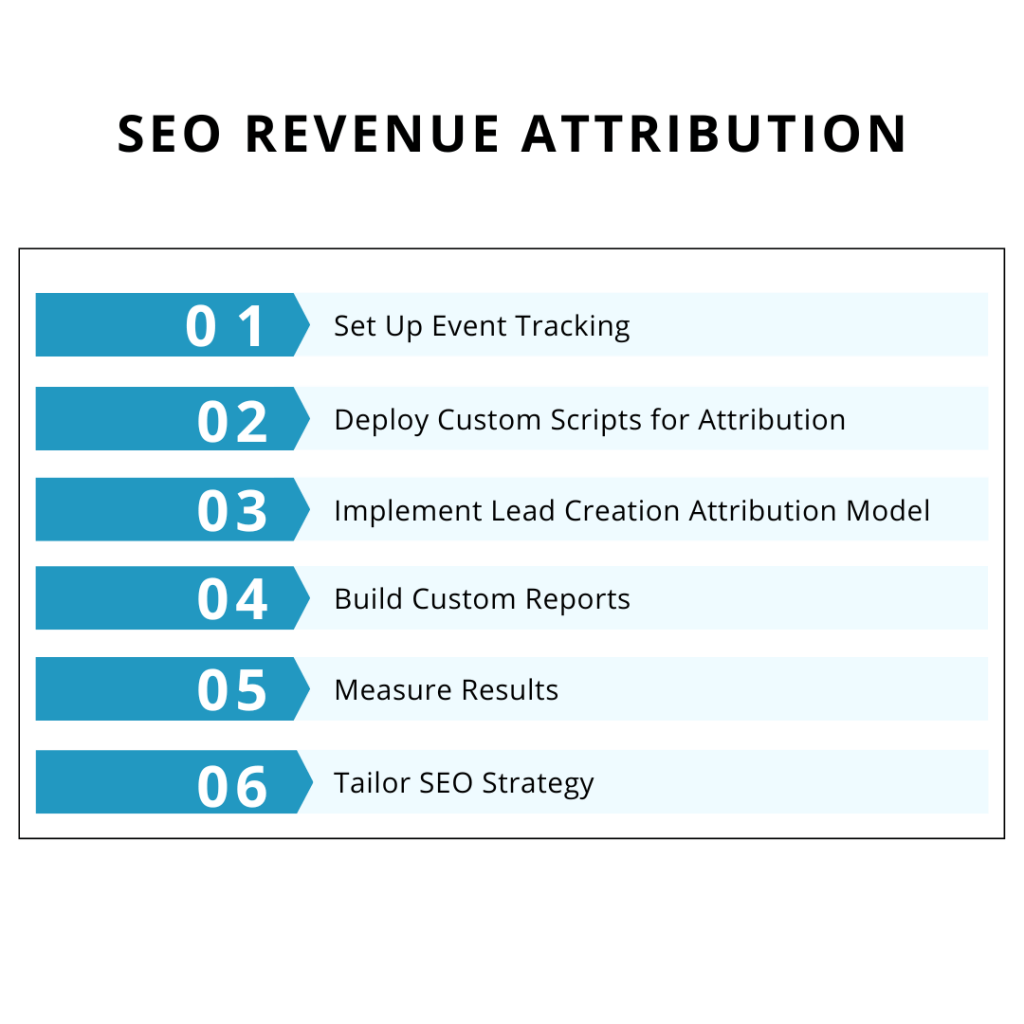 Step 1: Improved events tracking
We deployed a Marketo Form Listener tag via Google Tag Manager site-wide to provide more accurate conversion data.
The Listener gets sent data layer events when a Marketo form is loaded, interacted with, submitted, and finally accepted. It's a true representation of conversions and is much more accurate than a thank you page visit or button click because it only fires when the form is fully completed and submitted.
Step 2: Deployed custom script to assist with attribution of digital channels that do not leverage URL parameters
We created and deployed a custom persistent tracking script, allowing URL parameters and other session data to be stored in a cookie throughout the user's session and injected into Marketo forms if the user eventually converts.
The script passes the name of the search engine to the utm_source hidden form field and the value of 'organic' into utm_medium. Additionally, the script identifies and passes the landing page URL of the session into a dedicated hidden field. Now, if a user submits a form during their organic session, the appropriate utm_source and utm_medium values, along with their landing page, will be captured against their lead record.
Step 3: Collaborated on the implementation of a lead creation attribution model
Consulting with Interfolio's marketing operations team on Marketo processes to preserve information proved crucial for the lead creation model we sought to deliver in our reporting.
The Interfolio team was interested in leveraging a lead creation attribution model to analyze the impact of organic search. Therefore, the preservation of the utm_source, utm_medium, and landing page values collected from a lead's first form submission was crucial. Otherwise, if the same lead were to return to the site and submit a subsequent form, the information in these fields could be overwritten.
Interfolio's MOPs team already developed a solution in Marketo to preserve the first values of these UTMs collected at the time of lead creation (separate from the UTM fields that could be overwritten with the subsequent form submission values).
Together, we ensured that all first UTM fields were syncing to the appropriate Salesforce objects and designed custom reports to display these records.
Step 4: Built custom reports with parallel systems to ensure effective reporting.
We worked closely with Interfolio's MOPs team on report filters and report columns to analyze the entire funnel and pipeline.
We joined Salesforce data with GA4 and Search Console data within Obility's custom database, allowing us to link funnel and pipeline data to the organic search channel as a whole, as well as specific landing pages we've optimized or new pages we've published as part of the SEO strategy.
With custom Salesforce reports auto-refreshing into Obility's custom database with Google Analytics data, we joined the data to achieve the lead creation attribution model. From organic sessions to opportunities and associated amounts, we can now assess the full span of the user journey in a single view, with the ability to analyze performance by a particular search engine or landing page.
The Results
Once the tracking was properly implemented, we gained the ability to attribute Leads, MQLs, SQLs, opps, pipeline, and revenue to organic search and individual landing pages that originally converted the lead, allowing us to better measure the success of SEO efforts and identify areas to focus optimizations.
With backend data available and attributed to unique landing pages, Obility and Interfolio are equipped to make data-driven decisions on new and existing content, as well as which themes, keywords, and content types are driving the highest business impact. Thanks to the knowledge provided by organic search lead attribution, organic traffic saw a 47% increase in 8 months, the number of clicks increased by 179% in the same time period and the number of conversions increased by 52%.
We can also now use the information from the lead nurture program to influence our own user-journey conversion paths for organic search. We can evaluate which content is most effective at moving leads through the pipeline and put that on the website in the form of site links and CTAs.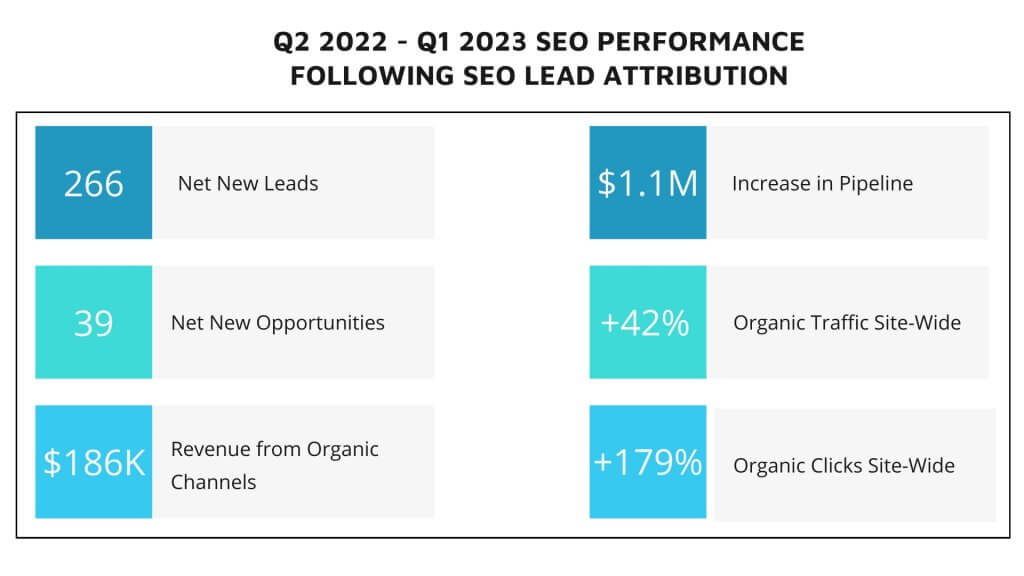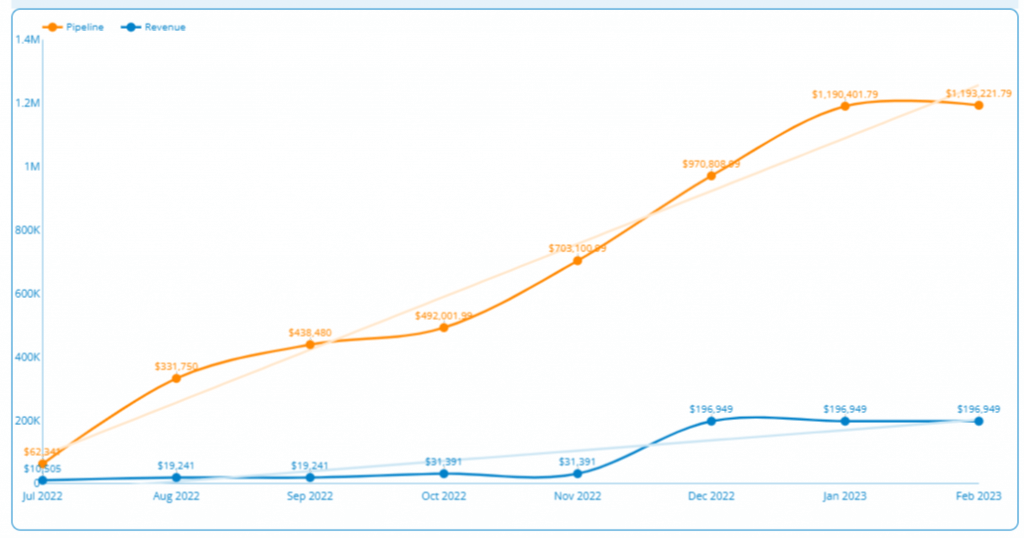 About Interfolio
Founded in 1999, Interfolio is an education technology company based in Washington, DC that offers the first holistic Faculty Information System to support the full lifecycle of faculty work—from hiring to annual review, service, reporting, scholarly data collection, validation, and more. All Interfolio software applications focus on faculty, with workflow tools to support shared governance processes; activity reporting solutions that support accreditation, decision-making, and data analytics; and consumer offerings that provide a portable, private space to support the collection, curation, and validation of academic materials. Working with over 300 clients, Interfolio leads with vision and innovation while remaining focused on advancing faculty and their institutions.
About Obility
Obility is a B2B digital marketing company with a core in revenue operations. We help B2B companies improve lead quality and increase pipeline through paid search, paid social, and SEO campaigns. Based in Portland, Oregon, we're a fast-growing agency with a global client base ranging from early-stage start-ups to multinational enterprises.