The Goal
Before Obility, Kong had a well established PPC program with a large number of assets including multiple eBooks, Webinars, and a Demo.  The problem was the Google Ads account was structured in a way that didn't differentiate keywords by customer intent. They were paying the same amount for clicks on keywords that convert at a higher rate compared to more broad keywords with lower conversion rates.  They also did not have adequate negative keywords and too much reliance on broad match terms which brought in a moderate amount of irrelevant search terms. One of the biggest challenges was the conversion tracking mechanisms were not set up correctly, causing us to track duplicate conversions as well as tracking conversions on pages that did not actually require a customer to fill out a form.
The Solution
Improving this account was done in three stages:
1 – Fixing the Conversion Tracking
We audited each conversion point and used Google Tag Manager to create new Google Analytics conversion points that focused specifically on form submissions and away from thank you pages.  This required extensive testing to make sure each form was capturing data and submissions were not getting duplicated. We also had to clean up the conversions in Google Ads, removing anything except the newly created conversions from Google Analytics
2 – Campaign Restructure and Rebuild
The goal with restructuring the account was to get much more granular in our campaign and ad group targeting.  We went from 5 campaigns and 8 ad groups to 8 campaigns and 35 ad groups. Campaigns and ad groups were divided both by user intent (segmenting between searches on the brand name, searches for various products, and searches for competitors) and semantics.  This segmentation allowed us to see exactly which areas were performing well where we could take advantage, and others that were performing poorly that needed to either be reworked or pulled back on.
3 – Adjust and Expand
Shortly after launching the new structure, we added remarketing, focusing our audiences on high value pages (instead of just using all site visitors).  By looking at the initial cost/conversion data, we quickly discovered our top performing assets and swapped out lower performing assets with assets that drove higher conversion numbers.  Later we segmented the campaigns by geographical region in order to move budget more aggressively to areas that performed better.
The Results
Campaigns launched at the beginning of February 2019 at a 30% less budget compared to the previous month. During February, the conversions improved dramatically, rising 96% despite the less budget causing CPA to drop 65%.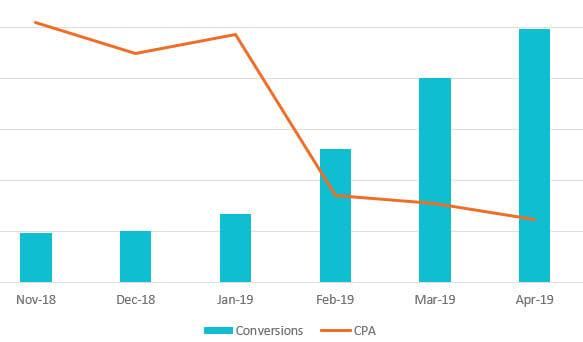 The January budgets were restored in March, and the March and April numbers improved even further.  Conversions in April were up 272% compared to January with similar spends and CPA was down 74%. The strong improvements were a direct result of spending less on clicks from areas with less competition, and making sure that the search terms matched the ads which matched the offer.  During this time conversion rates increased from 1.9% to 6.35%.
About Kong
Founded in 2009, Kong makes connecting APIs and microservices across multi-cloud environments easier and faster.  They power trillions of API transactions for leading organizations globally through our end-to-end API platform.  Kong now has over 75 million downloads, 40,000+ community members, and over 100 enterprise clients. Visit their site.
About Obility
We have one purpose: help B2B companies generate demand and increase revenue through online marketing. Located in Portland, Oregon and founded in early 2011, we're a fast-growing agency with a global client base ranging from early stage start-ups to multinational enterprises. Our focus is on B2B companies and we're proud that our growth has been due primarily to client referrals.