The Challenge
With a historical focus on opportunities and increased opportunity growth in 2019, Obility was tasked with changing direction for 2020 and asked to focus on driving new names from good fit accounts. This adjustment required our team to approach our digital efforts anew and parse the data to understand what offers, channels, and audience targeting were most effective to accomplish our new directive.
With the change in KPIs from Opps to NNMQLs, this called for a restructure in overall strategy. Paid social was an area that was seeing massive growth in 2019 so the shift in KPIs could affect its trajectory in performance. Other areas that needed improvement were regional breakouts from APAC as we were seeing low numbers of leads historically.
The Solution
While 2019 strategy relied heavily on robust remarketing campaigns, audience combinations and tailored offer promotion, 2020 required us to double down on our prospecting efforts to drive a higher volume of net new names. The Obility team leveraged multiple platforms, each with unique targeting capabilities, to engaged unknowns and get them in the database. Multiple audiences were utilized such as Facebook's interest based targeting and LinkedIn's groups, titles, functions and skills targeting along with a variety of offers. Over the course of the year the audience and offer combinations were optimized to maximize the volume of net new names from good fit accounts.
The shift in strategy called for a shift in budgeting from retargeting purposes. Prospecting came more into play as they generated the most NNMQLs for all regions. Snowflake's services expanded outside of just data warehousing so Obility was able to build new audiences that fit to the client's new functions.
How we did it:
Shifted budget towards prospecting efforts on all platforms and optimized bi-weekly to saturate top performing combination
Launched multiple assets to test against each other within the unique audience definitions that were targeted
Greater emphasis on user engagement beyond content downloads (Webinars, Academies, Digital Events, etc.)
Audience testing in perpetuity to determine the optimal targeting mix by platform, region, and vertical
The Results
In less than a year we saw 105% growth in net new MQLs while also lower the cost per by 31%
Overall Performance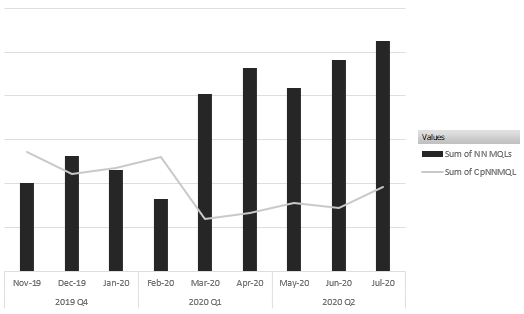 APAC Performance

About Snowflake

Snowflake offers a cloud-based data storage and analytics service, generally termed "data warehouse-as-a-service". It allows corporate users to store and analyze data using cloud-based hardware and software. Snowflake runs on Amazon S3 since 2014, and on Microsoft Azure since 2018[6] It is being rolled out on Google Cloud Platform in 2019. Its Snowflake Data Exchange allows customers to discover, exchange and securely share data. In September 2020, Snowflake achieved the largest ever software IPO. Visit their site.
About Obility
We have one purpose: help B2B companies generate demand and increase revenue through online marketing. Located in Portland, Oregon and founded in early 2011, we're a fast-growing agency with a global client base ranging from early stage start-ups to multinational enterprises. Our focus is on B2B companies and we're proud that our growth has been due primarily to client referrals.