The Challenge
ServicePower determined that its blog could benefit from improving its visibility in the field service market and improve its thought leadership positioning. For instance, the blog was only ranking for a small number of keywords (110), and out of those ranking keywords, 71 had no search volume. Likewise, at the start of the engagement, the blog was losing organic traffic by 26% YoY.
ServicePower needed a solution to increase both the number of keywords ranking for the blog and the relevancy of these keywords in order to increase organic traffic and improve thought leadership in the field service industry.
The Solution
A comprehensive content marketing strategy was implemented to transform ServicePower into a field service thought leader. By increasing the relevancy of blog topics to key field service stakeholders and producing high-quality and keyword-optimized content, ServicePower's new blog content was increasingly visible and appealed to and engaged target audiences. Moreover, with an extensive competitive content strategy, ServicePower was able to penetrate the competitive landscape and increase its presence in key industry spaces.
How we did it
Crafted a full-funnel content marketing strategy with a plethora of high-volume TOFU content and mid-volume MOFU content, while funneling users to BOFU resources on the site. (Also collaborated with internal ServicePower team to recommend additional BOFU content as necessary).
Comprehensive quarterly keyword research, including solution-based research, industry research, and competitive keyword content gap analysis to identify high-search volume, relevant, and thought leadership keyword topics.
Produced about 4 high-quality and keyword-optimized blogs per month.
Implemented internal interlinking strategies between blogs leading down the funnel to product pages and resources.
Leveraged SEO writing best practices, and optimized Meta Titles, Meta Descriptions, and headers for each blog post written.
Conducted blog content pruning to remove or repurpose dead weight on the blog, resolved technical errors on the blog, updated interlinking and CTAs, and further improved keyword optimizations and content quality.
The Results
At the beginning of our SEO engagement, Q1 2020, the ServicePower blog was only ranking for 110 keywords and the blog was losing traffic (Organic Sessions) at a rate of 26% YoY.
After 77 keyword-optimized blog posts were written and 70+ existing blog posts were further optimized, the number of keywords ranking for the blog increased by 290% (430 keywords vs 110 keywords).
As of Q1 2022, Obility-written blogs are now ranking for 231 net new keywords, earning high ranking results:

 2 Featured Snippets
12 People Also Ask Features
19 keywords ranking on the first page
26 keywords ranking on the second page.
The blog has not only stopped losing organic traffic YoY, but Organic Sessions have actually increased by 17% in Q1 2022 compared to Q1 2020, with a 457% increase in Average Session Duration and a 250% increase in Conversions.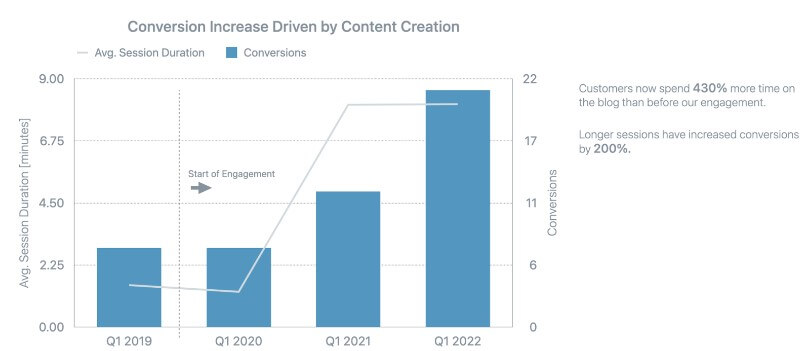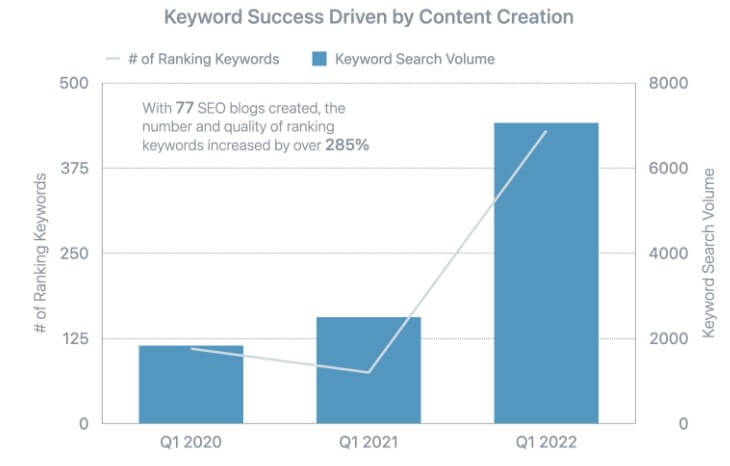 About ServicePower

As a global leader and Visionary in the field service management industry, our innovative technology is built with a focus on providing your customers with an exceptional experience, while delivering significant operational efficiencies to you. We offer flexible solutions, including the only SaaS platform that helps organizations manage a blended workforce of employed and contracted technicians.
When you work with ServicePower, you know that you are going to get the results that you need fast. Helping to achieve the outcomes you need quickly to positively impact your business is what we spend our days dedicated to. In fact, according to the 2020 Gartner Field Service Management Magic Quadrant Report, customers scored ServicePower's "time to achieve an ROI highest in the Magic Quadrant."
ServicePower is deployed across 36 countries in North America and Europe and dispatches more than 20 million jobs per year to over 18,000 independent service companies and 100,000 service users. From AI-enabled solutions to improved customer experiences and efficient technicians, our more than 25 years of industry experts will provide you with a best-in-class field service management operation. It's this experience and industry knowledge that has enabled us to help customers improve their field service operations around the world.
About the Author
Rhianna Rose Hixon is a Senior SEO Manager and Content Writer within the SEO department at Obility. She specializes in producing full-funnel content strategies that leverage high-quality and keyword-optimized content to engage target audiences at every stage in the buyer's journey. With several years of writing and marketing experience, Rhianna has helped 20+ companies generate demand, drive traffic, and increase revenue via content marketing campaigns.
About Obility
We have one purpose: to help B2B companies generate demand and increase revenue through online marketing. Located in Portland, Oregon, and founded in early 2011, we're a fast-growing agency with a global client base ranging from early-stage start-ups to multinational enterprises. Our focus is on B2B companies and we're proud that our growth has been due primarily to client referrals.