What is Search Engine Saturation?
Search engine saturation is the amount of space that search results occupy on a single search engine result page (SERP). This includes everything from images and advertisements to organic results.
Search engine saturation is a tactic used not only in lieu of high ranking results, but also in conjunction with them; providing the searcher with multiple opportunities to reach your site.
What Can You Do to Create Search Engine Saturation?
There are several ways to improve your company, brand or a specific site page search engine saturation on Google: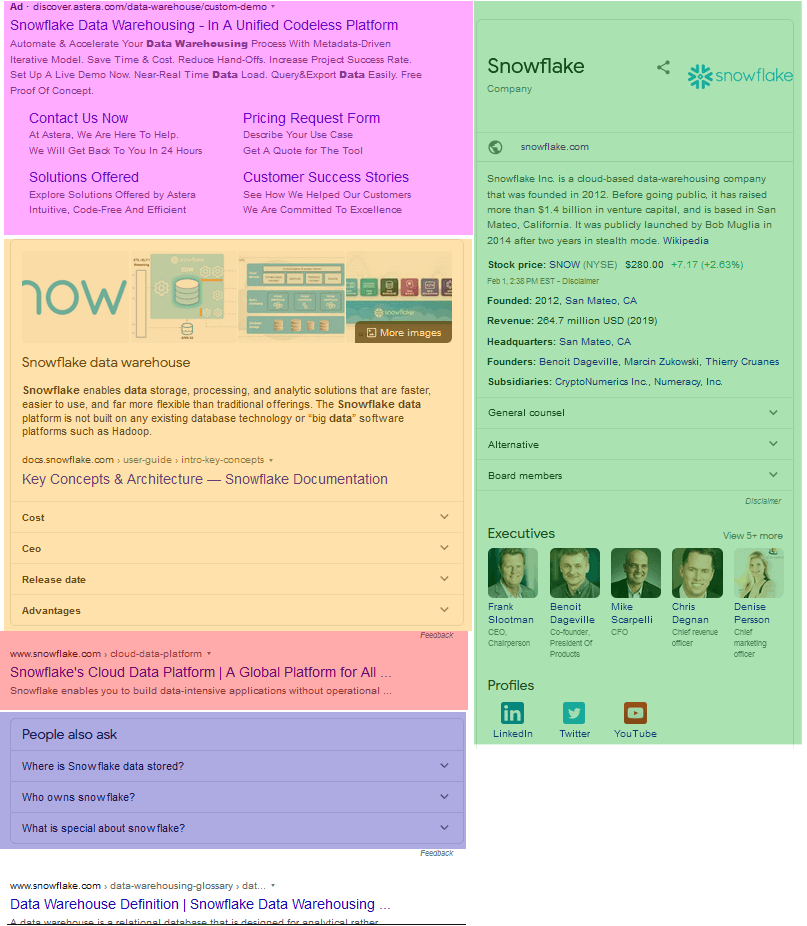 1. Ad Extensions (purple)
Google Ads add extensions display links to other pages of your site. "Extensions" they truly are, creating a bigger display compared to the other ads. They may not always display. This is based on a myriad of reasons; the position of your ad on the Google search results page, your quality score, and the keyword's quality and maximum CPC bid.
2. Rich Results (orange)
Sites can be included in Rich Snippets by adding schema structured markup. To be considered for a new snippet, sites must provide news content (obviously), plus have authority, accountability and readability. There is also an opportunity for Google News. However it is a tough sell for a company site, but being news worthy and having stories written about your products or services, so that news sites pick them up can lead to a second hand saturation. Users click on the article, read about your company and then either click a link or directly visit your site.
3. People Also Ask (blue)
Similar to Google News, People Also Ask will most likely be other sources with an article about your brand or company, maybe even on a specific keyword. As the name suggests, these are more informational, such as a guide, definition or whitepaper about a particular thing. People also ask are important because of the amount of search engine real estate it owns, seemingly pushing the traditional SERP results to the next page.
4. Knowledge Panel (green)
Creating a Google+ profile for your company or brand will add more brand or company exposure to the SERP by being included as part of the Knowledge graph. This all contributes to the Knowledge Graph, which pulls from Google+ and Wikipedia (Wikidata), among other sources.
5. Good Ol' Fashioned Organic Result Ranking Well (red)
Perhaps the most important of them all, just rank well organically.
6. Sitelinks for Organic Results
Sitelinks are generated automatically by Google when it will help the searcher. Similar to the sitelinks search box this happens with a brand, and there isn't a lot you can do to make sure these show up. Google States; "…make sure you use anchor text and alt text that's informative, compact, and avoids repetition."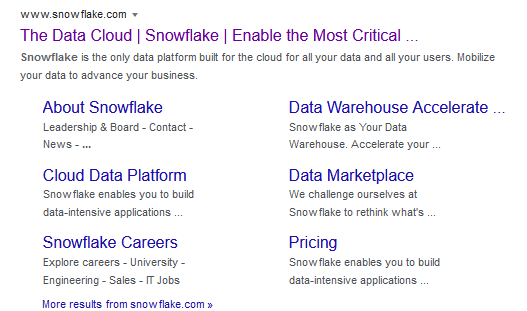 7. Social Media
Social media has the ability to show up in SERPs next to the original content. Whether you share the content, or someone else does, that result can show up alongside the original source in the search. For example a specific page can show up in the SERP for its ranking keyword. In addition, that same page shared on LinkedIn can rank as well. If a searcher gets to that share, and then clicks through to the site it is still effective at driving users to that page.
8. Images
Images show up as part of the SERP, and including them on a high ranking page, having a relevant image name as well as alt text that matches a keyword all contribute to having the image rank as well. When competing against other images it's important to have an eye-catching image. The quality of the image is essentially the call-to-action, and impressing this upon users is the path to a click.
9. YouTube
When a YouTube video ranks and is displayed on the SERP it occupies a bigger space than traditional results by including a thumbnail image of the video. The image stands out, differentiating it from other results. This is a way to add legitimacy by having a good looking screenshot (which can be customized). In this example, the traditional results for this specific product are not of the company site, but the video results are. And while the videos are not ranked as high, they are still prominent.
10. Sitelinks Search Box
The sitelinks search box displays within site specific organic results to help users find site content more quickly. The search box shows up almost exclusively when a brand name or URL is searched in Google.
Weighing SERP Saturation vs. Singular Focus (PPC and organic ranking)
Often, digital marketers become too preoccupied with keyword ranking, whether for organic or paid results. This can lead to squandered resources when acquiring a ranking that is nigh impossible, or expensive. There are various strategies that can be used in conjunction to saturate the SERP and make for multiple ways users can find your page. It allows for pages that are ranked low to offer something that even the top results may not. It increases awareness and greatly enhances the odds that a searcher will visit your page.