The Challenge
When Qualified and Obility first started working together, Qualified was struggling with its organic performance: they were ranking for a small number of keywords and not getting a lot of organic traffic despite regularly posting on the blog. Qualified didn't have an SEO-forward content strategy, their content was very sales-oriented and focused on products, they also didn't have a content calendar or a long-term plan for their content. 
The Solution
In order to support Qualified's growth, Obility devised a content creation and optimization strategy to bring quick SEO wins to the wider Qualified team. 
For starters, Obility optimized Qualified's top blog posts, to ensure they would continue to perform well and were still aligned with Qualified's brand voice. Next, Obility assessed the blog performance and identified blog posts that had historically performed well but were losing traction in the recent weeks. These low performers were reviewed, optimized, and implemented in the span of a quarter. Obility also provided 11 content outlines to jumpstart Qualified's content creation strategy. 

The most crucial part of this process was Qualified's involvement in supporting Obility's strategy. Qualified and Obility worked from a shared drive, reviewed agenda items and deliverables ahead of the meetings, and reviewed Obility's recommendations together on a call. Obility created dedicated monthly reporting slides tracking the performance of Obility-optimized blogs against non-optimized blogs, creating a compelling snapshot of the Qualified + Obility partnership and demonstrating the importance of ongoing optimizations. Finally, Qualified gave access to their CMS to Obility, which allowed Obility to publish approved SEO recommendations straight away. SEO is a long-term game: timely and regular optimizations are key to success.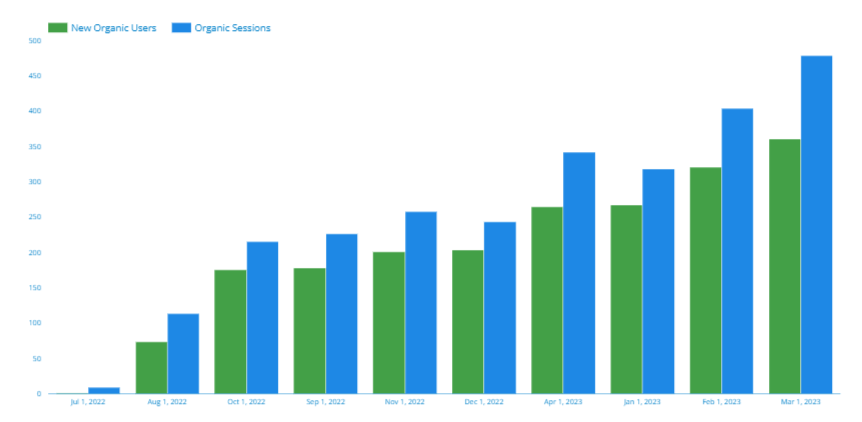 The Results
The results of Qualified and Obility's efforts were not only seen on the blog posts Obility directly optimized, but also impacted the website as a whole. The blog posts optimized by Obility saw an increase of 140% in organic traffic and 109% in new users after just a quarter. Website-wide organic sessions increased by 103% YoY, and because Obility targeted new keywords this 103% growth included a 98% increase in new users and a 21% increase in keywords ranking in the top 50. User engagement also improved: website-wide organic conversions increased by 146% YoY and the bounce rate improved by 15% YoY.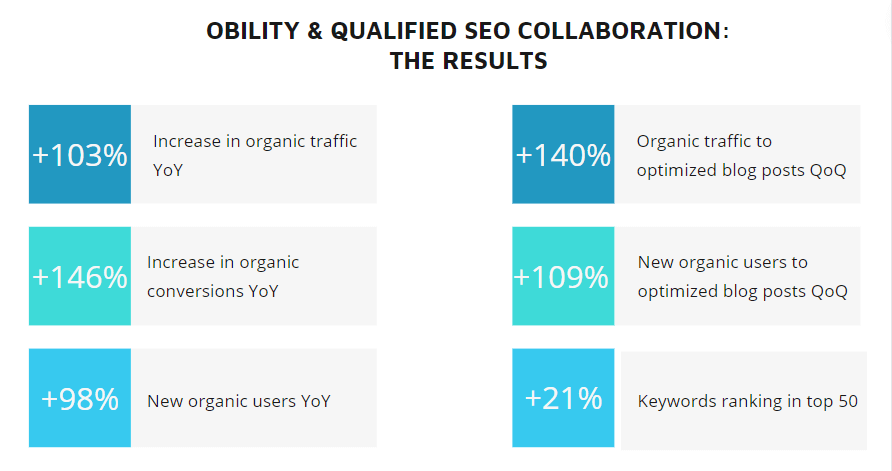 About Qualified
Qualified is the pipeline generation platform for revenue teams that use Salesforce. Leading B2B brands such as Adobe, LaunchDarkly, SurveyMonkey, ThoughtSpot, and VMWare trust Qualified to grow their pipeline by tapping into their greatest sales & marketing asset—the corporate website—to identify the most valuable buyers, uncover signals of buyer intent, and instantly start sales conversations. Customers that use Qualified report a 10X increase in sales meetings, a 4X increase in lead conversion, and a 6X increase in pipeline.
Qualified, built on Salesforce, connects the website with Salesforce data to identify account-based buyer intent and facilitate real-time sales conversations. Qualified is ranked #1 on the Salesforce AppExchange and is ranked #1 across over 20 categories on G2. Headquartered in San Francisco, Qualified is led by former Salesforce CMO Kraig Swensrud and former Salesforce product SVP Sean Whiteley and funded by Norwest Venture Partners, Redpoint Ventures, and Salesforce Ventures. 
About Obility
Obility is a B2B digital marketing company with a core in revenue operations. We help B2B companies improve lead quality and increase pipeline through paid search, paid social, and SEO campaigns. Based in Portland, Oregon, we're a fast-growing agency with a global client base ranging from early stage start-ups to multinational enterprises.