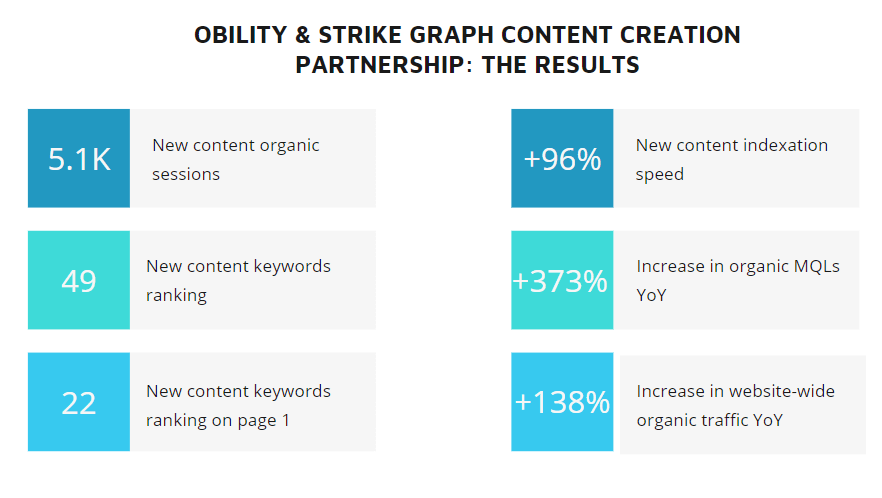 The Challenge
When Strike Graph and Obility started working together, Strike Graph was a young company, having been founded a year and a half before the beginning of the engagement. The website was getting approximately 1,000 organic sessions per month, had little content, low domain authority, and no SEO-driven content on their website. 
Most of Strike Graph's content was press releases and a few thought leadership pieces. There was no SEO strategy in place for the future of Strike Graph's blog.  
The Solution
Obility and Strike Graph started partnering to create content together in November 2021. Over the next 14 months, Obility established a solid SEO strategy based on keyword research that surfaced high-value keyword targets for their verticals and created content on a monthly basis to support it.
In order to improve Strike Graph's brand visibility, Obility's SEO strategy focused heavily on high-volume keywords that would reach a wide audience and building pillar page strategies. Pillar page strategies were particularly helpful since they increased the rankings and search visibility of highly competitive short-tail keywords for solutions pages. This was accomplished by targeting and interlinking related content targeting long-tail keywords or subtopics related to each vertical. This structure improves the brand authority around each vertical but also serves to guide users down the appropriate sales funnel. 
Since Strike Graph was a new website, new content was slow to be indexed at first. However, as new content was consistently added that targeted relevant keywords, the site gained authority in SERPs. As a result, the speed of indexation speed increased from 5 months from publication indexation in mid-2021 to five days in mid-2022. Slow indexation speed is common with new websites, especially when the domain authority is low. The time frame for getting content to be indexed on Google ranges from minutes to months and depends on a variety of technical and holistic factors. Here are the steps Obility took to improve Strike Graph's indexation speed:
Review the robots.txt to make sure that the subfolder or URL where the content lives on the site is not disallowed, de-indexed, or canonicalized to another URL

Check the XML sitemap to ensure all URLs that need to be crawled are in the sitemap

Update the crawling frequency in the XML sitemap

Review the source code to make sure URLs are not marked as no-indexed or canonicalized 

Manually resubmit the XML sitemap to Google Search Console

Manually inspect and submit the new pages in Google Search Console

Audit the site page speed to see if there are any egregious page speed loading issues

Post new content on social media to increase page authority, as well as direct and referral traffic

Create internal links from pages that are indexed to pages that need to be indexed

For new products specifically, send a press release for the content and link back to the URL, then submit the press release to an online press releases distribution service like PRWeb or PR Newswire

If no improvements show in the indexation speed, create a Google Search Console account for the specific page(s) that need to be indexed
It should be noted that even while new content was struggling to be indexed, Obility was able to improve the rankings and traffic to existing content that was already indexed on Google. One blog, in particular, was optimized for a target keyword and began ranking #1, which resulted in it becoming a top organic landing page for the site, second only to the homepage.
The Results
As of April 2023, Obility is on its 4th iteration of keyword research and keyword target identification, as Strike Graph keeps ranking for more and more target keywords and exceeds the goals set by the teams.
Working with Obility on getting content creation started helped the Strike Graph team see the impact of content creation on their SEO performance, this proof of concept allowed them to get the necessary budget to hire an internal content writer.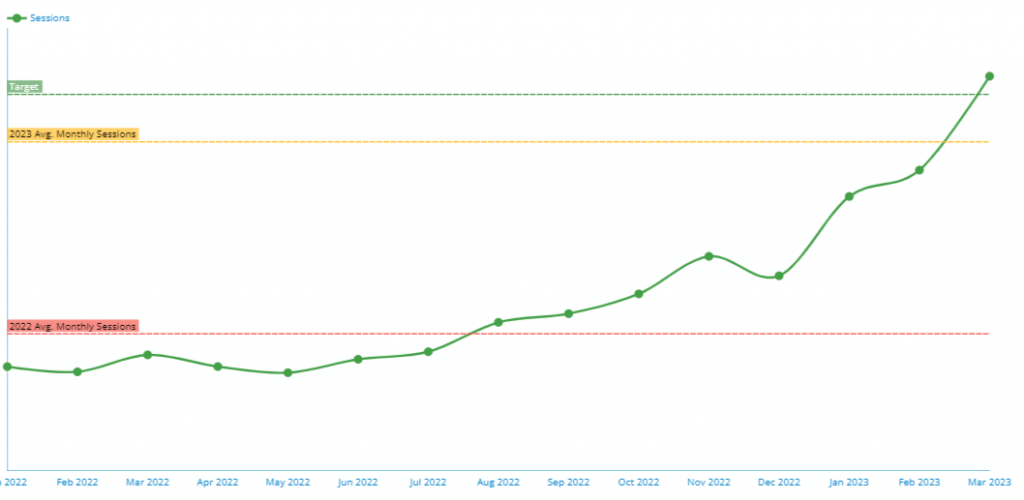 About Strike Graph
Strike Graph provides businesses with a compliance operation and certification platform that empowers them to build trust and unlock revenue at a fraction of the cost and time of traditional solutions. Strike Graph's vision is a future where security compliance is verified through transparent, objective technologies that eliminate the need for traditional auditing firms.
About Obility
Obility is a B2B digital marketing company with a core in revenue operations. We help B2B companies improve lead quality and increase pipeline through paid search, paid social, and SEO campaigns. Based in Portland, Oregon, we're a fast-growing agency with a global client base ranging from early-stage start-ups to multinational enterprises.