One of our tenets at Obility is to saturate core campaigns. We believe strongly that if something is working effectively, we should maximize its potential. Once we have determined a campaign consistently drives marketing qualified leads, opportunity, and revenue, we are going to look for ways to maximize impact from that campaign.
Saturating SEO campaigns means you need to extract as much of the search volume as possible from the results page. Saturation includes owning real estate within search results pages (SERPs), increasing search volume for your target keywords, gaining a higher clickthrough rate (CTR), and improving your rankings.
Obility's Graham McConnell discussed saturating search results by utilizing Google's verticals such as YouTube, News, and Twitter. For B2B companies, app exchanges and software review sites are other good options. Target Google verticals, social media, app exchanges, and review sites is an effective tactic to own real estate for your most valuable keywords. The more content related to your business that shows up in search results, the less opportunity a competitor has to appear in the results. The downside of using Google properties or social media is you do not fully control your content. YouTube can run competitor ads on your videos. Twitter can recommend following competitor profiles. News sites can insert ads into your content.
In reality, Obility recommends exactly this strategy to break into rankings. We suggest our clients run targeted advertising on sites, videos, and relevant social media that rank for their target keywords. You can utilize search companion marketing to reach organic results or run video campaigns for specific videos that rank well for your target keywords.
In addition to losing full control of your content, tracking is difficult with external properties. You can track referrals from news, videos views, and Twitter followers, but wouldn't you rather track site visits, pageviews, and goals? You will find it much easier to tie your opportunity and revenue to your organic search efforts if you are driving traffic to your site.
In addition to saturating SERPs real estate, you need to increase traffic from high performing organic keywords. Increasing traffic for a given search term is possible but is generally prohibitively expensive, and so you should focus on improving CTR and rankings.
Improving CTR is all about writing highly relevant title tags and descriptions to the search results. A good way to gauge your existing performance is to compare the CTR found in Google Webmaster Tools to expected CTR by ranking. Consider testing new page descriptions for keywords where you are noticing a lower CTR than expected. Note: any changes to title tags may dramatically affect your rankings and is a much riskier test than adjusting the page description.
There are dozens of factors to consider when increasing rankings; however, we urge you to consider one additional factor: the number of pages you are trying to rank for a given keyword. Traditional SEO wisdom encourages companies to target one page for a given keyword when keyword mapping for SEO. However, if you already have a solid ranking for one of your core keywords, you should consider trying to rank a second page for that keyword.
For example, Invoca does a good job saturating "call intelligence" queries (see image below). Invoca has the top paid ad, top two organic search results, and the fourth spot is their app's listing on Marketo LaunchPoint.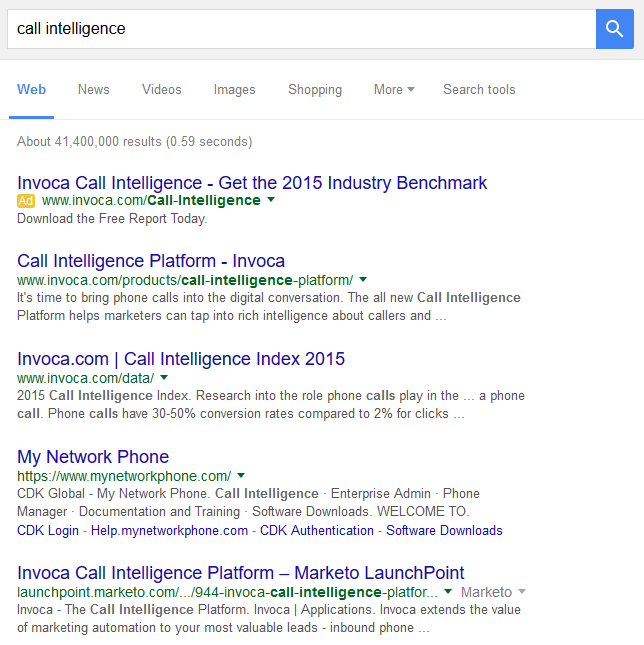 Often times moving up from position 4 to position 2 can require a great deal of effort, and frankly, can be near impossible. A better solution may be to try and get another page to rank in position 5 or 6. Moving from position 4 to 2 typically would increase the percentage of clicks from the SERPs by 3-9%. Companies can achieve that same percent increase (potentially with less effort) by ranking a second page in position 5 or 6 (see expected organic CTRs below).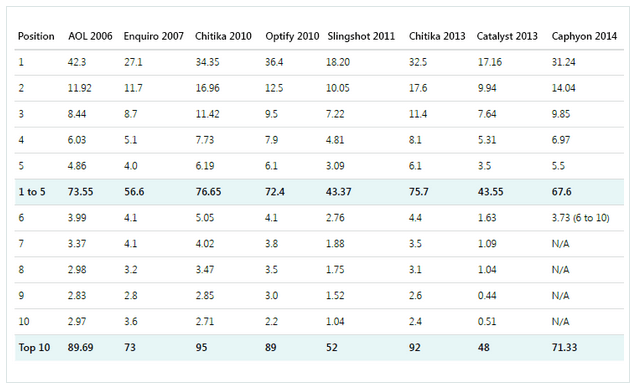 Ranking two pages in search results is not easy. We also do not recommend you initially focus on ranking one page, and only after a page is ranking and driving quality organic traffic would you consider trying to saturate the search results with another page. Trying to rank two pages from the get-go can thwart your optimization efforts. Trying to build links to separate pages only dilutes your link building efforts. However, if you already rank fairly well and your SEO efforts have reached a plateau for one of your core keywords, consider focusing your SEO efforts on a secondary page.
Saturating SEO campaigns is essential to maximizing SEO ROI. The first step in this process is confirmation that a term is a core keyword. This requires ranking and tracking traffic for that term to opportunity and revenue. Only after a keyword is determined to be core should you start to own real estate for that term, increase CTR, and consider ranking a second page.