The word seen everywhere at this year's Marketing Nation Summit: Fearless.
As a Marketing Nation Summit freshman, the grand, booming nature of this spectacle was a bit intimidating at first, as if they planned for this to be my first fearless test. The theme was complemented with fitting activities throughout the Moscone West space, my favorite being the large word mural of attendees' answers to the question: What Would You Do If You Knew You Could Not Fail?

It was refreshing to attend a conference that is true to its theme not only in keynotes and lobby attractions, but in the interactions had with other attendees. They taught me just as much as the presentations did! It was wonderful to see fearlessness in action through the thousands of professionals, and join tacticians and c-levels alike in making the most out of this opportunity.
If you have not yet been to the Marketing Nation Summit, and are considering next year's Las Vegas event, here are some of the impressions I flew home with.
The Marketing Nation Wants You to Learn
I think we've all witnessed obnoxious, shameless plugs from hosts and sponsors at conferences in the past, potent with scripted sales pitches and lacking in substance or significance…
Not here. That doesn't fly in a room of marketers who know better than to try such outdated, desperate attempts. What you find here are openly shared strategies to take home with you and be apply in your own way. Encouragement is found in the discussion of practices, not the forcing of consumption.
Those especially hunger for knowledge flew into San Francisco early and attended the University Day for beginner, intermediate, and advanced-level courses on the Marketo software. It was a full day of tactical training and recommendations of methods that can uniquely fit your role and company's needs.
The bootcamp course I attended was a fantastic introduction to Marketo. The session wasn't a lazy series of screenshots and rushed explains of every tab or button, as many beginner-level courses for other products tend to be. Instead we explored, step-by-step, three common scenarios a professional using Marketo would come across. Like a great first date, we built a strong, early foundation, and I'm really excited to see where this goes. Thank you University Day, call me!
The Marketing Nation Wants You to Connect
If your conference objective is to go straight from note-taking to your hotel room, you're doing it wrong. You're especially doing it wrong at a conference entirely dedicated to some of the chattiest people in the office – marketers. Regardless of industry, job function, or level of experience, everyone possessed that open marketing mind and spirit at the Summit.
Conversations with sponsors, speakers, and fellow attendees, even for someone so early in their career like me, was effortless. The genuine desire to learn beyond the scheduled sessions was clear – every individual in every room possessed a unique experience that anyone else could learn from, and most people seemed to understand that the only way to discover those experiences is to share them.
Not to mention the buzz that brought people together after the surprise Bizible acquisition announcement on Monday, a moment of marketing worlds beautifully colliding under purple lights and pump-up music!
The Marketing Nation Wants You to Succeed
Presenters weren't there for themselves; egos were left at the door and a desire to positively impact everyone's work stepped through. Some of the greatest inspirations from my experience this year came from: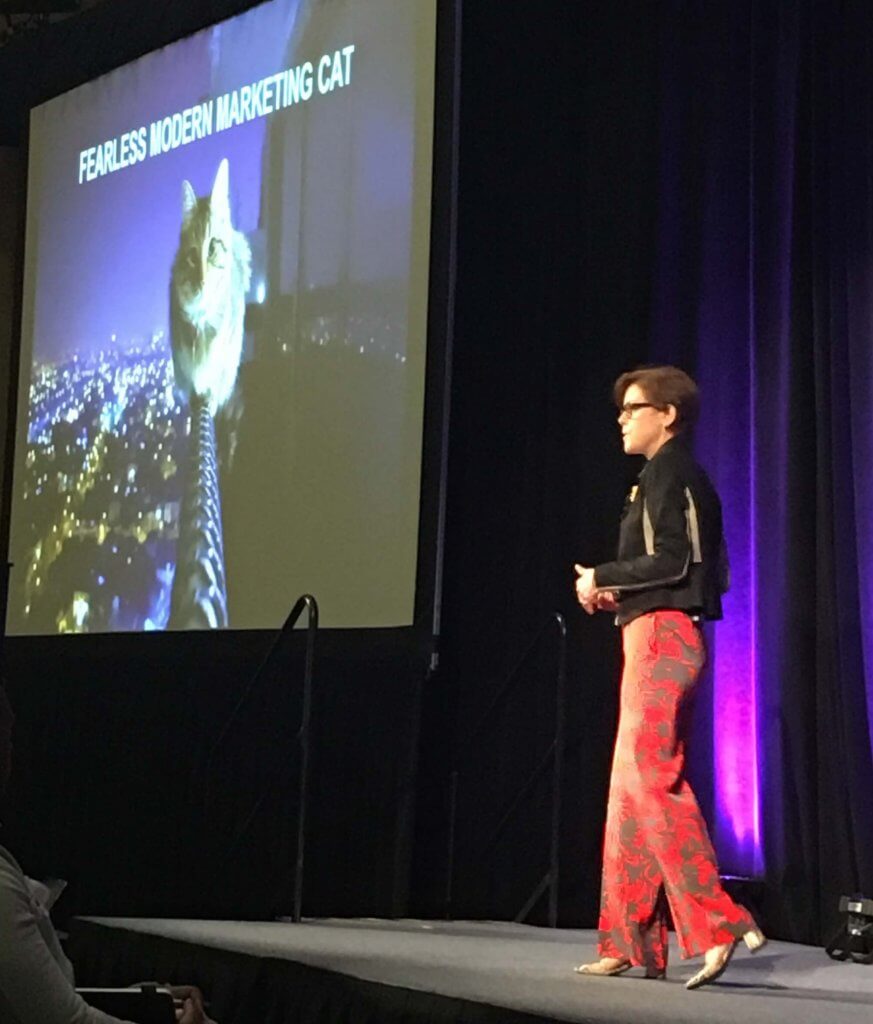 Ann Handley, MarketingProfs – The perfect balance of wisdom and humor with amazing, fearless takeaways for everyone…Ann, if I could get a blown up poster of that Fearless Content Marketer Cat on the balcony, that would be great.
Jonathan Mildenhall, Formerly AirBnB – Introducing himself to us with charm and the AirBnB story, then continuing by revealing the rawness on his journey through companies like Coca-Cola, he didn't leave a single dry eye in the house.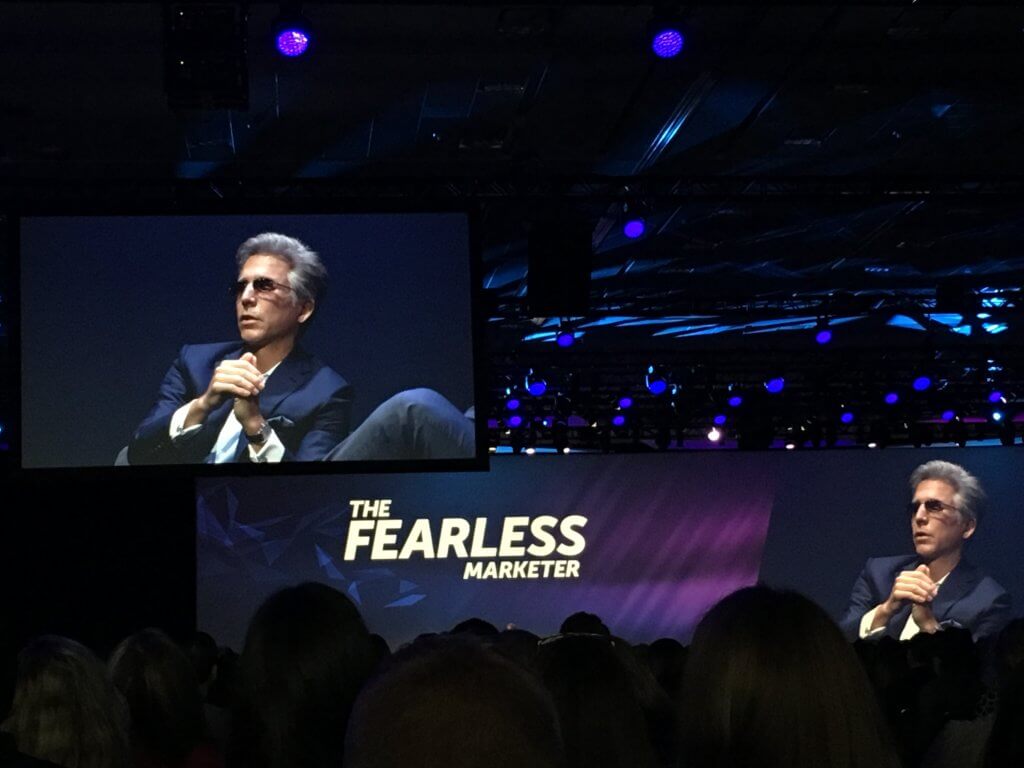 Bill McDermott, SAP – Hearing his stories of growth and reflection is one thing, experiencing the Fonzie-esque energy he delivers them with is quite another.
Craig Rosenberg, TOPO – Straightforward but never dull, Craig shared with us the often overlooked but necessary alignment of Marketing and their sibling Sales. Great personality on and off stage, I always enjoy watching his presentations.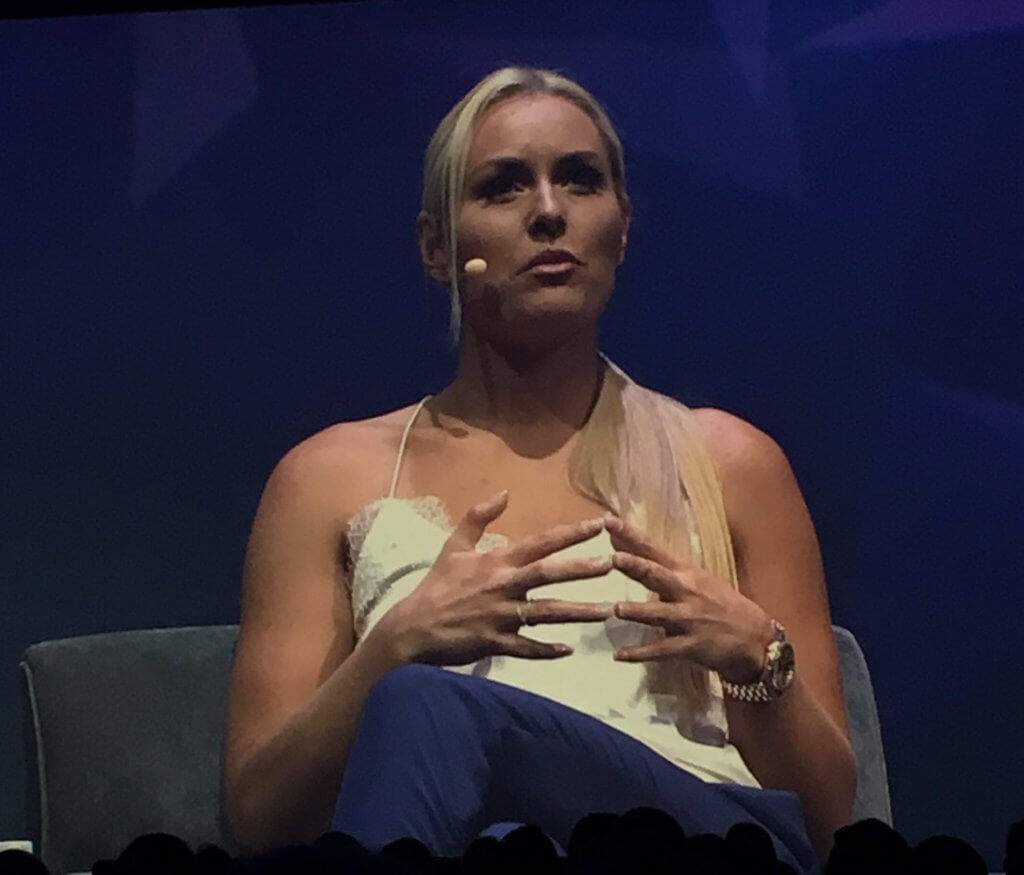 Olympian Lindsey Vonn – The surprisingly funny and down to earth athlete shared with us the personal side of her fears and successes, all the while leaving us and Marketo CEO Steve Lucas starstruck.
Overall, this was an unforgettable experience with so much to come home with (both in the form of knowledge and sponsor swag). I'm excited to apply what I learned and put that same love and care into Obility's own event on October 15th, Marketing Loves Sales. Keep on the lookout for Portland's only B2B-focused marketing/sales conference, and contact us if you're interested in taking part!
Be fearless, my fellow members of the #mktgnation!