Taking an Agency Engagement In-House
Agency vs in-house discussions have recently resurfaced after Uber successfully re-branded using an in-house design team. Like creative agencies, we work with clients who consider taking lead gen programs fully in-house.
Clients weigh managing their paid search, paid social, SEO, and content syndication programs under their own roof. In theory, managing a fully in-house lead/demand gen team makes a ton of sense. Who knows your business, industry, competitors, and trends better than your own team? How much easier is it for Sue to get in the same room as Roger to discuss the next content marketing campaign or plan the next hosted event when you're in the same location? And these clients are absolutely right – managing lead gen in-house is the right move. The wrong move is cutting ties with an agency.
An in-house only lead gen team increases your risk
An in-house only lead gen team increases your risk. According to the Society for Human Resource Management (SHRM), the tech industry has the lowest average employee tenure of any industry. Employee churn is a major concern, and often success feeds employees leaving. Once an employee is vested, they have significant motivation to jump to the next startup and take a chance on their next lottery ticket. Investing heavily in employees can critically damage your lead gen efforts when those employees leave without agency support. A Jobvite survey found roughly 1/3 of employers expected employees to stay 2 years or less. Is that risk worth taking?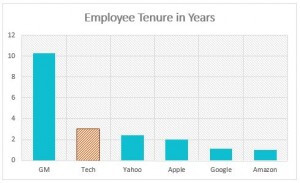 Furthermore, employees need time to keep up with your fast-changing industry. New competitors will surface. Acquisitions will occur. Internal hires, restructures, and initiatives are a part of any employee's day-to-day. All of the action happening under your roof and within your industry leaves little time for an employee to keep up-to-date with the fast moving marketing technology and ad tech:
Account-based marketing
Programmatic
Predictive
Attribution
Mobile
Native advertising
There is a ton of movement within specific channels alone as Google handing its algorithm over to machines and LinkedIn sunsetting Lead Accelerator. How are employees expected to keep up with their own industry, changing technology, search algorithms, and ad network advances and betas without the backing of other experts?
The answer is simply no individual can stay in front of all the changes. Agencies recognize this. Agencies address this by separating subject matter experts  (SMEs) who need complete knowledge of changes in their specific channel (e.g Google algorithm change) and the technology supporting their channel (e.g. Moz Site Explorer) from the account team who is expected to learn the ins and outs of a client's business.
Agencies Mitigate Risk & Share Expertise
Additionally, agencies can limit SMEs to a single subject (e.g. paid search) and limit the number of clients of each account team member. SMEs can lean on each other for updates in their industry. Agencies don't need every paid search SME to test SteadyBudget or Google Customer Match. SMEs can report on its efficacy, and the whole team can learn from each other's successes and failures. Similarly, account team members can learn from each other in how best to target IT decision makers or what offers work best in which stage of the buying cycle.
By providing a team approach, agencies inherently insulate lead generation efforts from employee churn. Because it's a team approach on multiple levels: client's account team, SME teams, and the client service team – an employee leaving has minimal impact on the success of the lead gen campaigns.
While working with an agency typically minimizes risk and provides a better chance of maintaining lead gen expertise, the best option for most companies is to structure your marketing team where in-house experts work with an agency or agencies. Many of Obility's most successful clients have in-house experts who track emerging industry/competitor trends and coordinate with internal marketing efforts while working with a specialty agency. This provides the best of both worlds and provides security against employee volatility.