The Digital Summit marketing conference series came to Portland, OR July 13-14, 2016. This was an opportunity for the Obility team to learn and brainstorm about ways to elevate our clients' digital marketing strategies. Key themes included content marketing, user experience, email marketing, landing page optimization, video, and search engine optimization. Here are my top three takeaways from the Digital Summit:
1. Study the SERP
Have you studied the search engine results page (SERP) lately? Since the 2015 release of Google Knowledge Graph, Google's goal is to give users the best search results using various widgets. Today's results pages include answer boxes, knowledge panels, images, video, news, reviews, and more, all in an attempt to provide the most relevant information. Moz data shows that today only 3% of results are the classic ten blue links.
It can be hard to come across such a search page, but it does exist: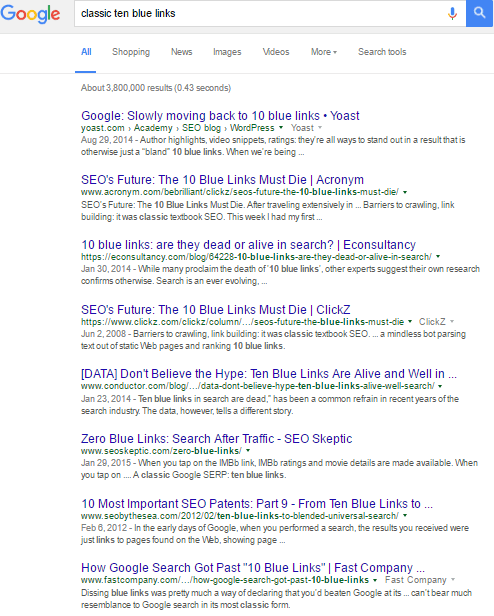 Today, the search results commonly look more like this: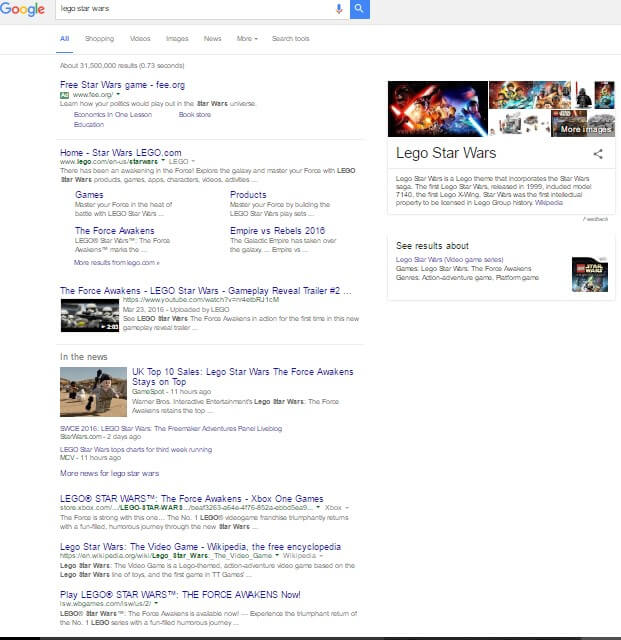 What does this mean? With so many options in search results, users can now click on video, news stories, images, and business information, in addition to maps, ads, and the general organic results. This could cause a decrease in the organic click-through rate of your main website.
What action should you take? Determine the keywords of most value to you and analyze the search results page for those terms. What type of content is appearing on the results page? Consider optimizing your website with additional content in these non-traditional formats to gain more space on the Google SERP and to vary the type of content available on your website.
2. Engage with Video
We are seeing a rise in video as a way to engage potential customers, as well as a way to attempt to gain additional dominance in the SERP. Skeptical about ROI? According to Forbes, 59% of executives prefer watching video over reading text. ReelSEO data confirms that 96% of B2B organizations use video in their marketing campaigns, of which 73% report positive ROI.
What does this mean? If your marketing assets do not include video, consider adding it as another way to engage with your website visitors.
What action should you take? Be sure to curtail your video content to your audience. You may want to include short 30 second to one-minute videos explaining your product or service at a high-level for general information seekers, while a tutorial or in-depth product demo will engage someone further down the sales funnel. Don't forget to include a call to action. Note that currently, the only video links that appear in the Google SERP are from YouTube or Vimeo.
Tip: If you are posting content videos to both your website and YouTube, consider the timing. Rand Fishkin, Wizard of Moz, noted that at Moz they post to the blog page of their website first and then to YouTube three weeks later. This prevents YouTube from ranking higher than the main website on the search engines (which could cause you to lose traffic from your main website to YouTube).
3. Create Quality Content and Evaluate It Regularly
From white papers, to infographics, case studies, one-sheeters, and product demonstrations, it's important to have multiple engagement assets on your website.  Over time, content may become stale, outdated, inaccurate, or no longer relevant to your target persona.
What does this mean? It's important to review content regularly and evaluate the level of engagement of each asset to determine what is working and what may need to be removed or tweaked. The better and more engaging your content, the more likely it is to resonate with the user and for that user to move down the sales funnel.
What action should you take? Complete a content audit to determine which pages are ranking well and for which keywords. Determine which keywords the website should rank for, but are not, as well as additional semantic keywords (synonyms, close variants, and tangential terms) you can add to current content. Prioritize pages by keyword value and tweak content for relevant semantic keywords.  Then add or update content for timeliness, accuracy, or additional depth.
Tip: Consider revising the title and including a target keyword variant. For content that may be competing with each other, consolidate the pages and 301 redirect the old URL to the new.
__
Connecting with similar professionals and industry leaders at conferences like the Digital Summit is always a great learning opportunity. Be sure to check out Marketing Loves Sales hosted by Obility October 18, 2016 in San Carlos, CA. The Marketing Loves Sales conference highlights speakers from Google, Marketo, Engagio, Domo, and Act-On. Topics range from account based marketing to back-end integration and marketing automation will be covered with an emphasis on helping your department drive marketing leads through the sales pipeline.