On February 19th, SearchEngineLand confirmed Google will stop showing right-hand column paid search ads. In addition, they are going to sometimes show up to four paid ads in the top section of the SERP. Although this announcement comes as a shock to many advertisers, it's not altogether surprising given Google's public acknowledgement of moving toward a mobile-first design.
Google has been testing these changes since 2010, and it's safe to assume such a large-scale modification to the SERPs will not have a negative impact on user experience, while at the same time increasing Google's revenue – studies have shown that over 40% of searchers can't tell the difference between organic and paid search results when the right-hand side is removed. By removing the right-hand side, searchers may be more likely to click on the top results. Google knows this and knows that showing top-only ads creates more profitability.
The Impact on B2B Advertisers, and How to Maintain Performance
According to Moz, as of February 23, Google has completely removed all right-hand column ads, (with the exception of Knowledge Graph panels and paid shopping blocks), and is showing a fourth top paid ad 36.4% of the time. We can expect the fourth ad to eventually be shown on most commercially relevant searches. So how do these changes affect B2B advertisers?
The removal of the right-hand ads will have an impact on B2B advertisers. Although studies have shown users click on top ads more than 10 times as often as right-side ads, the change now puts all of users' focus on the top four paid ads, all of which appear above the fold on a 15" laptop screen. This not only means that ranking in the top four positions for your core keywords is key, but having strong ad messaging is more important than ever in order to maintain solid CTRs.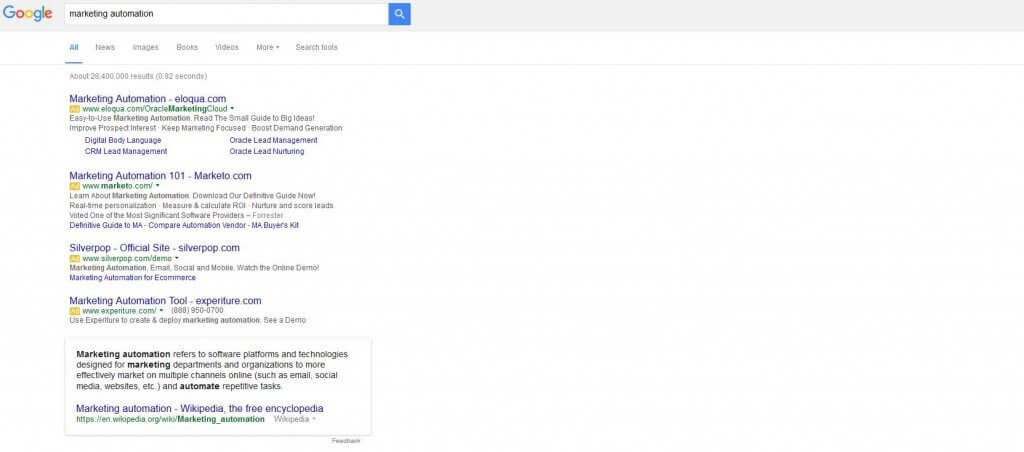 It's safe to assume B2B advertisers will be taking a much more intensive look at ad positioning and increasing bids on core keywords. Although this reaction makes sense on some levels, advertisers need to be responsible with their spending. Bidding to be in the top four positions only makes sense when it remains a profitable endeavor. A well-managed PPC campaign will tie back-end marketing automation and CRM systems to front-end PPC efforts, therefore providing insight into keywords that are actually generating MQLs, opportunities and revenue.
Monitoring your cost-per-click and average position as Google's changes roll-out is an important first line of defense in countering its effects – especially on core keywords. Identify your keywords that are below position four and increase the bid where it makes financial sense. Conversely, look at your keywords already in the top four and determine the bidding threshold for each. You are likely to see some increased competition.
What about keywords that aren't profitable above the fifth position? You should consider allocating more budget to less competitive platforms, such as Bing, or to paid social platforms, such as LinkedIn's Direct Sponsored Content, where you might sacrifice some volume for lower customer acquisition cost and higher profitability.
Relevancy More Important Than Ever
Google has made it clear time and again that ad relevancy and user experience is extremely important to them. High relevance is going to increase the chances of your ads being shown without having to increase your keyword bids.
This means creating and testing new landing pages will as important as ever. In addition, you should consider dividing ad groups with many loosely similar keywords into multiple ad groups with less, but highly similar keywords, and creating separate landing pages for each. Similarly, creating additional keyword-relevant content and offers will increase relevancy and improve user experience.
As the searcher's SERP view is now more focused on the top ads, it's important to review your current ad messaging and ensure its following B2B best-practices. Not only should your ads contain ad group-specific keywords, but they also should be offer-focused, supported by the benefits of the offer. Give the searcher a compelling reason to click on your ad.
You should also audit you use of Ad Extensions. It has been proven the use of Sitelinks, Callout Extensions and other Ad Extensions increase the visibility and CTRs of paid ads. Creating impactful and relevant sitelinks, for example, not only makes your ads stand out from the crowd and pushes your competitors' ads down the SERP page, but also gives searchers additional options to find relevant and rich content.
The Bottom Line
At the end of the day, the long-term impact of Google's SERP change is speculation. Cost-per-click has steadily risen over the last few years and seasoned B2B advertisers have adjusted their tactics accordingly. Whether your PPC management is in-house or with a B2B digital agency such as Obility, following time-tested best practices becomes more important than ever. The Google SERP change, if nothing else, is another reason for you to roll up your sleeves, really get to know your ROI numbers, and optimize your PPC campaigns accordingly.