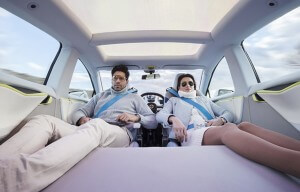 The world is moving toward autonomous driving. It is not a matter of if but when. Soon enough one of the greatest status symbols of Americana, what car you own, will be replaced by what car service you use. GM understands this to the tune of $500 million. Obama understands this suggesting a $4 billion government fund for self-driving technology. It's an inevitability.
As I see the transition to self-driving cars unveil, I cannot help but wonder what am I waiting for. Why do I even own a car at this point with Lyft, Uber, Zipcar, Car2Go, and countless other options available to me? The freedom of owning my own vehicle is appealing but so is the freedom from driving.
Unfortunately, I am somewhat stuck. I own a 2015 Subaru Outback, and so much of the value in my car sunk when I drove it off the lot. My question is if I were to return to that fateful day in August 2014 and weighed buying a car versus utilizing car services, did I make the right choice?
For simplicity sake, I have chosen to evaluate buying my specific car versus using Lyft and Zipcar from my house, which is located 4 miles from my work). First, let's calculate the cost of car ownership including monthly car payment, monthly parking, insurance, gas, vehicle maintenance, and the occasional car wash.
I based monthly payment, parking, insurance, gas, and car wash on my current expenses. For maintenance, repairs, and depreciation, I used the Edmonds True Cost to Own calculator. I also took out the expected value of the car after four years based on the depreciation as going the "buying a car route" provides me an asset at the end of the four years.
To calculate using a car service, I included my two preferred services Lyft and Zipcar. For work commute, I included only the days I expected to be in the office discounting for travel, weekends, and vacation. I factored in regular commutes to the mountain and day trips. For weekend use, I only included non-drinking uses of Lyft as even with a car, I use Lyft on drinking nights.

At least for me, the total cost of owning a car for four years is pretty comparable to utilizing car services, and simply riding a bike in the summer would make car services 10-15% cheaper than car ownership.
While this analysis is significantly skewed by me choosing to buy a new car, my situation is not that different from most working professionals. I live fairly close to where I work, chose a new, moderately expensive vehicle, and take frequent day trips out of the city. With how quickly Lyft and Uber pick up passengers, had I done this analysis 18 months back, I most likely would have gone carless.