With only one month until Dreamforce and months of planning in the rear-view, meetings are set, company swag and team unis picked out, and press releases and blog posts written. A monumental amount of work and effort – not to mention marketing budget – has gone into planning four short days, but lead capturing and nurturing should already be underway. Dreamforce isn't simply a lead capture and networking opportunity – it should also be a sales closing celebration.
Obility works with several Dreamforce sponsors – including Titanium & Platinum sponsors. Our clients recognize the opportunity in the weeks & months prior to Dreamforce. They generate excitement and promote their Dreamforce parties leading up to the event. The goal is to generate as many leads in the buildup to Dreamforce as during the actual event.
Our focus is helping our clients with online marketing efforts. Below, we have outlined 10 ways to promote your Dreamforce presence online before and during the event.
1. LinkedIn Sponsored Updates
If you are not on the LinkedIn Sponsored Update bandwagon, now is the time to get on board. LinkedIn Sponsored Updates are absolutely killing it for Obility clients, and promoting your Dreamforce presence with a contest, event add-on, or useful guide is the perfect opportunity to get acquainted with Sponsored Updates.
One of our platinum sponsor clients promotes their Dreamforce VIP giveaway with LinkedIn Sponsored Updates. In the first week of October, our client generated over 200 clicks and 30 new names from Sales & Marketing folks in the Bay Area alone with Sponsored Updates. By the time Dreamforce starts, our client will have over 200 new names to connect with at the event – solely from sponsoring their company updates on LinkedIn.
2. Geo-Targeting Moscone Center with Mobile Ads
This idea came from a discussion with the Google B2B Team who work directly with our top clients, and we will definitely be testing it this November. The plan is to geo-target the area directly around the Moscone Center and run mobile ads across the Google, Yahoo, and Bing display networks.
What do people do while they are waiting around at Dreamforce? They check their phones. This strategy is effective because it is so limited in scope. You can afford to pay significantly more per click than a traditional mobile or display campaign because Salesforce has already qualified your audience. Why not bid highly on a nytimes.com or forbes.com placement? Why not create Dreamforce-specific ads for your company or target terms? By geo-targeting the Moscone Center, you have the opportunity to target a captive audience and get creative.
3. Gmail Native Ads
What is (nearly) universal about every single person going to Dreamforce? They received an email from dreamforcesf.com confirming their event registration. If you want to reach Dreamforce attendees before Dreamforce, target all recipients of a dreamforcesf.com email utilizing Gmail Native Ads. Other effective domains to consider include salesforce.com and the domains of all of the Dreamforce's sponsors.
4. Event Listings
Most sponsors will be hosting parties during Dreamforce, and these parties provide a great opportunity to utilize local event listings to promote your event and boost your SEO in the process. Here is an excellent article on how to utilize local events for SEO, and Kane goes into much greater detail than I can in this blog post. Zuora has utilized Meetup.com in the past (see right), but as of October 10th, there were no Dreamforce event listings on meetup.com.
5. Facebook Custom Audience Targeting
Ad networks are getting better and better at helping B2B companies target their large email databases without bombarding prospects with emails. Facebook is no exception. Facebook gives advertisers the opportunity to upload their prospect database and reach users as they log into Facebook. Once you've uploaded your target emails, Facebook Custom Audience Targeting works like any other advanced audience segment in Facebook ads. Create ads similar to your LinkedIn Sponsored Updates, but note that Facebook is (generally) considerably less effective than LinkedIn. Therefore, make sure your bid is significantly less on Facebook.
6. YouTube Promoted Videos
Dreamforce sponsors are great at creating video content post-Dreamforce, but there is significant opportunity to utilize video before the event. Many first-time Dreamforce attendees will be using YouTube to get a better understanding of the event's madness. This provides a great opportunity for advertisers to create content and run ads on existing Dreamforce content (as Velocify does in the example below). Additionally, advertisers can promote their Dreamforce videos using Promoted Videos in AdWords.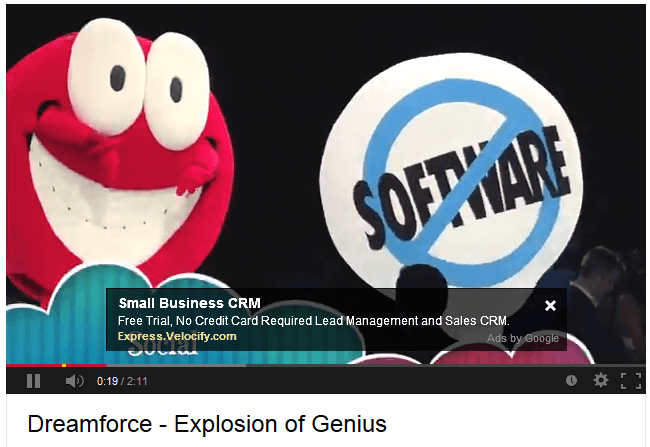 7. Site Retargeting
Site retargeting with AdRoll, Google Remarketing, or Perfect Audience is a good opportunity to inform customers and prospects who have recently visited your site about your Dreamforce events. Create custom Dreamforce-related banners, text ads, and landing pages and retarget site visitors from the past 90 days. Outline your Dreamforce activities and provide an opportunity to connect with you at Dreamforce.
8. Google Search Companion Marketing
As Dreamforce approaches, attendees are going to be searching for information about the event. They may search for "Dreamforce hotels", "Dreamforce sessions", or "Dreamforce parties". Google Search Companion Marketing give you an opportunity to reach these users and promote your Dreamforce presence. Google Search Companion Marketing allows you to run display ads on the Google network to folks who click on an organic listing in the search results.
9. Twitter Advertising
When marketing online to B2B companies, Twitter advertising needs to be in your playbook. Promoting your Dreamforce event should be no different. Run sponsored tweets to Dreamforce keywords and to folks who are following @Salesforce, @Dreamforce, sponsors, and speakers.

10. Paid Search
Since paid search is our bread and butter, we would be remiss not to mention targeting Dreamforce keywords with AdWords and Bing Ads. However, Google is not going to show ads often, and so this tactic will likely not drive significant volume. Still, it it is worth getting a Dreamforce ad group with text ads up and running.
Summary
Dreamforce is huge. The event itself is huge. Planning for the event, the cost of sponsorship, and the work put into the event are all huge, but so is the opportunity to generate new business. B2B marketers should take advantage of all the channels available to capture new prospects and customers from the event. Online marketing alone provides countless opportunities to ensure Dreamforce is a success, and should be a part of a larger integrated marketing plan around Dreamforce.