Many people outside of the marketing world don't understand the inner workings of retargeting and find those eerily familiar ads and offerings a little too similar to the show Black Mirror. "How did they know!?"
But those of us in the industry understand the function and benefits retargeting provides, and love utilizing it to drive mid-funnel engagement. Prospects can visit your site from a variety of sources, for a variety of reasons, and in various parts of the buying cycle. Being able to effectively bucket these prospects, message them, and serve them ads where they are spending their time, will enable you to push them down the funnel.
It all sounds like a lot to consider at once – that's because it is!
But what are some tools I can start using now? Glad you asked! Here are some suggestions on different platforms that can strengthen your retargeting efforts.

Google
Perhaps the best way to create audiences for Google is by creating them through Google Analytics; the spectrum of logic available for creating audience lists  provides users a lot of flexibility to create lists that will impact specific goals. Utilizing the Engagement Pack offered through the Google Analytics Solution Gallery will help you with its core set of 20 lists to help you create more powerful targets and engage with each differently based on things like recency, frequency, visit duration, and page depth.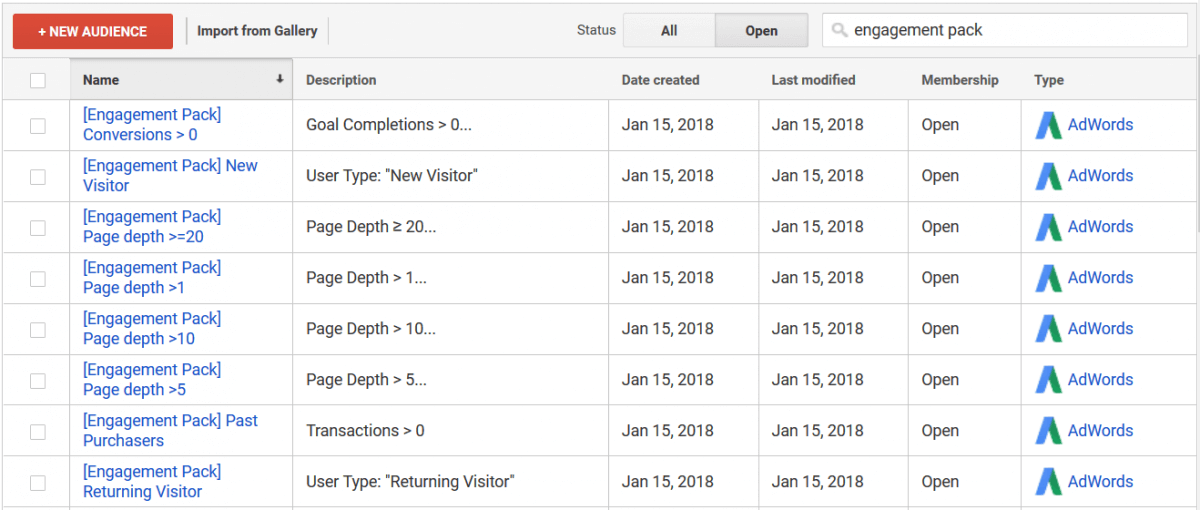 Customer Match is also a great tool to upload lists of prospects in your database and target them differently on Search (RLSA) and YouTube. These Customer Match audiences should be available to users on the Display Network later this year which will make the audience type a lot more powerful. If you think of an audience that would be especially useful to you (eg. they engage with a certain section of your site, perform an important action, are from a specific source, etc.) create it in Google Analytics and share it with your AdWords account. Audiences will need time to build users on the list, so the sooner they are created the sooner you will be able to leverage them.

LinkedIn
While most marketers wish we could share audiences from Google Analytics (GA) across multiple platforms, that is simply and sadly not our reality. Like the GA tracking script, however, LinkedIn has an Insight Tag that can (and should) be installed across the website to effectively build audiences. Here are some instructions on getting that set up.
LinkedIn also offers the option to upload contact lists which can be used for targeted messaging on their platform. For Retargeting on LinkedIn, we recommend uploading these contact lists if you have them and additionally creating targeted lists around relevant sections of your site (ex. the product, resource, and pricing pages for starters). This will help you create relevant ads that will serve your prospects content and opportunities that interest them based on their past behavior on the site.

Facebook
When retargeting on Facebook, take advantage of layering to ensure your message is getting in front of the right users for the campaign (think company size, age, geographic location). In general, we see higher-funnel offers work better on social platforms in the B2B space, but if you are clever about how audiences are created and how offers are presented, you might see success with lower-funnel offers.
Facebook uses the Facebook Pixel to track conversions and build audiences, but just like you would with building audiences on other platforms, you will want to get the tracking code installed and your audience ruling created right away, so your audiences will be large enough to target once you are ready to message them.
Other Obility experts have chimed in on Retargeting strategies for Facebook too, such as whether or not to segment beyond All Site Visitors.

Twitter
Retargeting on Twitter opens another avenue for you to get your brand/offers in front of users while they are engaged. Many Twitter users are active and keeping up with industry trends/news daily, making it the perfect place for you to target with business-related offers! Twitter lets you create audiences for retargeting on Twitter through the Twitter website tag; this will allow you to create audiences based on the pages a user has visited on your website.
Conclusion
Bottom line: Get platform specific tracking code installed and audiences defined early. Create highly effective lists by identifying the best performing segment and utilizing similar or lookalike audiences.
The more audiences that you've defined, specific creatives/messaging you've assembled, and placements for you to effectively serve ads, the better the results of your efforts will become. As with all digital efforts, track the results with metrics that are relevant to crushing your business goals.
Happy audience building!
Hoping to go more in-depth with your Retargeting? Contact us today and we'll be happy to answer questions.