The Core Almost Test Strategy (CAT Strat, affectionately known as the TACO strategy) effectively segments digital marketing campaigns based on lead generation, awareness, and sales velocity goals. Having managed this approach over the last three years, Obility has seen great success in hitting revenue and cost per opportunity (CPO) goals for our clients. However, in order to have continued success up and down the customer journey, the strategy needs to evolve.
I previously discussed why branded campaigns should not be considered Core lead gen campaigns and believe other campaign types require tweaking. The CAT Strat needs to address the seemingly insatiable desire for account-based marketing (ABM) as well as the need to consider land and expand campaigns and the full suite of marketing objectives beyond demand gen (i.e. customer insights, channel, product). Further, we must consider how all campaign types interact with the ultimate goals of increased revenue and profitability.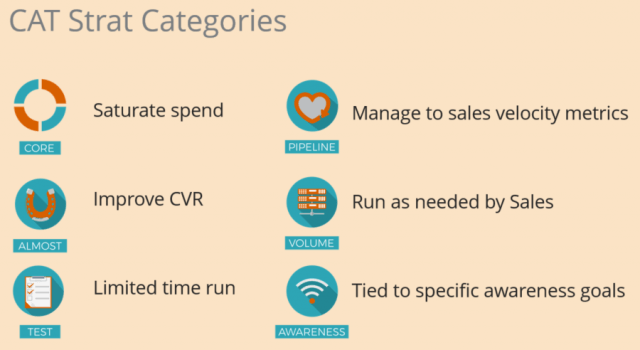 Segment ABM Campaigns to Increase Effectiveness
Account-based marketing is a proven approach to engage and close sales with a target list of accounts. A coordinated approach between Sales and Marketing must include ABM. The "right" ABM metrics, as described by Engagio, are account relationships, movement through the buyer's journey, and ROI attribution.
Savvy advertisers will recognize ABM as a tactic to reach different outcomes. With different goals, you should segment how you manage ABM campaigns based off your objectives. Running ABM campaigns for net new names should have a different strategic engine than running ABM campaigns to raise awareness or support a sales team already engaged with target accounts.
Sales support ABM campaigns should be considered Pipeline campaigns. The goal of these campaigns should be to increase sales velocity, lower time to close, increase engagement, and increase contact depth. Pipeline metrics most closely align with Engagio's and ITSMA's recommended metrics, but there are other ABM campaigns.
ABM campaigns targeting net new names fall into the Core, Almost, Test (CAT) categories. ABM campaigns meeting first touch CPO goals should be considered Core campaigns. If they are near CPO goals, they should be treated as Almost campaigns, and if they are new campaigns, they should be treated as Test campaigns.
On the other hand, ABM campaigns including direct mail, programmatic, and IP-targeted campaigns with a focus on raising awareness should be measured by Awareness campaign objectives such as increasing share of voice and raising direct and branded traffic.
Expansion Campaigns and the CAT Strat
Obility previously grouped account expansion into Pipeline campaigns; however, they are not a great fit. While Pipeline campaigns focus on increasing sales velocity and contact depth, expansion campaigns focus on either raising awareness of new products/solutions to existing customers or generating more opportunities from existing accounts. Expansion campaigns can be either Awareness or CAT campaigns and should be measured and optimized accordingly.
In expansion campaigns where the goal is to educate your customers about the benefits of your other products/solutions, you should treat them as Awareness campaigns. Measuring engagement with current customers, whether it is watching a YouTube video, attending a webinar, or speaking with a salesperson is key.
Expansion campaigns also offer net new business. Other departments at your customer accounts should be learning about the success their colleagues are having. Since new business within existing accounts needs to be tracked, expansion campaigns need to have a CPO or revenue target associated with them as well. Depending on if the campaigns are meeting targets, the campaigns can be classified as Core, Almost, or Test and optimized accordingly.
Beyond Demand Gen
CMOs have a lot on their plate beyond demand generation, which has been the main focus of the CAT Strat to date. While demand generation is the principal driver of company growth, it is not the CMOs only priority. CMOs must focus on branding, product marketing, and customer insights, to name just a few. Defining a competitive differentiator, clearly communicating product features, and understanding an ideal customer profile (ICP) are all essential functions of the marketing department, and many of these functions can be aided through digital marketing.
The principles of Core Almost Test can also be used for optimization of non-demand gen goals. For example, Google Surveys or LinkedIn InMail could be used to gather information about your target market. To apply Cat Strat to customer insights campaigns, a goal must be defined. You should establish a clear objective (e.g. cost per response from your target audience) before running customer insights campaigns. Once that goal is established, customer insights campaigns can be defined as Core or Almost campaigns and optimized accordingly.
Strong Attribution Impacts All Campaign Types
The not so dirty secret is all campaign types intersect and impact performance of other campaign types. Awareness and Pipeline campaigns improve the performance of Core, Almost, Test (CAT) campaigns, and CAT campaigns generate the sales database used in Pipeline campaigns. Focusing on campaign segmentation and campaign-specific metrics and optimization cannot deter from the overall goals of revenue and profitability.
But, and this is a big but, maximizing mature digital marketing campaigns to profitability is an exceedingly difficult task. The more campaigns and variety of campaign types running, the more difficult a VP's or CMO's job to maximize ROI. Ultimately, 360-degree attribution and robust machine learning provide some light at the end of the tunnel. In the meantime, advertisers must try to associate the costs of each campaign type into closing a new customer (or expanding services with an existing one) and measure ROI based on total costs.
Revisions in a Nutshell
With an ever-changing landscape of B2B marketing, Obility has revised its CAT Strat approach to digital marketing in multiple areas:
Branded campaigns (targeting your existing brand in search, paid social) are now treated as pipeline campaigns – A significant investment has been made to build your brand. Branded campaigns should not be treated as first touch lead gen campaigns
ABM campaigns have been segmented into multiple campaign types – Not all ABM campaigns have the same objective. Advertisers should segment ABM campaigns and optimize accordingly
Expansion campaigns have been segmented into Awareness and Pipeline campaigns – Similarly, expansion campaigns can be segmented based on end goal
Non-demand gen campaigns are treated as CAT campaigns with non-demand gen metrics – The CAT Strat approach can be applied to non-lead gen objectives, and advertisers can optimize with this approach across marketing functions
Attribution impacts optimization – When calculating CPO or ROI, advertisers should not neglect the costs associated with moving the buyer through the sales cycle