You may not think that calls to actions are an important part of driving conversions. The truth is, the product does not always speak for itself and a compelling CTA could be the difference between a lead won or a lead lost.
Call to action can seem overwhelming. Where do they go on my website? What should they say when they are there? Here, we break down the different types of CTAs and where they should be on your website so that you can increase your conversion rate.
What is a Call to Action? 
A call to action (CTA) is where you should tell visitors to go next after getting to a page on your website. A call to action could be anything from "read more" to "contact us". The goal of a CTA is to entice users to move deeper down your funnel and hopefully capture lead information.
B2B CTA's are different from B2C CTAs. B2B sales cycles are much longer than that of B2C's, so when you add a new CTA to your site, it could take weeks for it to see action, especially if it is at the bottom of the funnel. 
Since there are multiple touch points in B2B, it will be important to have CTAs that help nurture an MQL to an SQL. This means offering more than just a "demo" or "contact" form. Whitepapers, use cases, and other resources will be imperative to garner more conversions, educate your users and get that buy-in. 
5 CTAs for B2B Businesses
There are many CTAs to choose from and different assets to offer, but these are the top 5 CTAs that your business should be using to improve conversions.
1. Demo CTA
A Demo CTA entices users to try a demo of your product. Demo CTA's should be located on product and solution pages as well as use case pages. A demo conversion is the strongest conversion in B2B, as it shows the user is very interested in the product and close to buying.
Some CTAs that your team can use for "Demo's" are 
Free Demo

Try Our Demo

Get My Demo

Free Trial

Free Quote   
2. Contact Us CTA
This is another important CTA. A user may want to contact someone for a plethora of reasons, and they will be frustrated if they can not easily reach someone to talk to. Contact Us CTAs are recommended on product and solution pages, and should also be added to your navigation section, so that no matter where a user goes, they know they can get back to you.
Some CTAs that your team can use for "contact forms" are
Contact Us

Talk to an Expert

Talk to Sales

Contact Our Team
3. Read More CTA
Read More CTAs help drive your users to deeper parts of your website. Read more CTA's can lead to blogs, whitepapers, and case studies to help get visitors to better understand a topic or a complex part of your project. 
Some CTAs your team can use for "read more " are
Read More

See Our Use Cases

Learn More

Discover Latest Trends
4. Download CTA
A download CTA can be used for a myriad of reasons, including downloading a whitepaper, a data=sheet etc. A download CTA can also lead to a locked page, which you could use to gain more information on the user. It is recommended to only lock content when it is valuable. After all, if they are giving you valuable information, they should be getting something in return. 
Some CTAs your team can use for Downloads include
Download Now

Free Download

Get for Free
5. Subscribe CTA
Subscribe CTAs are normally located on the blog. This is a great way to stay top of mind with visitors by getting them on an email list. Entice users to simply enter an email address to receive the latest industry trends and blogs.
Some CTAs your team can use for" subscribe" are
Subscribe Now

Subscribe

Get Industry Trends

Stay Informed
Here is a graphic below for a quick and easy way to break down CTAs: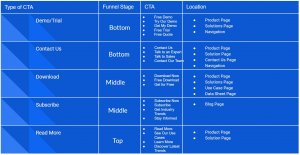 Conclusion
The great thing about CTAs is that there is always more that you can do. If a CTA is not performing well, you can conduct A/B testing to see if there are ways to drive more conversions. This could be changing up the language, changing the color, or even moving the position.
Get started driving organic leads with these B2B CTAs. If your team needs help driving better organic performance, check out how Obility's SEO capabilities can help.