In July, Google increased the length of their text ads to 140 characters, a number seemingly synonymous with Twitter. While Twitter's 140 limit stems from an obscure typewriter experiment by Friedhelm Hillebrand, Google's choice in character count is suspect. Why choose 140 characters as opposed to, say, the 160 characters the German initially suggested and telecom companies later adopted? If Google had simply doubled their headline to 50 characters and kept the description line(s) at 70 characters, the search giant would have landed at 120. Why go out of their way to hit 140?
Google Alphabet has long been considered a likely acquirer of Twitter, and the rumors only increased following Microsoft's acquisition of LinkedIn. There are only a few companies who can help Twitter's struggling ad revenue, and Google is certainly one of them. While Twitter's stock has taken a beating in the past year, rumors this week have the stock on the rise (albeit rumors of an acquisition by a Saudi prince and Steve Ballmer).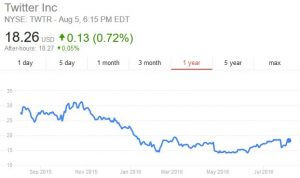 While Google's new ad text character count may have nothing to do with a pending Twitter acquisition and folks have argued Twitter is already overvalued, the thought of Google integrating Twitter's targeting capabilities is exciting. Targeting folks on Google's Display Network by what brands and thought leaders they follow is exciting. Sponsoring content on Twitter to users based on search history is exciting. Running Remarketing Lists to Twitter interests is exciting.
Here's hoping the 140 character limit for extended text ads is just the beginning of Google's exciting announcements.