Full Speed Ahead: Mobile
Obility cautiously entered mobile paid search. Google initially pressed the mobile issue with Enhanced Campaigns back in 2013, and Obility responded by limiting spend on mobile search campaigns, ensuring our clients focused on paid search campaigns that best generated opportunity and revenue. Obility recognized gated white papers and webinars – staples of B2B lead generation – had proven to be less effective on mobile, and cross device tracking was limited. Furthermore, responsive landing pages were still a major issue.
Obility clients still spend significantly less than other agency clients. In surveying the top 5% of agencies including Obility, our peer agencies' clients spent more than 17% of AdWords spend on mobile devices in 2015 while Obility clients spent less than 7%. While Obility clients spend less on mobile paid search, we recognize the necessity for a mobile paid search strategy:
Mobile cost per click (CPC) is more than 40% lower than desktop CPC
More than 40% of researchers use a mobile device during the B2B purchasing process
B2B buyers are using mobile even while at work when a desktop is readily available – nearly half of those researching on a mobile device do so while at work.
Obility has been evaluating mobile performance through testing call tracking and click-to-call campaigns, AdWords lead capture forms (discontinued), gated videos, and end-of-video contact forms. We also continued to test gated white papers and where in the buying cycle gated content makes sense to use in mobile campaigns.
Our mobile testing has paid off. Obility recently completed a case study in which our client increased monthly lead volume by more than 280% while lowering cost per lead 75% by rolling out a mobile click-to-call strategy. Pending approval, Obility will share the case study on our site this month. Follow us on Twitter to get updated.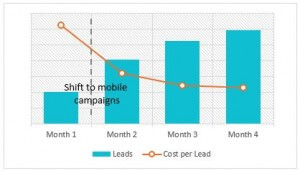 Redefining Success
In March, Obility clients' (across all accounts) cost per lead from mobile was 23% less than their cost per lead from desktop despite a conversion rate less than 1/5 of desktops (see chart below). Mobile is performing well from a customer acquisition cost standpoint despite limited engagement. While we are finding success, we still have room for improvement and growth.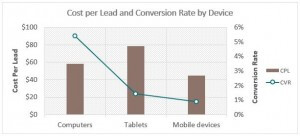 We need to stop looking at mobile paid search as a consistent channel. Similar to how we segment paid search campaigns via the TACO Strategy, we should treat mobile visitors who are researching differently from those looking for brand or competitor queries. With branded search on mobile, click-to-call may be the best option while a gated buyers kit may be more effective for middle of funnel queries.
We also may need to accept not capturing contact information for top of funnel queries on mobile. Better cross device tracking will help (and Google has promised a May announcement), but we also need to come to terms with the inevitability of not always capturing names. Providing compelling, educational content during the buyer's journey provides value and contributes to sales. A large portion of visitors consuming content without providing contact information trumps getting the contact information on less than 1% of visitors.
The hard part is convincing higher ups to pull back on lead target KPIs for mobile campaigns to focus on engagement metrics (time on site, bounce rate, pages visited, etc.). We measure branding campaign performance different than bottom of funnel campaigns. It's time we measure mobile campaigns separately so we can feel comfortable increasing our investment in mobile.