Not all SEO-projects are resource-heavy and time-consuming optimizations. Sometimes small SEO quick wins can have a big impact!
Move Away from PDFs.
PDFs are often full of valuable information for users and a great source of content for search engines. However, PDFs are not ideal for SEO.
PDFs are often a dead end, meaning users might not go back to your website after they open up a PDF in the same tab. This could potentially cost you a valuable conversion. Similarly, when a PDF ranks well for a target keyword in the SERP, the lack of navigation on the PDF prevents users from accessing other valuable content on your website.
In addition, not all PDFs are optimized for SEO, meaning a lot of them are missing internal links and metadata and some PDFs are created as an image, hence not readable to search engines. PDFs lack editing and organization flexibility, so these issues are often hard to solve. PDFs page visits can't be tracked without adding event tracking to the clicked link, which can be a time-consuming process and requires to add a new piece of code to the source.
Moving your PDFs to HTML (or at least creating an HTML page with content snippet and a link to download the PDF) will help you track your traffic easily, retain your users and make the most out of your existing content.
Test Your Homepage Conversion Point
Your homepage is often the most visited page and the page recording the most conversions. A simple test could help you improve your conversion rate drastically. For example, does your conversion button stand out? Is it clearly visible at a glance? Is the call-to-action simple and engaging? Don't be afraid to test simple things such as "register now" vs. "register for free", a small change can make a big difference.
Look into Site Search
Site Search is a great way to get to know your users and understand what they're looking for.
Once you have set up Site Search, use Google Analytics to look into internal searches.
Select your account, property and view.
In the Reporting tab, click on Behavior and then Site Search.
You can now look at your data by usage, search term, or page.
For example, one of Obility's client top searches is "cross file transfer". According to Google Keyword Planner, "cross file transfer" gets 110 searches/month with a low keyword difficulty of 12%, which means that the top websites ranking for this keyword are not well-optimized and Obility's client has good chance to rank high for it. With this information we can look at the existing pages that can be optimized for "cross file transfer" and update metadata, headers, alt tags and on-page content accordingly.
Site search is a great tool to use to identify optimization opportunities without having to do a full keyword research.
Refresh your H1s
H1 tags are one of the most weighted on-page attribute. A simple way to improve your traffic and ranking is to make sure your H1 tags follow Google's best practices and have one unique and optimized H1 per page, the H1 should be a summary of the page and include the keywords you're targeting on that page.
Dig into Long Tail Target Keywords
Some of your top target keywords might be very competitive and a lot of time and resources can be required to move the needle.
Long tail keywords often have less volume but are also much less competitive and can actually bring you more valuable traffic. Long tail keywords tend to be more bottom-of-funnel terms so users are closer to convert when they arrive on your site.
Optimizing for long tail keywords can also help you gain rankings for the short tail target keywords. For example, Obility and a client decided to create new content around "what is consumer engagement" and "consumer engagement definition" in form of a dictionary page. Not only did the newly created page bring hundreds of visits, "consumer engagement" went from not ranking to ranking in position 5 in the matter of months!
Update your Knowledge Graph
In March 2016 Google rolled out a major SERP change and brought some questions about the potential impact on click-through-rate and overall SEO traffic.
One of Obility's recommendations was to optimize the Knowledge Graph or Featured Snippets.
The Knowledge Graph was introduced in May 2012, but as of February 2016 Google allowed company official representatives to request specific edits including an image change and the addition of key facts.
Make sure you use the Knowledge Graph to its full potential by choosing a high quality picture that represents your business well, adding your website and all social media properties and key facts about your company.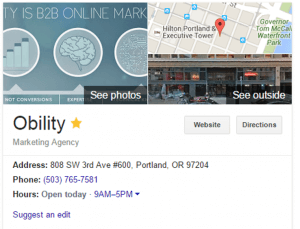 Refresh your Metadata
Your meta title and meta description are the first thing a user sees when looking you up in a search engine so it's crucial to deliver the best first impression possible. They also give search engine indications about the content of your page and the keywords you're targeting.
Optimizing the metadata of a few key pages according to Google's guidelines can have positive effects on your click-through-rate, your rankings and your traffic.
Obility and its client have been working on ongoing metadata optimization, regularly updating meta titles and meta descriptions based on relevant keywords and fixing the errors affecting metadata (titles and descriptions exceeding the pixel limit, duplicate title tags, missing meta descriptions…). Making the meta descriptions attractive is very important for click-through-rate, similar to ads meta descriptions sell the page and the chart below shows that these efforts have led to great progression on the click-through-rate, which started at 3.53% in August 2015 and increased to 5.20% seven months later.
Optimize your Internal Links
Make the most out of your existing content by ensuring proper internal linking. Internal links will act as a map for search engines and for users, a page that is linked to appropriately has more chances to be crawled by search engines and read by users.
Don't neglect your anchor texts, this is your chance to have high-quality and keyword-riche anchor texts. For example, don't use "download this PDF" but "additional SEO resource".
To quickly identify internal linking opportunities, look for pages indexed for the keyword you're targeting in search engines. For example, we want to make sure Obility's article about SEO and site launch is properly linked to, we look for site:dev.obilityb2b.com site launch in Google, several other pages are popping up: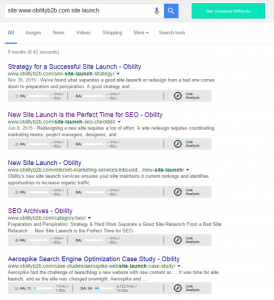 When looking at the first result we see a great existing anchor text we can use to link to our site launch page.

Research your Competitors Links
Off-site SEO is an important component of your SEO strategy, but doing link building and working with PR agencies takes a lot of time and resources.
You can build up your backlink profile and acquire new links by using Moz's Open Site Explorer to identify external linking opportunities.
Research your competitors' links and isolate the relevant websites linking to them and not to you. Chances are if they're linking to a competitor they will be more willing to link to you as well and they probably already know your brand, which will make them more likely to respond to you in a timely manner.
In order to save time, focus on high domain authority websites and look specifically for well-known publications and blogs in your field that you can contact by email or through a contact form.
Review your Alt Tags
Images and alt tags are often forgotten in SEO optimization, but they have a lot of potential. Search engines use alt tags to crawl the image and screen readers will read the alt tag out loud, an image without an optimized alt tag is a missed opportunity.
Write alt tags that include your brand name and target keywords to ensure Google can crawl and index them in Google Images.