Among the latest product updates from Google comes a new tool called Search Console Insights, intended to help businesses and digital marketers better understand the performance of the content on their site. This tool combines data from Search Console and Google Analytics in an easily digestible format with actionable insights.
The great thing about it is that it does not require deep technical expertise in order to understand how the data relates to your content. Rather than digging through complex reports and raw analytics data in order to make decisions, this new tool will do the heavy lifting for you. It can provide a high-level look at top performing and newly published content, and answer relevant strategic questions at a glance.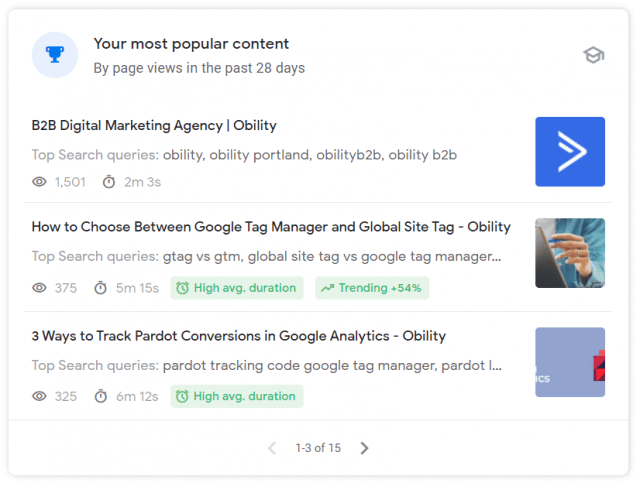 Like most Google updates, the initial rollout was slow, starting with a small select group of beta testers using it since last summer. As of late June 2021, it has been rolled out widely to users, while still in beta. This means more improvements and changes are likely to come, and it's a great time to send feedback after trying it out using the "share feedback" button on the interface.
How to Access Search Console Insights
Accessing the new tool is easy if you've already claimed your website property in Search Console. Currently when you login to Search Console, you should see a link right at the top of the screen that takes you there. Alternatively, you can go directly to the tool by visiting https://search.google.com/search-console/insights.
In addition, Google also plans to add the feature to the iOS Google App sometime in the near future.
Take Full Advantage by Associating your Google Analytics Account
Although you'll be able to see some basic insights without a Google Analytics property, the real value of this tool comes from the integration between Search Console and Google Analytics, which is done through the account association settings.
Currently, the tool only works with Universal Analytics properties, although Google has stated that they're working on an integration for GA4.
To associate the two accounts, follow these steps. Note that you must have owner permissions of the Search Console property and have full access to the Analytics property that you want to associate it with.

Start by logging into Google Search Console and selecting the website property you want to focus on from the dropdown menu on the top left. Then, on the left side panel, scroll down to "Settings" and then click "Associations".  You should see the option to add an association for Google Analytics. Click through and follow the prompts to set up your account association, and select the Analytics View that you would like to use.
You can also click the three vertical dots near an existing association to see which Analytics View is connected and change the preferred View from there.

Once the account associations have been made, you'll have access to all the features available in Search Console Insights so you can start making better content marketing decisions right away!