With only a few months until Marketing Nation Summit, as a sponsor or attendee, you should be focused on how best to utilize your trip to Vegas (hint: popping bottles, screaming at a Mariah Carey concert, and throwing dice are only partial answers). As marketers, especially marketers to Marketing and Sales departments, you should view Marketing Nation Summit as a significant opportunity to connect with new prospects and existing accounts.
Your strategy should be two-pronged:
• Alignment: Align your solution with Marketing Nation attendees' needs
• Awareness: Build product awareness so attendees seek you out
There are limited opportunities to take advantage of 6,000+ marketers and sales folks convened in one place. We're here to help.
Your Offer Matters
When targeting users pre-conference, consider what ad copy and offers are going to be most effective. You are attempting to distract users from their web browsing, social perusing, and email. A buyer's kit or analyst report – often effective in search – is going to fall flat in pre-conference alignment and awareness. Provide something relevant and compelling:
Guide to the best sessions
VIP package with upgraded hotel rooms
Opportunity to win meeting space

Reach Users Before the Conference
Every one of those 6,000+ attendees has received an email from summit2016@marketo.com mailed by email.marketo.com. What better way to reach attendees than in their inbox? By using Native Gmail Ads you can target domains and keywords such as "summit2016", "marketing nation", and "email.marketo.com". Your ad will be shown alongside the newsletter reminders from Marketo.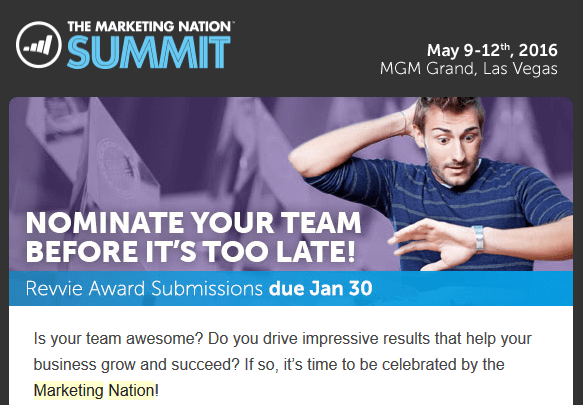 You can also take those compelling offers to social media. What Marketing Nation Summit attendee isn't going to want to know the best sessions to attend, get a better hotel room, or find some meeting space away from the crowds? Create a Direct Sponsored Content Update targeting Marketo User Groups or Marketo skills and see those leads fly in. Similarly, Twitter Ads can help you promote your relevant, compelling Marketing Nation Summit offers. Run sponsored tweets to Marketo keywords and to folks who are following Marketo or Marketing Nation sponsors.
Paid social ads before a conference are incredibly effective at generating low cost leads. One of our clients promoted their Dreamforce VIP giveaway with LinkedIn Sponsored Updates and generated over 200 new names from sales folks at roughly $20 per lead. Sponsored Updates work.
Build Awareness for Those Researching the Event
YouTube has over 715,000 videos from Marketing Nation. Thousands of people view these videos each month, and many will attend the Marketing Nation Summit. Folks want to know what to expect. This is a great opportunity for you to build alignment and awareness. Run promoted videos or display ads on Marketing Nation videos and help correlate your brand with Marketo's event.
As Marketing Nation Summit approaches, attendees are going to be searching for information about the event. They may search for "Marketing Nation Summit hotels", "Marketing Nation Summit sessions", or "Marketing Nation Summit parties". Both paid search and contextually-targeted display campaigns are effective lead gen strategies. Again, take your compelling, relevant offers and target queries about the event.
Retargeting users who have clicked on your ads allows you to stay top of mind before the event. Remind users about your swag at your booth or the killer after party you have planned. Do not fail to take advantage of the opportunity to encourage users to get to know your solution.
Reach Users at the Conference

What do people do between sessions at Marketing Nation Summit? They check their phones. Why not target those users as they browse their phones? Geo-target the MGM hotel and run ads across display networks. This tactic is effective because it is so limited in scope. You can afford to pay significantly more per click than a traditional mobile or display campaign because the event location has already qualified your audience. Why not bid highly on a nytimes.com, huffingtonpost.com, wsj.com and forbes.com? Why not create Marketing Nation Summit-specific ads for your company or target terms? By geo-targeting MGM, you have the opportunity to target a captive audience and get creative.
Summary
Marketing Nation Summit is huge. The event is huge. Planning for the event, sponsorship cost, and effort put into the event are huge. So is the opportunity: the opportunity to generate new leads, the opportunity to build brand awareness, and the opportunity to build relations.
Take advantage.