When a question pops into mind, our instinct is to reach for the phone. It's second nature for us to rely on mobile devices for immediate answers, rather than ponder screen-less or run to a desktop that may not event be there (hence why the number of mobile searches per month surpassed that of desktops in 2015). [1]
But this rise in mobile search is more than a private or B2C concern. Out of all B2B search queries, over 50% of them are made on mobile phones, and that's expected to grow to 70% by 2020.
With this dramatic increase, B2B marketers must adapt to a strong mobile ad search presence. Even B2B businesses with no local storefront can take advantage of mobile advertising options to drive leads and increase pipeline.
When starting your advertising campaign for mobile devices, follow these best practices for a strong foundation.
Mobile-First. Mobile-First. Mobile-First.
We frequently see websites that look great on desktop computers and are "responsive", but then formatted poorly on a mobile device with images, text, and forms appearing haphazardly across the screen. If you find that experience frustrating, your savvy B2B leads will, too!
And that will cost you. 90% of B2B buyers say they would buy again after having a positive mobile experience on a business's site, but that number drops to 50% after a poor mobile experience.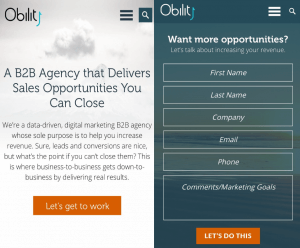 As of July 2018, Google announced it would start to rank sites based on their mobile-first experience if they have a mobile-friendly version of their website. So if you run your site through Google's Mobile Performance tester and it rates your landing pages as "poor", you're going to be paying more to compete with your company rivals.
Make it Fast
Just as important as the formatting is speed. 53% of people who click an ad on a mobile device will leave the site if it takes longer than 3 seconds to load.[2] The longer a person has to wait for a page to load, the more likely they will leave before they even see the opportunity.
You don't have to lose potential clients from something as small as a second's difference. AMP landing pages are one way you can ensure your sites are quick to load for visitors. With AMP (accelerated mobile pages), you can make your web pages load quickly and easily across many devices and browsers. Since September, Google has allowed advertisers to run search ads with the AMP lightning icon to alert mobile searchers of mobile-friendly AMP (accelerated mobile pages) URLs.
Google recently launched a site speed tester to check how quickly your website loads compared to other websites.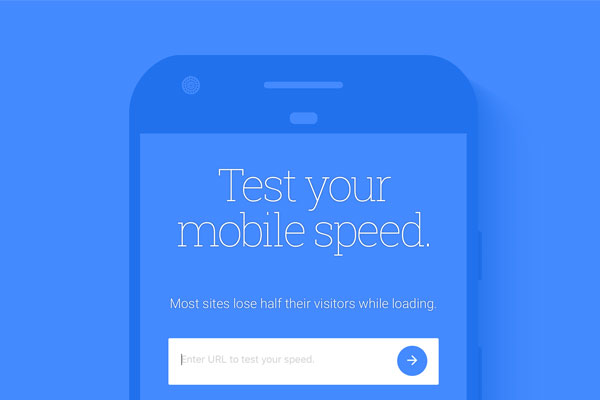 The tracker also estimates the cost in revenue from a slower site due to a higher drop-off rate and lower conversions. Test your website and others with Google's mobile performance and site speed report to see for yourself. 
Don't Ditch the Content
Many companies worry that because it's a small screen, people won't read anything on it. Oftentimes, landing page content for mobile devices are shaved down to a title, brief blurb, and call to action. Not wildly convincing, especially if you don't have brand recognition or are asking for more than their email address in a form. Visitors will need more than a classifieds ad to persuade them, no matter the screen size!
People actually read just as much or longer content on their mobile devices. Pew Research reviewed how people read both short-form and long-form news articles on cell phones, and analyzing the data showed that people are twice as engaged reading long-form articles than short-form.
Obility has also seen success with changing from short landing pages to long sales pages. If you've been using shorter landing pages, try out long-form pages to see how they might increase your number of site conversions and your conversion rate.   
Get Going!
With a strong mobile foundation, you will have the tools you need to run successful B2B mobile search campaigns for your B2B business. You can read more on how increasing investment in mobile paid search may be right for you, or contact Obility today with any questions you have about improving your company's paid search strategy. 
Additional Sources:
[1] Google Internal Data, for 10 countries including the U.S. and Japan, April 2015.
[2] Google Data, Aggregated, anonymized Google Analytics data from a sample of mWeb sites opted into sharing benchmark data, n=3.7K, Global, March 2016