Today, it is easier than ever for businesses to advertise internationally. Digital marketers have the tools to expose brands and products to audiences in nearly every corner of the globe with relative ease and cost efficiency. This global marketing ecosystem allows us to reach prospective customers all over the world, but to lend a note of caution from someone else who faced some BIG challenges: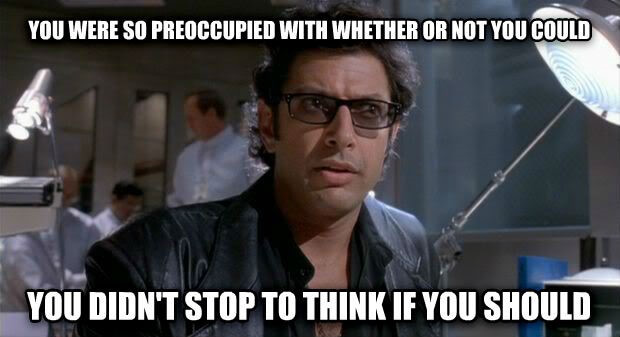 Now, just because marketers can reach international audiences doesn't necessarily mean that they should, but how can we know? When is a business ready to take their product global, and from an agency perspective, when is a client ready for international ad exposure?
Here at Obility we have a diverse portfolio of B2B clients, big and small, and each one deserves diligence and sound advice, especially when it comes to international ads and geo-targeting. The answers to the above questions may vary, but provided here are some sound pieces of advice as to why it may be beneficial to consider internationally targeted ads, who is ready for an international campaign, and how it can be done to maximize success.
Let's Start with WHY
According to data compiled by Wordstream, different countries can have significantly lower Cost per Clicks (CPC's) than the average costs in the US. Put simply, targeting other countries can save you money on clicks while exposing your brand to untapped markets.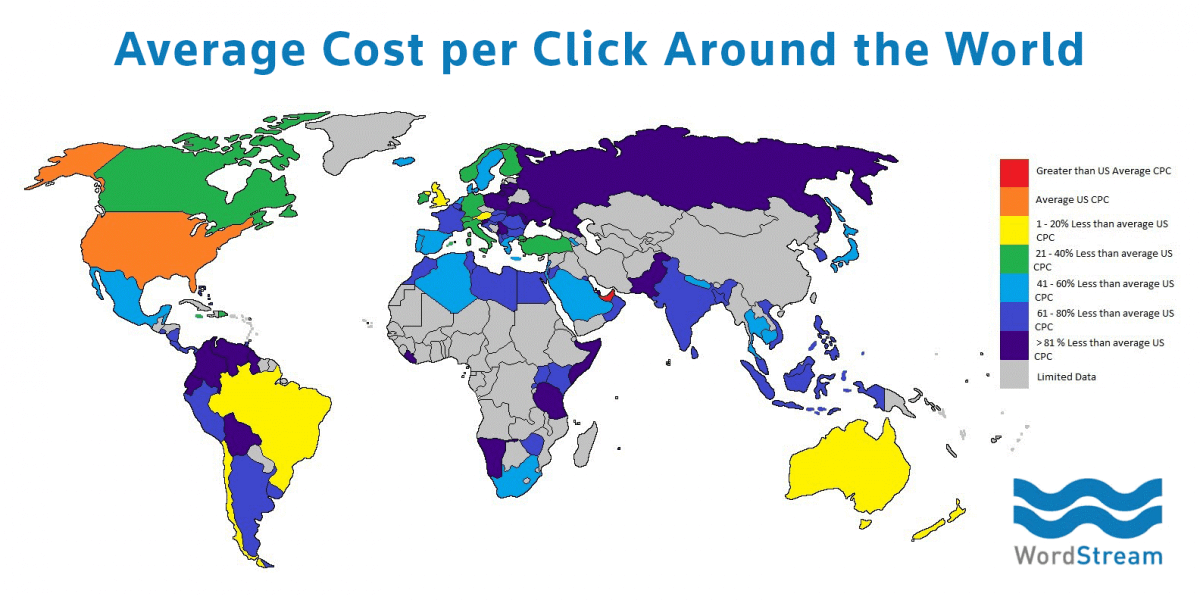 Consider the fact that in Singapore, an Asian-Pacific startup powerhouse, CPCs are on average 58% lower than in the US. Even more, English is a national language of this hyper-modern hotbed of international business, making it easier to reach an audience with a nearly non-existent language barrier.
The Philippines (another rapidly growing Asian-Pacific country with English as an official language) has a whopping 75% lower average CPC than in the US. That means you could be paying a fourth of what it costs per click in the US. But you don't just have to take my word for it.
Let's take a look at 3 keywords in 3 different English-speaking countries from around the world: the USA, the UK, and Singapore. We can use Adwords Keyword Planner to get data that can tell us Google's suggested bid amount as well as monthly search volume. For the sake of generality, the 3 terms I chose were "B2B marketing", "Lead Generation", and "Online Marketing". Here's what the numbers show: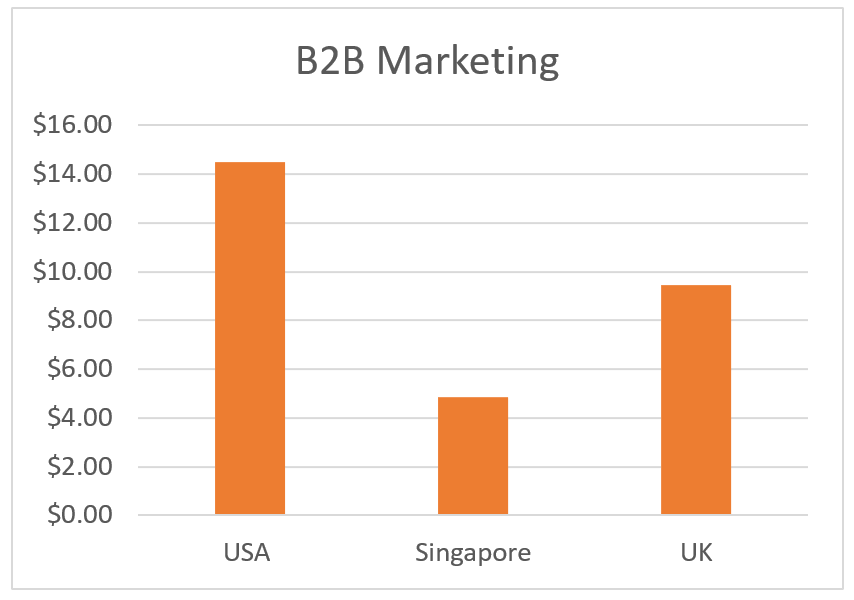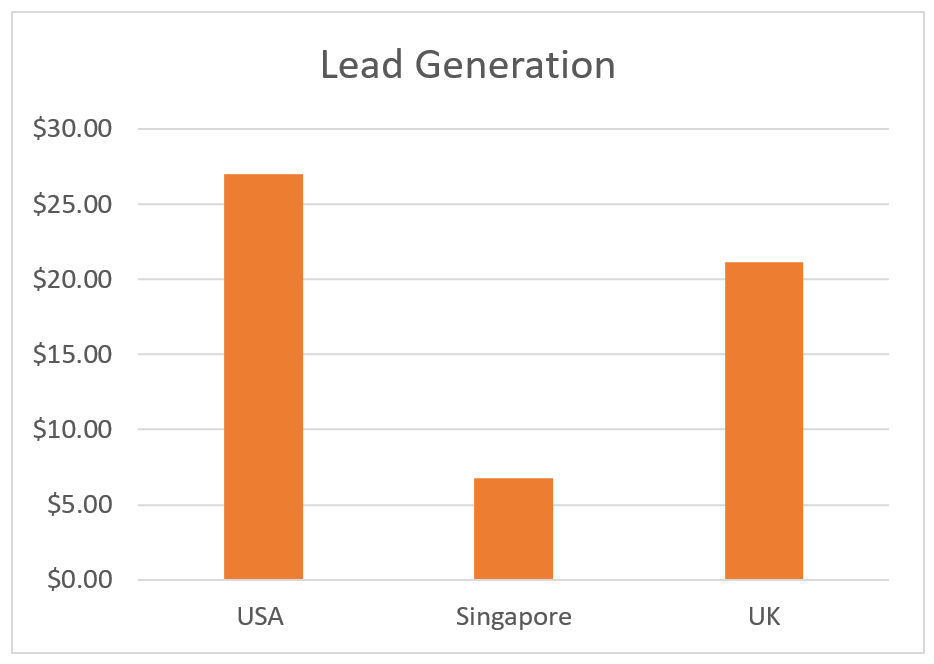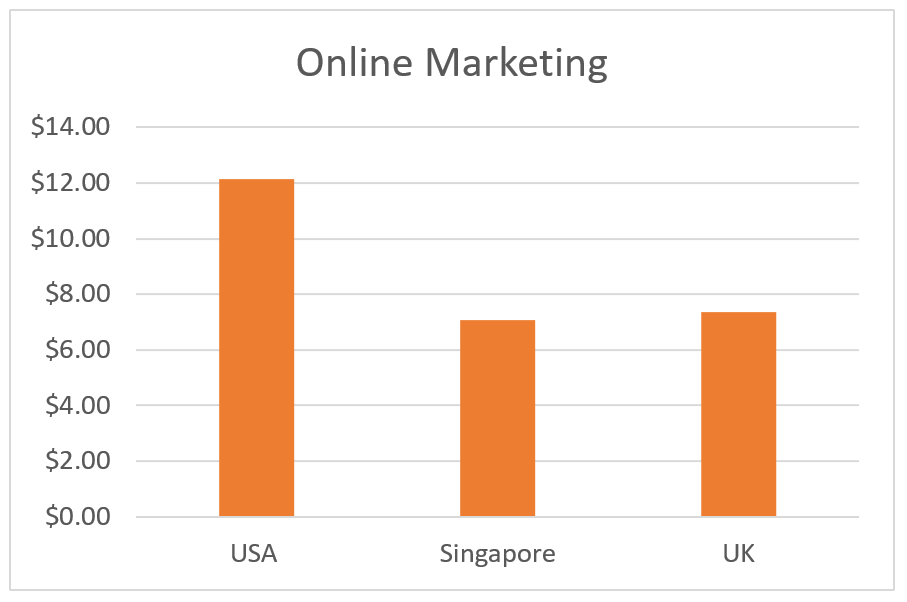 As shown by this data, the suggested bids for these terms were consistently lower in the non-US countries tested, by as much as 75%. This drop in costs, however, is not without certain drawbacks. Most notably, the search volume for each respective term was lower in both Singapore and the UK than in the US. So, while you may be saving on costs, you are also sacrificing a certain degree of search volume. As such, the variable of monthly search volume should be considered when choosing which countries you want to target (we'll go deeper into this later).
If the goal is accessing an untapped market and generating high-quality leads, varying search volume is an important factor. However, by analyzing search volume variance by country and combining those numbers with suggested keyword bids, we can identify countries strategically to build a data-driven geo-targeting strategy.
WHO is Ready for an International PPC Campaign?
If the benefits of internationally geo-targeted campaigns are expanding to new markets at potentially lower costs, then naturally the next question is: Who is ready for this type of campaign? The most important thing you can do before embarking on this endeavor is research. Outlined below are some steps that can be used to find data that may indicate your readiness for an international PPC campaign.
1. See where your organic and paid traffic is coming from
Both Google Adwords & Google Analytics allow marketers to access location data. Take advantage of this insight and try to identify trends that might indicate untapped international markets. Dive into Google Analytics' to see where traffic is coming from. Take a look at engagement metrics like Bounce Rate, Pages per Visit and Site Duration. If you are seeing favorable numbers in countries that have not been exposed to paid search campaigns, it could indicate a  market that may be ready for a strategic paid effort.
2. Find Keyword "sweet spots"
Use Adwords' Keyword Planner to get search volume and suggested bid levels for your keyword list. This tool also allows you to see country-specific data so you can find countries where your keywords have a high search volume, with a relatively low suggested bid. Shown below is an example of some of these geographic keywords sweet spots (in green) found using this method to build out a geo-target strategy for a client's international event.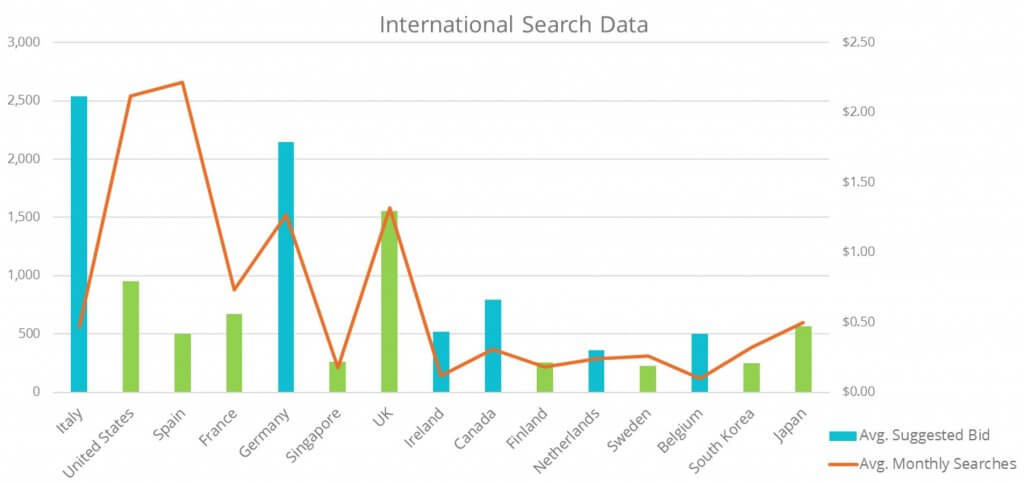 By identifying these areas of high search volume with low suggested bids, we can build a strategy based on data that indicates a higher chance of success.
3. Evaluate Your Resources
International business is no simple feat, and by extension neither is international advertising. Just because it is possible to advertise a product beyond borders doesn't mean it is necessary. Businesses have to be willing to devote the time and resources if they want to see success. This can be as complicated as translating ads, keywords and landing pages to match international search intent, or as simple as recognizing whether or not your product is even used in the market you are targeting.
How to Implement an International PPC Campaign for Success
Now that we've identified the baseline requirements for international ad readiness, let's talk about how to implement for success. I posed a series of questions to Obility team members who have experience in running successful international ad campaigns about what some of the biggest challenges and opportunities for a lucrative B2B international ad campaign.
What are the biggest challenges to running international campaigns?
"Language barriers. Jargon differences. Symbolism and metaphors recognized in one region will not be recognized in another."
–Ryan Osman, Senior SEM Manager
"Sales teams not having a presence internationally or following up with leads that we are generating. Also – there are often differences in how international prospects search abroad vs. in North America. Trying to identify those differentiators is challenging."
–Ashley Kennedy, Director of Demand Generation
"Native language translations."
–Caleb Buzzas, Digital Marketing Coordinator
Across the board, language translation was identified as a significant challenge to a successful campaign. Google AdWords uses a combination of geographic indicators (like domain and IP addresses) and language preferences to determine where to show ads. So if you are considering an international effort, it is essential that you are willing to devote the necessary resources for translation, if not your ads may fail to get the attention of local searchers.
What is the single best piece of advice you can give to a client considering international geo-targeting?
"Using English can be a good practice for B2B campaigns since it is often used in business, even if it is not a primary language. In areas with low population and a wide number of languages used online, such as Nordic countries, you may want to set the language to "all languages" so as not to limit your reach."
–John O'Toole, Senior SEM Manager
"Focus on targeting English speaking countries first, then move into countries with other languages and get a language translator. Do not rely on Google to translate."
–Kendra Macek, Social Media Specialist
"Invest in localizing all elements of the campaign."
–Ryan Campbell, Associate Director of Demand Generation
According to our team, one of the best things you can do is to recognize your capacity and resources. If this is your first attempt at an international campaign, start small and start with a country that does not require extensive translation. If you are achieving your goals, then consider expanding to other countries with favorable data trends. English may be a safe bet for B2B companies in many parts of the world, however, if you want to explore opportunities in other countries it is necessary to work with a translator who can provide copy that fits the local language and culture. If you have multilingual team members with experience in international business settings, bring them in on the project to help with translation and strategy.
Final Notes
Now, of course, there are other aspects that need to be factored into a winning international strategy. Compliance to international privacy laws such as the EU's General Data Protection Regulation (GDPR) and similar pieces of legislation can have an impact of what types of ads are allowed in different countries and should be followed accordingly.
In the end, a prosperous international PPC campaign relies on multiple factors. But by defining a strategy that is founded on sound data and well-informed from a global perspective, we can increase our chances of finding success and meeting client goals.