<![CDATA[In the "B2B Marketer's Guide to Lead Generation Using Competitor Targeting", our President & CEO Mike N reviewed a handful of ways we get in front of highly qualified prospects using competitor targeting. As Mike mentioned, competitor targeting is extremely effective because it allows us to get in front of prospects who are further down in the sales funnel, allowing B2B marketers to overcome the dreaded "long sales cycles" that we're accustomed to, enabling us to drive leads that close quickly. When it comes to competitor targeting, one of my favorite tactics is using "Gmail Ads" within Google Adwords, which combines the efficiency of email marketing with the targeting features that Google AdWords offers. It is well-known how successful email marketing is and the results are further demonstrated in this 2017 crowdsourced poll done by SmartInsights [seen below]. The graph shows the top 3 digital marketing tactics being used in 2017: (1) Content Marketing, (2) Big Data, and (3) Marketing Automation (Email Marketing). You can see that Paid Search & Display are towards the bottom. Somehow, Paid Search is below "wearables"? We'll ignore that for now…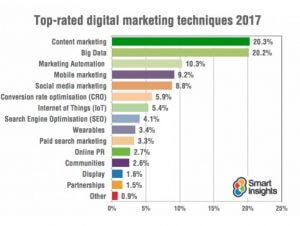 (1)SmartInsights The point I want to make is that Email Marketing and PPC don't have to be mutually exclusive. These tactics can be combined to get the best of both worlds – a highly effective tactic (email marketing) + a wider reach (Adwords). In a recent test using Gmail Ads, we utilized competitor "domain" targeting and saw a 3.4x Return on Ad Spend (ROAS) in the US and a 2.7x ROAS in Mexico. I'd also like to point out that this was a recent test and these were 'net new' leads that closed within a quarter. This ignores any leads that were closed after the quarter closed. Beyond generating low cost opportunities, another hidden benefit of Gmail Ads is that it allows advertisers to turn prospects into brand ambassadors. We've seen prospects save and forward emails to other colleagues as shown here: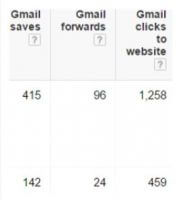 As the image demonstrates, in addition to the 1,717 total clicks to our gated landing page, our 'email' was forwarded to 120 other qualified prospects – for free. And as we know, there's no better marketing than a true brand ambassador as prospects like hearing from their peers, not CEOs. Also, did I mention that Gmail Ads drive a much lower Cost-Per-Click than the competitive B2B keywords that we're used to targeting. Not only is Gmail great for lead generation, but it's a double-edged sword as it also drives awareness.
A Few Tips To Get You Started
So, if positive ROI and free branding sounds appealing to you, here are a few tips to get you started with your first [or revamped] Gmail campaign.
3rd Party Analyst Reports

3rd Party Analyst Reports have historically performed the best for our clients. The reason for this is simple: we're utilizing the Google Display Network and reaching prospects who may not know your brand. Furthermore, they'd rather hear what a 3rd party has to say about you than what you have to say about you
We've found that Gartner reports perform the best, followed by Forrester and then G2 Crowd reports.
As shown in the ad below, you can see that we made sure to highlight "Gartner" and that this asset is a must read for anybody in the CRM market, driving curiosity / fear of loss

Non-bias ad copy

Use messaging that does not have a bias – "compare top vendors". The idea here is to get in front of new prospects and show them you're the best,

not tell them

As shown below, we utilized "Compare Top {product} Solutions" in this test

Test, Test, Test

Test ad copy as well as creative. Gmail Ads are a multi-click process which makes message match and ad copy even more important that search ads
Below you can see that we tested a variety of elements. We looked at our "pre-qualifying" ad copy, as well as different ad creative. Once we discovered what worked, we scaled and expanded into other regions. See below:

As mentioned, we like to target competitor domains. In this example, we targeted "www.salesforce.com" and a few other major CRMs
Utilize past learnings from other email marketing campaigns

Use messaging and assets that have proven to be effective
Knowing that Gartner was a top performing asset within AdWords, we tested this asset first and it proved to be successful. We've tested multiple assets since
Final Thoughts
So to wrap this up, SmartInsight's research claims that PPC / Display advertising is towards the bottom of the list for "Top Rated Digital Marketing Techniques in 2017", and that's fine. What I care about are the "Most
Effective
Digital Marketing Techniques in 2017"; the techniques that drive opportunities and revenues. Lucky for us here at Obility, we have the data to be able to determine which campaign types do just that – and Gmail Ads is one of them. Sources:
http://www.smartinsights.com/managing-digital-marketing/marketing-innovation/digital-marketing-trends-2016-2017/
]]>