Keyword research is the foundation of your SEO strategy and should be one of the first, if not the first document you work on.
In this guide, we will review the B2B keyword research process, discuss tips and tricks to make your keyword research more efficient, and review tools that will help you along the way.

I. The B2B Keyword Research Process 
1. Gather a Seed List 
Your seed list doesn't have to be anything fancy. If you're in an agency, ask your client if they have a list of a dozen or so keywords that are important to them and reflect their solution well. If you work in-house, ask the marketing and sales teams.
Starting with an external seed list will help you assess which keywords will be used to measure success and understand how marketing people describe the solution.
2.
Review Your Website's Homepage, Product Pages, and Solutions Pages 
Take some time to review the top pages of your website. Start with the homepage and top-level pages such as product, solutions, and use cases.
Make a note of keywords that stand out to you and write down synonyms and longer-tail keywords. For example, when looking at ActiveCampaign's website, keywords such as "email marketing", "sales and marketing", and "marketing automation" should stand out to you, but you can also expand to "machine learning marketing", "email marketing automation", "email marketing machine learning", "marketing automation services", "marketing and sales automation", etc. 
3. Review Your Website's Blog and Resource Center 
Now that you're familiar with the website's top pages, dig deeper and take a look at their blog and resource center. Read through several blog posts, download some case studies and white papers and follow the same process as above: write down all keywords that stand out to you and expand to the problem the blog posts and whitepapers are trying to solve.
Let's take Asana as an example. The obvious keywords would be "project management" and "task management", but which problems are Asana trying to solve? Which unique features does Asana offer? Think "improve task management", "google calendar task management sync", "managing tasks online" and "how to make teamwork more efficient". 
This step will help you understand how the marketing team refers to the product and the problems it solves, what they see as important things to communicate to users, and what they want to educate users about. 
4. Assess the Keywords You're Currently Ranking For 
By this point, you should have a solid understanding of the marketing side of your website and how the team wants to sell its solution. Now, it's time to move on to the user-focused side of the keyword research.
Using Google Search Console, SEMRush, Spyfu or Moz (or any combination), pull the list of keywords your website is currently ranking for. Based on the size of your website you might end up with hundreds or thousands of keywords, so here are some recommendations to help you manage the keyword list:
Filter out branded keywords, including misspellings and product names

Filter out keywords with 0 impressions (if keywords are coming from Search Console)

Filter out keywords with very low position (anything over position 50)

Paste the remaining keywords in Moz keyword explorer tool and filter out keywords with 0 search volume or difficulty over 75-80
This step is very important to identify long-tail keywords and problem-solving keywords. In step 3 we discussed learning about what the marketing team wants to educate the audience about. In this step, you will learn how users are finding your website and what they associate you with. 
5. Audit Your Competitors 
Repeat steps 2, 3 and 4 for your top competitors.
You won't be able to access Google Search Console's data for your competitors but you can audit their websites through Moz, SEMRush, and Spyfu and by doing a manual review.
The goal is to identify any gaps in the keywords you're targeting and ranking for, and the keywords competitors are optimizing for.
This step will give you insights on how your competitors define their solutions, which keywords their users associate their solutions with, and identify your competitive advantage.
6. Read Through Industry News 
Look up your top target keywords and brand name and read through blog posts, articles, and press releases that come up in Google News. This is a great way to have a better understanding of the rest of the industry is referring to your product. I often see discrepancies between how marketers want their solutions to be described and the reality of what users are looking for. 
7. Audit the Search Engine Result Page 
Similarly to the industry news process, you should now look up your top 5 target keywords and focus on the SERP features such as People Also Ask, People Also Search For, autocomplete suggestions, top-ranking images, and videos. 
This step is particularly useful to identify content gaps or find ways to create educational content. For example, here's the SERP for "project management":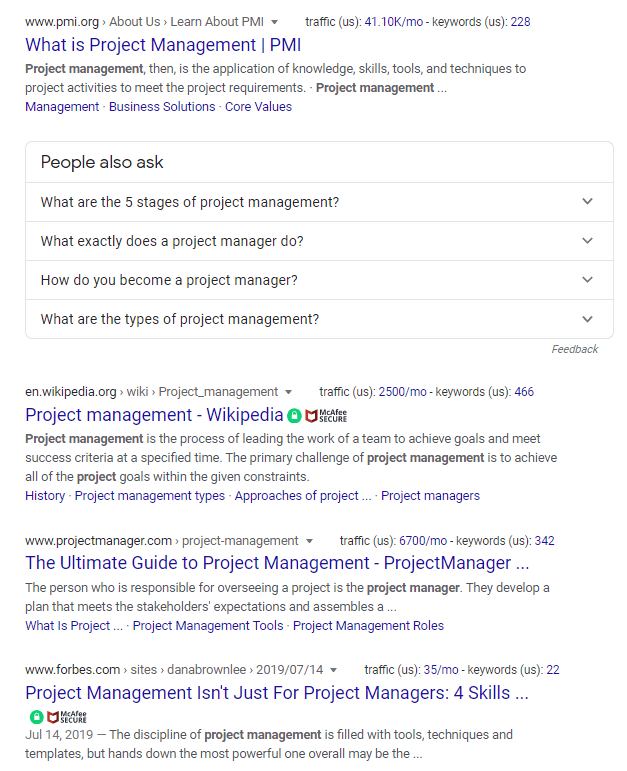 "Project Management" is a very competitive keyword, so ranking in the top 5 or 10 positions will be difficult.
However, if we examine the related searches and People Also Ask we see two searches related to the types and stages of project management. Those two keywords would be great starting points for new awareness content. The People Also Search For feature also provides great information on related keywords that might be easier to rank for.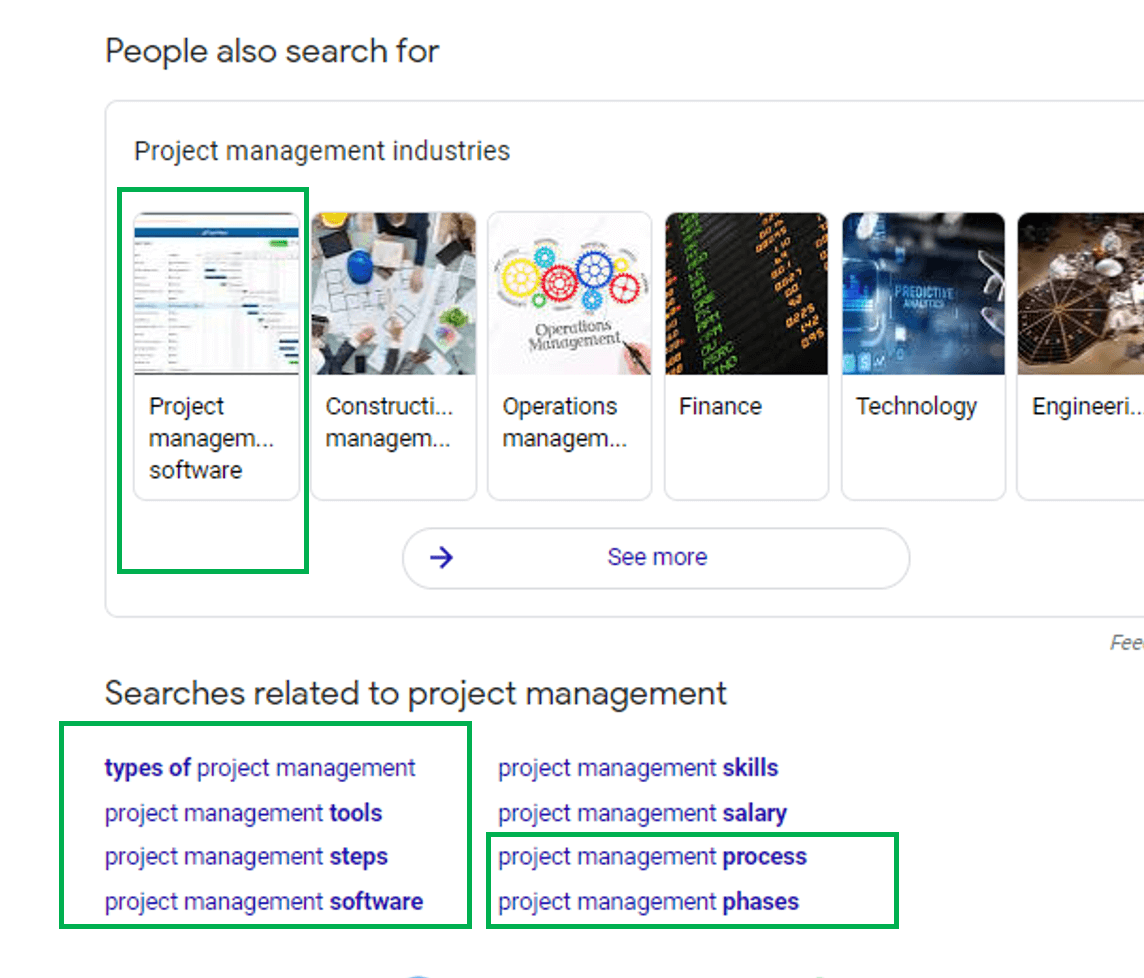 I also recommend downloading Keywords Everywhere, which will show you suggestions when you look up keywords.
8. Select Your Targets 
Now it's time to select your keyword targets. I recommend limiting yourself to 30-40 keyword targets so you don't spread yourself too thin and have a manageable number of pages to create or optimize. We usually refresh the targets once or twice a year, depending on performance.
Selecting 30-40 targets will allow you to focus on keywords that are diverse in search volume, category, funnel stage, keyword difficulty, and current ranking position. 
Your final target keywords should include:
Keywords your client/team view as high-priority

Keywords with high search volume that will bring significant organic traffic

Keywords with low search volume but less competition, which will help increase your conversion rate 

Keywords you aren't already ranking for 

Keywords you are ranking for on page 2 and 3
Make sure you don't select too many variants of the same keywords so you don't create cannibalization issues.
9. Mark Which Keywords Will Require New Content 
To facilitate the optimization process, add a new column to mark which keywords will require new content. To identify these keywords, do a site:www.yourwebsite.com keyword Google search. Google will show you which pages are most relevant to this keyword. From there you can determine if there is a page this keyword is mapping to, if not, mark it as needing new content. You can also determine if the page is irrelevant to the target keyword or ranking poorly, and mark it as well.
II. Tools and Metrics
Below are the metrics Obility adds to the keyword research document and uses to select targets:
Category and subcategories to organize the keywords by topic or theme 

Search volume: we use Moz and

Keyword Keg

to pull search volume data

Keyword difficulty: Moz and Keyword Keg are also our preferred tools for difficulty

Organic click-through-rate: Moz

Keyword ranking position and page:

Authority Labs rank checker
III. Tips and Tricks For a More Efficient Keyword Research Process
1. Time Management 
Allocate around 15 hours to complete this keyword research strategy. The keyword research is the keystone of your SEO strategy and you want to make sure you're exploring all avenues and don't feel rushed to complete it.
2. Inspiration
Add an "Inspiration" column and fill it as you go. "Inspiration" will follow the steps highlighted in the process above: Seed List, Competitive Analysis, Website Review, Keyword Tools, Industry News, etc. This will help you make sure all your bases are covered and answer questions such as "why did you include this keyword in the research?".
3. Funnel Stage
Add a "Funnel Stage" column to categorize the keywords based on the sales funnel, the three stages we include are Awareness, Consideration, and Decision. 
Some recommendations to help you with the funnel categorization:
Use this word count formula will calculate how many words are in your keywords: =IF(LEN(TRIM(A2))=0,0,LEN(TRIM(A2))-LEN(SUBSTITUTE(A2," ",""))+1). Long-tail keywords (5+ words) tend to be in the "Decision" category and short-tail (1 – 2 words) tend to be in the "Awareness" category. 

"What is", "how to" and other question keywords tend to be in the "Awareness" category.

Short-tail terms (like "project management") also tend to be Awareness keywords.

Keyword +"Software" and "solutions" keywords tend to be in "Consideration" or "Decision".
4. Keyword Categorization
Categorize the keywords as you go to stay organized. 
I like to follow the website organization to inform categories, for example, if I were to audit Fitbit Health Solutions' website I would have categories for "Health Solutions for Employers", "Health Solutions for Researchers", "Health Solutions Partners", "Health Solutions Resources", "Fitbit Care", etc. 
I talked about keyword categorization in more detail in this webinar, I use keyword categories for:
Priority identification: which keyword theme is the most valuable by looking at the search volume and difficulty for the whole category

Team review: help the wider team to review the keyword by showing them the list of keyword categories/themes and asking them to point out any gaps in the categories

Facilitate reporting: instead of showing progress for each keyword I show the improvements in rankings at the category level
5. Think as a User
As marketers, we can easily forget how users actually look for our product and force our way of thinking onto them. That's not how SEO works, we cannot make users look up our website in a certain way. 
Always put yourself in the user's shoes and think about the problems they're trying to solve.
6. Know When to Stop
Remember that perfect is the enemy of good and you will never be able to research every keyword under the sun. The team you share the keywords with will always have suggestions for keywords you haven't looked into. We find that stopping at 1,500 keywords or so is a good benchmark.
7. Manage Information Overload
At the end of the keyword research, you will likely end up with over a thousand keywords. In order to manage information overload and help your team or client digest your deliverable, consider:
Showing them the list of categories, instead of the full list of keywords

Showing only the list of keywords you have selected as target keywords (<40) instead of the full list of keywords

Using pivot tables to create graphs that show relevant information at the category level such as total search volume per category, average keyword difficulty per category, average ranking per category

8. Duplicates!
Make sure to select your keyword column and add a "highlight duplicates" filter, so you don't add the same keywords multiple times.
Now the only thing left for you to do is practice! The more you work on keyword research, the more efficient you will become and the more refined your process will be.