LinkedIn has a treasure trove of company data – literally 30 million companies.
As a LinkedIn advertiser, I'd love for LinkedIn to share the companies my campaigns target. When I layer industry, role, title, employee count, etc., I'd appreciate knowing exactly what companies saw and clicked on my ads. Unfortunately, LinkedIn's demographics report only shares the top 25 companies who saw impressions (sometimes more if there is a tie for 25th place).
That's hugely unhelpful if I am pulling the report on a weekly or monthly basis across all campaigns or a campaign group.
However, 25 companies in a specific region of a specific campaign in one day is pretty helpful. By splitting campaigns into regions and pulling campaign demographics reports on a one-day date range, we are able to get some good insight into what companies are seeing our ads.
The graph below shows 3 different ways of pulling data. If we look at aggregate data for an entire campaign group on a weekly basis, we get the standard 25 companies. If we then test pulling the demographics for each individual day of the week and combine the data, we get 85 unique companies, and if we break the data into regions (in this case four regions in the US) and pull the data for each individual day of the week for each regional campaign, the number of reported companies jump to 285 companies.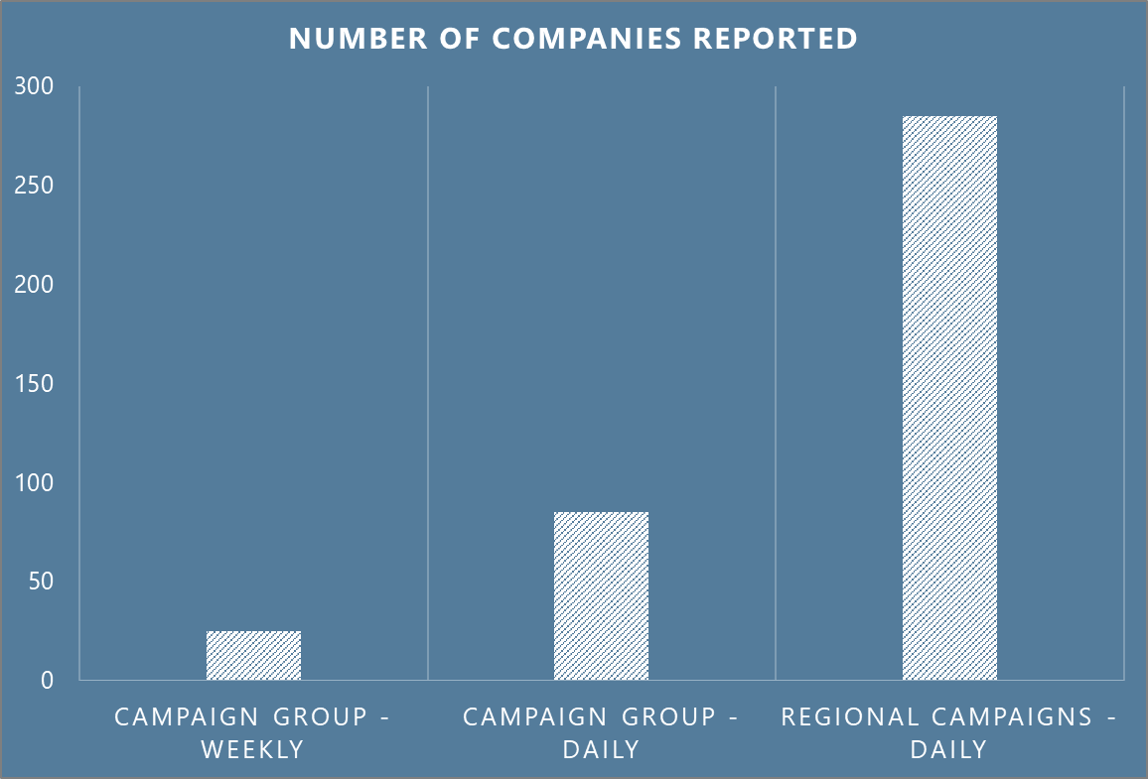 Uh, So What?
Well, I don't want to shock anyone, but data is hugely helpful.
Google, LinkedIn, AdRoll, and every other ad network knows this. That's why they limit what they share. If you know exactly what websites your ads are showing on, you are more likely to find sites you don't like. Similarly, if you know every search term your ad appears for and every company that sees your ad, you are more likely to exclude more keywords, companies, and industries.
Knowledge saves you money.
It improves relevance, increases clickthrough rate, reduces cost per click, improves conversion rate, and lowers cost per lead. The tighter your targeting on LinkedIn, the less wasted impressions and spend in your campaigns. A list of 285 companies targeted provides a heck of a better chance of finding companies or industries to exclude than a list of 25 companies.
In our little experiment, pulling weekly, we found six companies out of 25 to exclude from our campaigns. Pulling daily at the campaign group level, we found 36 companies, and pulling daily at the regional level, we found 77 companies to exclude. By adding exclusions, we were able to lower our CPCs from $14.08 to $9.04 in one week.
Better yet, we found a ton of companies we didn't know about that we want to target.
Named Accounts is the Name of the Game
Running campaigns to target account firmographics (industry, employee count) is a great way to reach volume and discover new companies to prospect, but running campaigns to the exact companies you want to target significantly reduces waste.
As you catch new companies you want to reach in your target account campaigns, smart advertisers will add those new accounts to their named account campaigns and exclude them from their target account campaigns. This allows your target account campaigns to discover new companies without overlapping ads with your named account campaigns.
As your named account list grows, more and more of your budget will be used reaching your target audience and less will be spent finding your target audience (yay! less wasted spend).
Named accounts are great. They can target the right buyer persona (title, role); however, what you really want are campaigns targeting the specific decision-makers at your named accounts.
Database targeting campaigns are the crème de la crème of LinkedIn campaigns. They target exactly who you want. In an ideal world, you would know the email addresses of your entire total addressable market (TAM) and LinkedIn would have a 100% match rate. In reality, you probably don't know your TAM, and LinkedIn email match rates are closer to 30%.
However, your target account and named account LinkedIn campaigns can help identify these folks. As folks fill out lead gen forms, you can add them to database targeting campaigns, reaching your exact target audience. Similarly, you can negatively target your customers, closed-lost prospects, or non-decision-makers from your named account campaigns.
Ultimately, your campaigns could look a bit like this:

where you are excluding irrelevant companies and named accounts from target account campaigns and adding relevant companies to named account campaigns. You are also excluding customers and irrelevant folks from named account campaigns and adding decision-makers to your database campaigns.
This approach is a great setup. The major downside is it takes a long time to get robust named account and database campaigns.
Spend Time & Money on Your TAM & ICP Now
What's better than building a named account list and database of emails through account targeted campaigns? Building a named account list and a list of emails before launching your campaigns to reduce wasted spend and impressions.
Spend the hours researching your market. Utilize tools like Sales Navigator, EverString, and Bambora to build your named account list. Utilize ZoomInfo or Metadata.io to build an email list or buy a reputable list and spend the time to enrich your data and verify contacts.
At Obility, we utilize our sister company Dunthorpe Marketing to build out named account lists and email databases based on existing customer data (see process below). This allows us to jump to robust named account and database campaigns and save some of the wasted impressions/spend of firmographic, account-targeted campaigns.
We still use the target account campaigns to help us discover new, relevant companies who are interested in our services, but the bulk of our spend is focused on the companies and individuals we know we want to work with.

Putting It All Together
We all want to cut wasted spend while still identifying new prospects to target. The target, named, and database campaigns are the way to do it on LinkedIn:
Build a list of named accounts ASAP through market research and tools
Build a database of contacts at named accounts
Launch target account, named account, and database campaigns
Break large volume target account campaigns into regions
Move relevant companies to named account campaigns, exclude irrelevant companies from target account campaigns
Move relevant contacts to database campaigns, exclude irrelevant contacts from named account campaigns